The Future of the UK Economy: Event
The Future of the UK Economy debate was a collaborative event between the Resolution Foundation and Queen's Management School, taking place at Riddel Hall on the 12th of September 2022.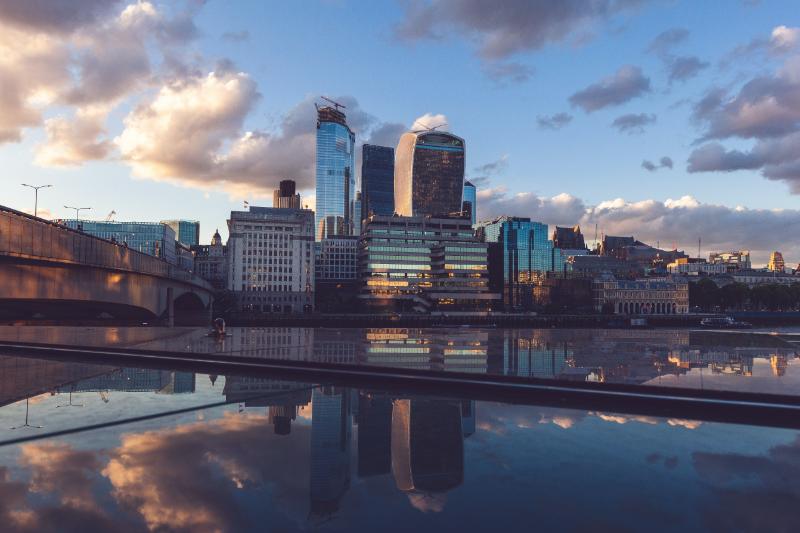 The event was opened by Queen's Management School's Director of Research Impact Dr Chris Colvin who welcomed attendees to Riddel Hall. Torsten Bell, Chief Executive of the Resolution Foundation, chaired the panel and introduced the panellists:
Sophie Hale - Principal Economist at the Resolution Foundation
Paul Grocott - Deputy Secretary at the Department for Economy NI
Paul Mac Flynn - Co-Director of the Nevin Economic Research Institute (NERI)
Sophie Hale
Sophie Hale began by informing the audience about the mission of the Resolution Foundation, to improve the living standards for those on low to middle incomes in the UK.
Sophie gave a detailed presentation analysing the current state of the UK economy and how we should go about recovering from the cost-of-living crisis. High income inequality and low growth were factors identified as a toxic combination that have led us to where we are now. The legacy of Covid-19 and Brexit were noted as factors it will take time for the economy to recover from.
Unique issues relating to Northern Ireland (NI) were mentioned, such as: 68% of homes in NI are heated by oil not gas, the price cap does not apply in NI, there is a larger number of detached homes in NI, and there are lower overall levels of energy efficiency.
Sophie's presentation concluded that to recover from this period of economic decline we need to get serious about growth and inequality by tackling the UK's investment drought, tackling the productivity problem, introducing better taxes, and helping those who have been left behind.
Paul Grocott
Next, Paul Grocott introduced himself and the NI Department for Economy's 10X plan which embraces innovation to deliver a ten times better economy with benefits for all people in Northern Ireland. Paul explained the aim is to see a tenfold increase in innovation while also achieving a fairer distribution of opportunities for people to participate in and benefit from economic growth.
Paul Mac Flynn
Paul Mac Flynn then introduced the Nevin Economic Research Institute and their mission, to provide analysis and policy solutions for the economic and social issues that affect working people. The Institute believes that sustainable and inclusive economic growth are needed to improve the disposable income and living standards of people living in Northern Ireland.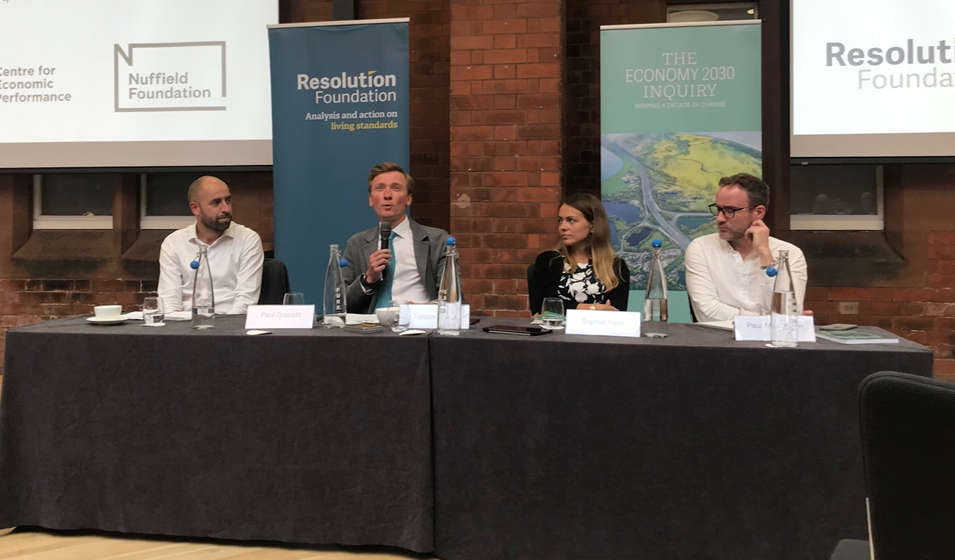 From left to right: Paul Grocott, Torsten Bell, Sophie Hale and Paul Mac Flynn.
Thank you to our panel for the insightful discussion, and to the audience for providing excellent points for debate.
Interested?
The full Future of the UK Economy event can be listened to via podcast here.
Keep an eye on our Events page for upcoming events at Queen's Management School.