VAVA Awards: Top Influencer Under 10K Awarded by QMS
The VAVA Awards took place on Friday 2nd September 2022 at the Europa Hotel, sponsored by Queen's Management School and a variety of business organisations.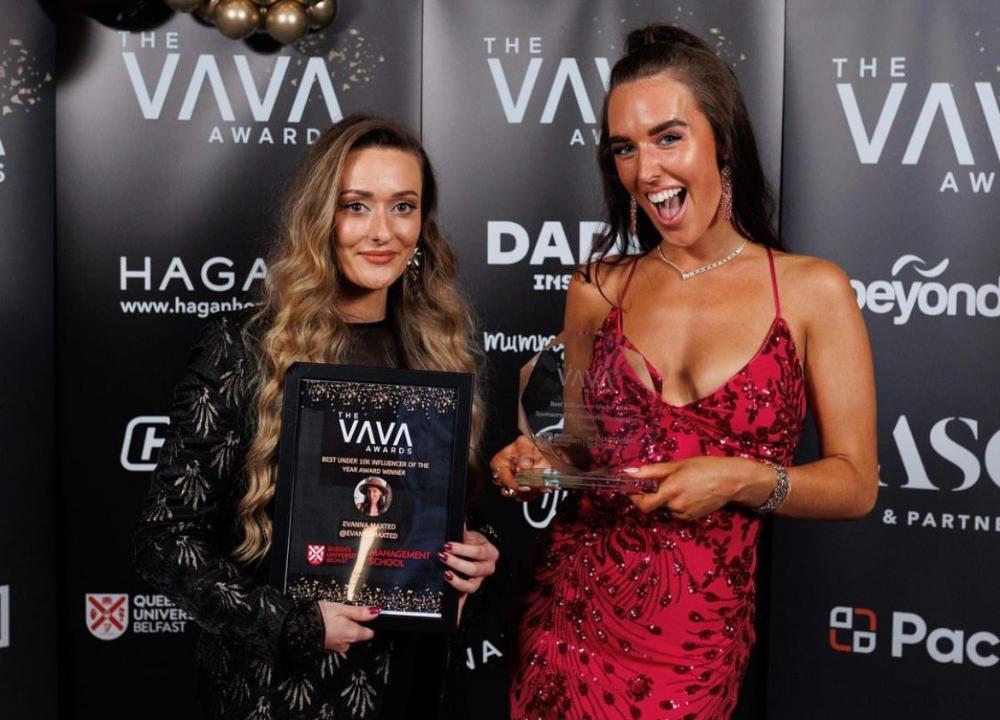 Northern Ireland's leading influencer marketing agency VAVA Influence officially hosted the first VAVA Awards at the Europa Hotel in Belfast on Friday 2nd September 2022.
The VAVA Awards are dedicated to celebrating the best content creators and influencers from across the island of Ireland, with a three-course meal and live entertainment throughout the evening.
Francesca Morelli, co-founder and Director of VAVA Influence, is a graduate of Queen's Management School (QMS) with an abundance of entrepreneurial spirit.
Proud to support our alumni, QMS sponsored the 'Best Influencer Under 10k' Award' on the evening, and attended the event with a table of ten academics and students interested in content creation and social media marketing.
Our winner was chosen by a judging panel from QMS made up of marketing specialists and academics.
Lecturer in Marketing, Dr Grace Carson, presented the award on behalf of Queen's Management School.
And the winner is… Evanna Maxted.
Our winner, Evanna, is a 23-year-old professional broadcaster in studio entertainment, presenting the Sunday night 10pm-1am show on Cool FM which includes the 'Cool Goes Quiet' romantic request slot.
Evanna has a range of fulfilling hobbies outside of her exciting job and has interests in Musical Theatre. Earlier this year she performed in the West Side Story show at the Grand Opera House. 
With a growing following on TikTok and Instagram, Evanna creates inspirational and positive content - urging people to follow their dreams, be ambitious and enjoy life along the way.
Congratulations to Evanna and thanks to VAVA Influence for hosting a great evening.
Further reading