Winners of 'Advancing Diversity in the Workplace' Presented Awards by QMS
The Women in Business Awards 2023 took place on Thursday 2nd March at Belfast's Crowne Plaza Hotel, with awards sponsored by Queen's Management School and a variety of other businesses.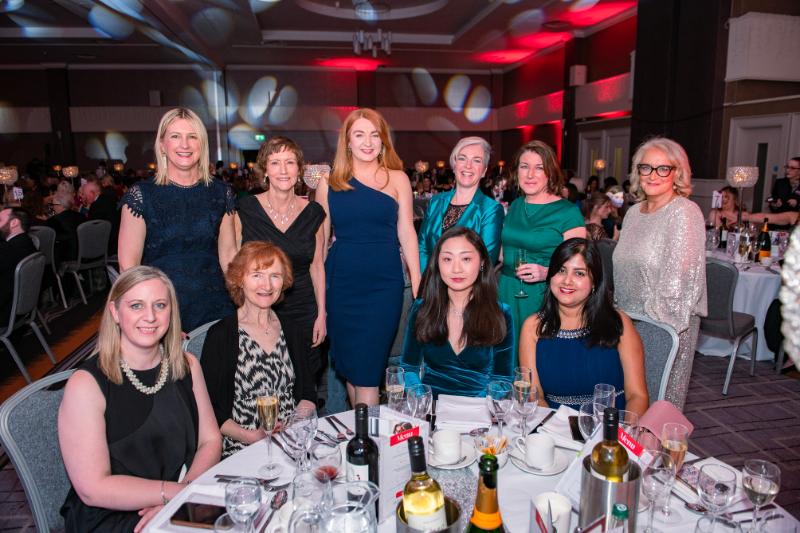 Women in Business is the leading business network for women in the workplace across Northern Ireland. Returning in 2023 for the eleventh year, the awards were an annual celebration of the outstanding achievements of female business leaders in NI.
Queen's Management School proudly sponsored the "Advancing Diversity in the Workplace" category. This award recognised two winners, one business and one individual, who have championed diversity in their workplaces and can show the benefits.
Gender equality and diversity in the workplace are of key importance to Queen's Management School. We are the proud recipients of a Bronze Athena SWAN Charter Mark, in recognition of our solid foundation for striving to eliminate gender bias and developing an inclusive culture that values all staff.
Our Athena Swan Champion, Dr Renee Prendergast, who is a Reader in economics at QMS, presented the awards to the winners on the night.
Individual winner: Sarah Balmforth, Hughes Insurance
Sarah Balmforth, is a Human Resources Director at Hughes Insurance; one of Northern Ireland's leading insurance brokers. The judges recognised that Sarah ensured her team felt valued and heard and that the company was still on a journey in relation to DEI.
Hughes Insurance said:
"We are so proud that Sarah's fantastic work in this space has been recognised. She has truly transformed inclusivity and diversity within Hughes and has created a rich and diverse team where we all feel heard and valued. Thank you to all our staff who have also contributed in this space as we know it has been a team effort over many years of change."
Business winner: Fibrus
Fibrus, are an exciting telecommunications provider with the single focus of being a "Full-Fibre" broadband company within the UK. Fibrus is an emerging company competing on the same stage as larger players, but equality, diversity and inclusion have been at the core of the business from the start. The judges commented on their goal – to create a colleague experience that provides a true sense of belonging for all.
Fibrus said:
"We are delighted to win the Advancing Diversity in the Workplace Award at the Women in Business NI Awards. This award recognises our commitment to championing Diversity, Equality and Inclusion at Fibrus, something that has been at the core of the business since inception."
Congratulations to Sarah and the Fibrus team, and all the fantastic female business leaders who were nominated for the awards.
Further reading