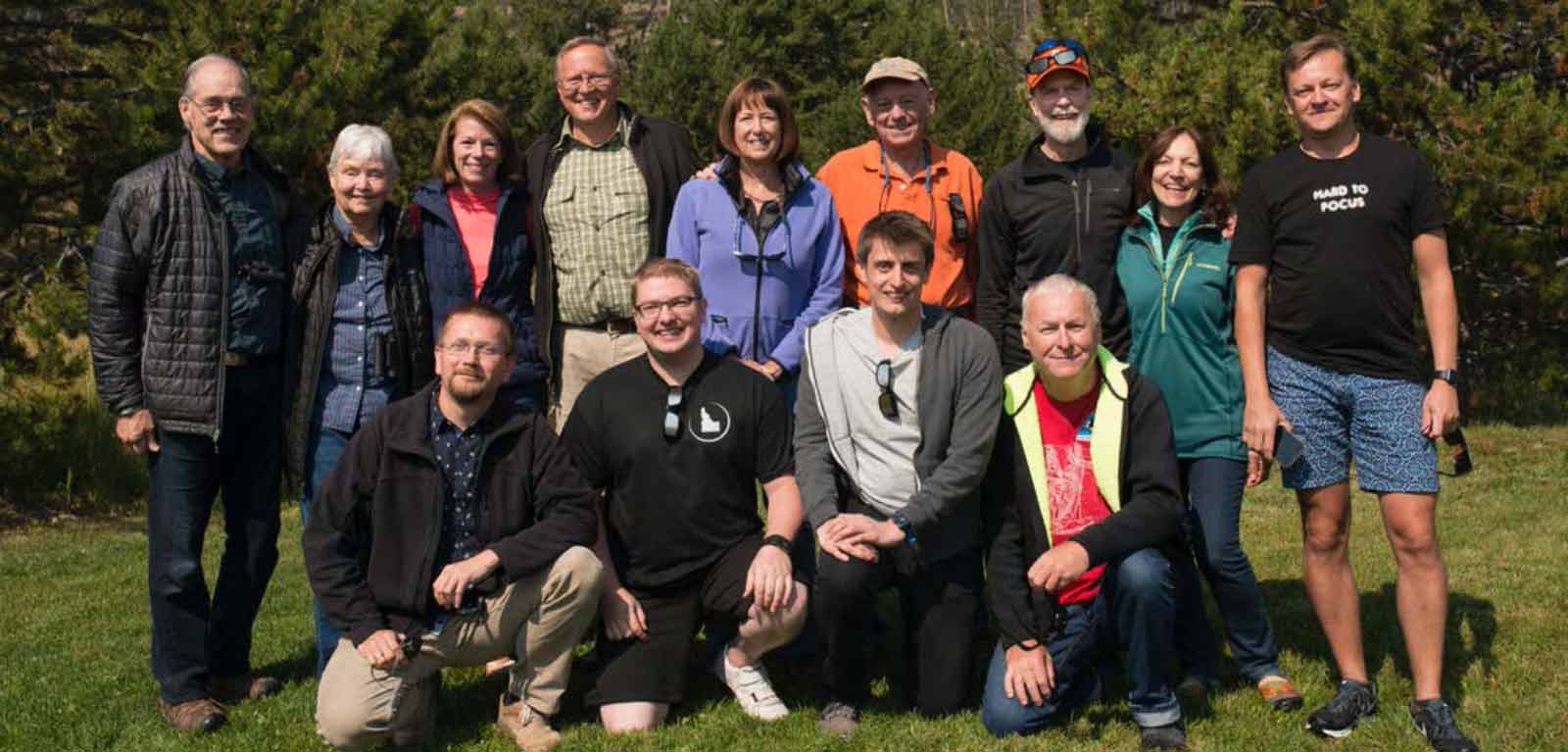 Two astronomers from the Astrophysics Research Centre at Queen's observed the recent solar eclipse from a research base in Idaho's Sawtooth Mountains.
The total solar eclipse of the 21st of August 2017 was an event that caught the imaginations of millions across the world, as it was the first total solar eclipse to pass over the US mainland since 1979.
Two astronomers from the Astrophysics Research Centre at Queen's - Dr. David Jess and Dr. Peter Keys - joined the millions of the general public and eclipse chasers to observe the eclipse in August. The two Queen's researchers established a base in the Sawtooth mountains of Idaho near Stanley, a town with a regular population of 63, which ballooned to several thousand on the day of the eclipse. It was here that the two researchers set up a suite of precision instrumentation, which was designed and assembled at Queen's and funded by the UK's Science and Technology Facilities Council, in order to observe the eclipse in light produced by the elements hydrogen and calcium. The team from Queen's were able to obtain high-resolution images of how the Sun's relatively cool lower atmosphere couples into the dynamic million-degree corona.
Dr. Jess said of the project, "This is a remarkable opportunity for quality scientific results. Data acquired by the teams from Queen's and Wroclaw will examine the cause-and-effect of dynamic processes occurring in the Sun's tenuous atmosphere at unprecedented resolution. This will go a long way helping the science community determine why the corona is much hotter than lower regions of the solar atmosphere; a fact that seems contradictory to many of our traditional notions of heat flow."
Aside from scientific results, the eclipse provided an excellent outreach opportunity, since it allowed for a very visual and hands-on insight into the research undertaken at
Queen's. As part of an outreach campaign, the Queen's team delivered eclipse glasses to an elementary school in Stanley, so that local children could safely watch as the moon engulfed the body of the Sun. Furthermore, a group from Idaho and the neighbouring Utah states (including the mayor of Stanley) joined Drs. Jess and Keys for the eclipse. This gave these members of the public a once-in-a-lifetime opportunity to view the eclipse with professional astronomers and to pose their questions directly to researchers, which they may not have been able to do elsewhere.
Dr. Keys said, "Direct involvement with the public at these events is crucial as it gives them the opportunity to personally engage with our research. Even more important is the fact that events such as this are vital in inspiring the next generation to continue in STEM subjects and potentially become the next line of scientific researchers."
The team look forward to showcasing their results to the scientific and public communities, before beginning preparations for the next eclipse in 2019!
Latest News