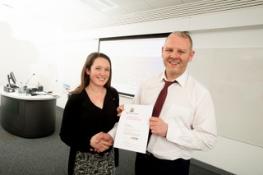 Dr Clare Scullion has been awarded the prestigious Culham Thesis Prize by the Institute of Physics.
A Queen's University Belfast graduate has returned to her alma mater to receive the prestigious Institute of Physics Culham Thesis Prize.

The prize is awarded annually to a candidate who displays excellence and where their thesis exhibits significant new work and originality. It includes a £500 prize plus a trip to the annual IOP plasma physics conference to give an invited talk.

This year's winner was Dr Clare Scullion, from Killeeshil, a past pupil of St Mary's Primary School, Cabragh, and St Patrick's Academy, Dungannon. Clare was Queen's University Student of the Year in 2014 and UK Student Fundraiser of the Year 2014. She is also a Santander Mobility Scholarship recipient and travelled to Brazil to conduct a study on Women in Physics.

For five years, Clare was a Postgraduate Researcher and Postdoctoral Research Associate in the Centre for Plasma Physics at Queen's University, under the supervision of Professor Marco Borghesi. She has also previously worked at Veri, a digital technology company in Ireland and is currently working in London as a management consultant for Mars & Co.
Latest News