PAMSoc Events
PAMFreshers Fair
A time to meet our new students and our first time to introduce ourselves. This year we were one of the first stalls in the marquee outside the Lanyon building and we had a record-breaking number of signups. Our stall is always brightly decorated with photographs of students enjoying our past events!
Pizza Night – Meet Our Sponsors
This year was the first time PAMSoc had corporate sponsors to help fund our events. Our sponsors this year were Kainos, KPMG and Allstate. Our platinum sponsors were Aqua Q Analytics and recruitment partner MCS Group. A week after our signup at the fresher's fair we held our first event, a free pizza night in the upstairs private room of the parlour bar. We were joined some of the team from Aqua Q where they introduced themselves and what their company does and how it could be a great opportunity for some of our Physics and Maths students!
Careers Fair
This event was in conjunction with our recruitment partner MCS Group. They organised a free CV workshop for all our members and agreed to check all our member's CV's or cover letters. They kindly invited all our other sponsors to also set up stalls with them in one of the upstairs rooms of the Peter Froggart Centre. This event also had free pizza for all members and was very popular with final year students or those trying to organise a placement year.
Bake Sale in aid of Action Mental Health
This was our first charity event and was very popular by both students and staff. A bake sale in aid of Action Mental Health was based in the Maths and Physics Teaching Centre and saw many of our members popping in for a sweet treat! All our items were baked by four of our associate members and our president in their kitchen under strict health and safety guidelines! This event raised an amazing £392.75 for a very worthy charity!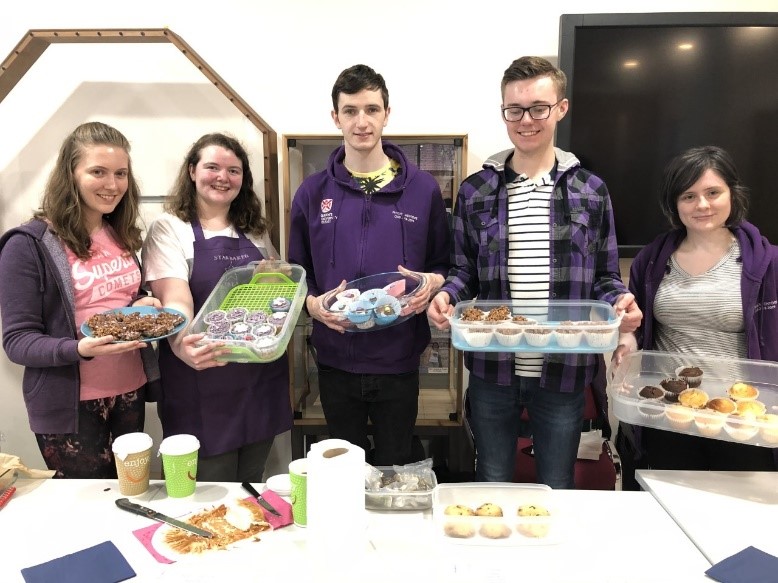 PAMSoccer

This is a weekly meet-up open to all members who want to get out of the lab! We have regular 5-aside and 11-aside matches and enter a league. This event is open to those who just want to play football casually and to those who are slightly more competitive! A great event to meet other football enthusiasts in the physics and maths world.
Pub Crawls
A great event to introduce our new members to Belfast's best locations for socialising and to get to know new people! These events are great at introducing people to those in other year groups or studying other courses in the School of Maths and Physics.
Mystery Tour
A great event for our members to let their hair down and have a great night out with friends and classmates. The premise is simple, buy a ticket and get on a bus. Only the committee know where you're heading! One of the most popular events of the year these Mystery Tours have seen us on nights out to Dublin and Portrush with a few stops along the way for food and refreshments!
Weekly Computer Workshops
These events are run by some of our committee members and have proven quite popular. A chance for students to develop computer skills from beginner to advanced. Our platinum sponsor Aqua Q also joined us one afternoon for some pizza and a workshop on data presentation.
Christmas Movie Night in aid of Autism Awareness (NI)
This charity movie night was in aid of Autism Awareness NI. We watched the first Home Alone film in the student's union. Snacks and drinks were provided, and we raised an amazing £70 for a great cause.
Merchandise Sales
This annual event involves the committee designing, marketing and selling its own branded merchandise. This year our corporate sponsors also had their logos on the jumpers, and we had record breaking sales! Look about campus for some of our members wearing our fashionable items!
Formal
Without doubt, our biggest and best night of the year! The formal this year was held in the Europa hotel and the afterparty was in TIME nightclub! A great night was celebrated by over 370 staff and students! There was a quiz organised by Dr. Tom Field and a raffle in aid of Cancer Fund for Children. Our prizes this year included air pods, two £100 amazon vouchers, Echo Dot and various other vouchers and drink prizes and we raised a fantastic £613.00.
Quiz Night in aid of Autism Awareness (NI)
Perhaps our final event of the year, a quiz night was organised in aid of Autism Awareness. Our sponsors Aqua Q also joined us for a fantastic evening testing our members general knowledge. Our amazing prizes were two hampers for first and second place and Easter eggs for third. The physics related prizes were courtesy of the Institute of Physics and the other treats came from Aqua Q! The event raised a further £250 for Autism Awareness and was a great night to end the year!