International Women's Day: celebrating Professor Ruth Lynden-Bell and Miss Sheila O'Brien
The School of Maths and Physics is delighted to celebrate the contribution of two former members of Staff by renaming two rooms in their honour on International Women's Day: the Ruth Lynden-Bell Seminar Room and the Sheila O'Brien Boardroom.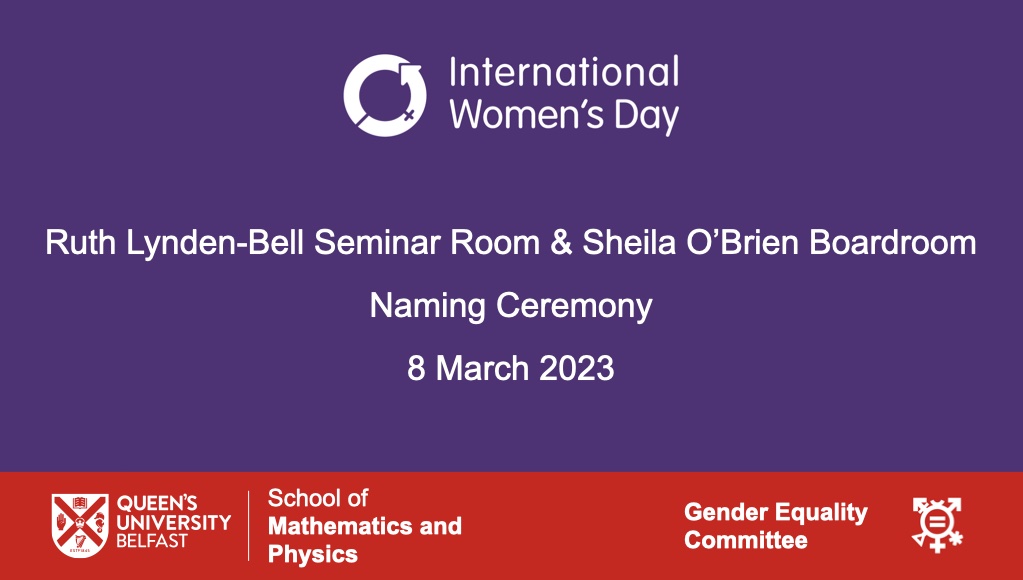 Prof. Ruth Lynden-Bell joined Queen's University Belfast in 1995 as co-founder of the Atomistic Simulation Group, where she remained until her retirement in 2003. Ruth carried out ground-breaking work on the atomistic simulation of liquids and was elected to the Royal Society in 2006. During her time at Queen's, Ruth was also deeply involved in the formation of the Queen's Gender Initiative.
Miss Sheila O'Brien is recognised for her exceptional 50-year service to the School of Mathematics and Physics. Sheila joined Queen's University Belfast in 1970 working as Pure Mathematics clerical support until her retirement in 2020. She is honoured for her diligence, dedication, and the support that she has provided to all staff and students.
Dr Daniel Dundas, Athena SWAN Champion for the School and co-chair of its Gender Equality Committee said "I joined the Atomistic Simulation Centre in 2005, just after Ruth had retired. Ruth's contribution to the ASC was amazing in terms of not only the prestige of her work, but of the sense of community and belonging she forged within the group. At the same time Sheila was a constant presence within Pure Maths and integral to its smooth running. It is fitting that their contributions to the School are recognised in this way."
Dr Meg Schwamb, IOP Juno Champion for the School and co-chair of its Gender Equality Committee said "We're delighted to be renaming these two rooms on International Women's Day. Women and gender minorities are under-represented in Maths and Physics and many rooms and other spaces are often named in honour of men. By naming these rooms after two distinguished former colleagues, we hope to build an equitable and inclusive community within the School and inspire the next generation of students."
Professor Mauro Paternostro, Head of the School of Mathematics and Physics, added: "I am delighted that we are honouring both of our former staff members on International Women's Day by naming rooms after them. These are the first two rooms to honour gender minorities within the School and the first to honour our professional support staff. There continue be fewer women and gender minorities in permanent STEM career positions. The room naming ensures that Ruth will continue to be an exemplar and inspiration to future generations of Queen's students and early career researchers. Honouring Sheila highlights that education and science is done with a vast network, not just lecturers in front of the classroom."