Congratulations to all our graduates!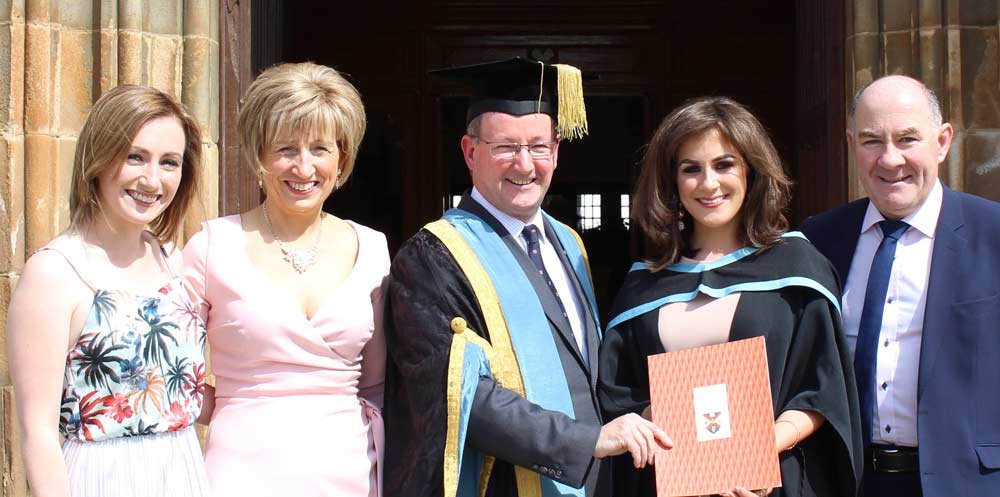 The School of Mathematics and Physics has extended congratulations to everyone who graduated on Tuesday 5 July 2016.
Several hundred students, from this School as well as from the School of History and Anthropology, received their degrees from Vice Chancellor Professor Patrick Johnston in the Whitla Hall on Tuesday afternoon, before enjoying refreshments in the Quad.
Joining them was Dr Donal Denvir, a graduate in Mathematics & Physics from Queen's University Belfast who co-founded the highly successful Andor Technology company in 1989. Dr Denvir received an honorary degree, DSc Econ, for services to business and commerce.
Extra celebrations were also in order for prize-winning students Caoimhe Bond (Greer Prize and Geddes Prize), Sarah Lunney (Emeleus Prize), Christopher McKay and Kirsty Brown (IMA prizes), Thomas Mellon (Hamilton Award), Michael Rosbotham (A C Dixon Prize), Jordan Shaw (Class of '59 Prize), Ryan Smyth (Ray Flannery Prize), David Waide (William Blair Morton Prize), Andrew Mills and Peter McCrystal (RBS Prize), Claire Davidson (Almac Prize), Joanna Singleton (First Derivatives Prize), and Mengwei Xu (Burgess Prize).
In a specially arranged supplementary ceremony at the entrance to the Lanyon Building Prof Johnston presented a degree certificate to Claire Gilroy (pictured), who had been unable to register for the main ceremony due to overseas travels. Claire graduated with a first class honors degree in Mathematics with Finance.