GRADUATE DOMINIC GATES WINS PULITZER PRIZE FOR WORK ON TWO BOEING 737 MAX AIR CRASHES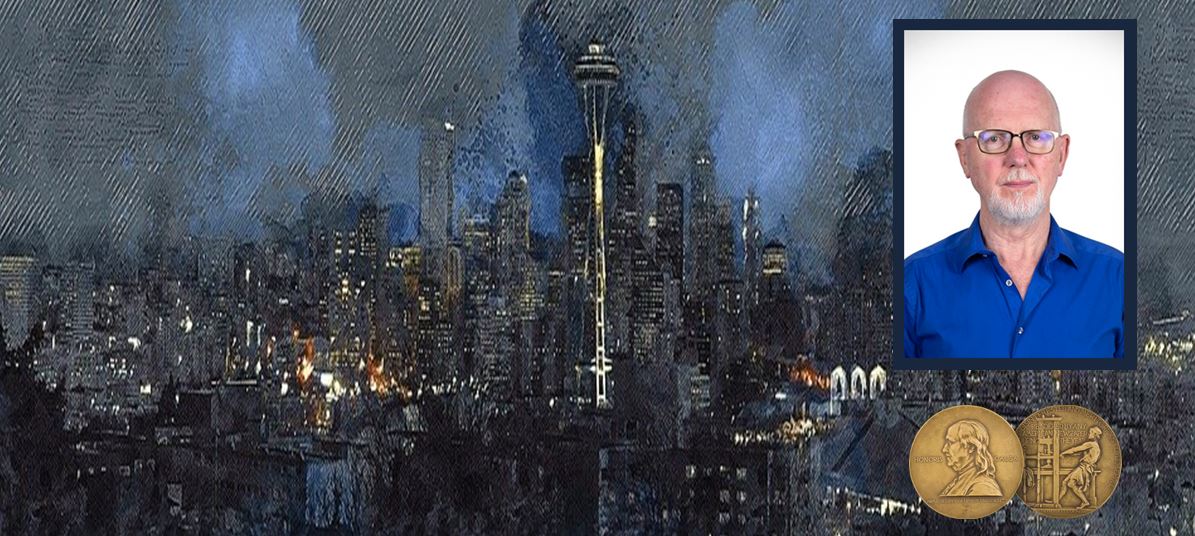 Dominic Gates, a Queen's BSc Mathematics (1976) graduate originally from County Tyrone, who is currently working as a reporter for The Seattle Times on the US Pacific Northwest coast, was among the winners of a prestigious Pulitzer Prize announced earlier this week.
The Pulitzer Prizes, which are awarded annually in journalism (15) and in book, drama, and music categories (7), were announced by Administrator Dana Canedy via video stream on Monday, May 4.
They are widely regarded as the highest honour that US-based journalists, writers and organisations can receive.
Dominic, who moved to the US in 1992, is the aerospace reporter at The Seattle Times and was the lead on the paper's coverage of the Boeing 737 MAX crisis in 2018/19.
Along with colleagues Steve Miletich, Mike Baker and Lewis Kamb, Dominic won the Pulitzer in the National Reporting category for 'ground-breaking stories' that exposed design flaws in the Boeing 737 MAX jet following two air crashes and the combined loss of 346 lives in Indonesia in October 2018 and in Ethiopia in March 2019 and which also revealed flawed regulatory processes and other significant failures in government oversight.
Set up in 1917 as part of the legacy of newspaper tycoon Joseph Pulitzer, the Prizes are awarded on the recommendation of the Pulitzer Prize Board and administered by Columbia University in New York. Winners receive a certificate and US$15,000.
From Dungannon in County Tyrone where members of his family still live, Dominic attended St Patrick's Academy, before moving up to Queen's to study Mathematics. He graduated in 1976 and went on to teach maths in St Gemma's High School in Ardoyne in Belfast, and St Mary's Grammar in Magherafelt in County Londonderry. He later moved to Zimbabwe as part of an Irish government aid programme where he met American freelance journalist Nina Shapiro, now his wife.
Though lacking any formal qualifications, Dominic harboured an ambition of becoming a journalist. In 1992, he and Nina moved to Seattle - home of Microsoft, Starbucks and Boeing - in the US State of Washington where he freelanced for many years, before landing an 18-month stint at weekly technology business magazine The Industry Standard.
In 2003 he became The Seattle Times Aerospace reporter and has remained there since. Wife Nina is also a journalist on the same paper.
"When I started as a journalist in the US, my Queen's honours degree in Pure Mathematics was an unusual credential," Dominic told the Univeristy. "Most journalists have a humanities education and many are math phobic, but though it wasn't a directly applicable credential, it surely impressed people at the newspaper. They took it as an indication that I must be pretty smart.
"All they needed then was evidence that I could write, which I supplied with the clips of work I had done as a freelance.
"In addition, my editors in the Business News department were eager for anyone numerate," he added.
Fast-forward 16 years and Dominic Gates and The Seattle Times were the first to reveal how Boeing misinformed the FAA (the Federal Aviation Administration) and airlines about key features of the plane's automated flight control system which malfunctioned and caused the fatal air crashes.
Dominic and his team went on to highlight how a dysfunctional regulatory process allowed a flawed Boeing design to be approved primarily because the FAA was increasingly delegating responsibility for safety assessments to the manufacturer.
The year-long reporting journey included 150 by-lined stories, examining the human toll of the crashes, the impact to the West Coast region's economy, the technical complexity of airplane engineering and the convoluted processes of air safety regulation.
It's a long way from writing unpaid stories for Fortnight magazine in Belfast in the 1970s to winning a Pulitzer Prize in 2020, but it's a journey that Dominic Gates has travelled with determination, a mathematician's attention to detail and, now, the highest recognition.
For general enquiries about this story or to submit a graduate news item, please contact Gerry Power, Communications Officer, Development and Alumni Relations Office, Queen's University Belfast.