Emeritus Professor Derrick Crothers
The School announces the sad loss of Emeritus Professor Derrick Crothers MRIA, FAPS, FInstP, FIMA, FIET, CMath, CPhys, CEng, who peacefully passed away on 15 January 2021.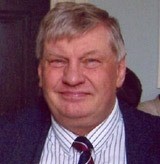 Prof. Crothers, who retired from Queen's in 2007, spent most of his academic life in the School of Mathematics and Physics, and was inducted into the Royal Irish Academy in 1991. His unrivalled mathematical abilities allowed him to make important contributions, disseminated in more than 300 publications, to theoretical atomic and molecular physics. He will be fondly remembered by his colleagues within the School.