Emily Gribbin awarded Hamilton Prize in Mathematics 2020
A student from the School of Mathematics and Physics was awarded the prestigious undergraduate Hamilton Prize in Mathematics this year by the Royal Irish Academy.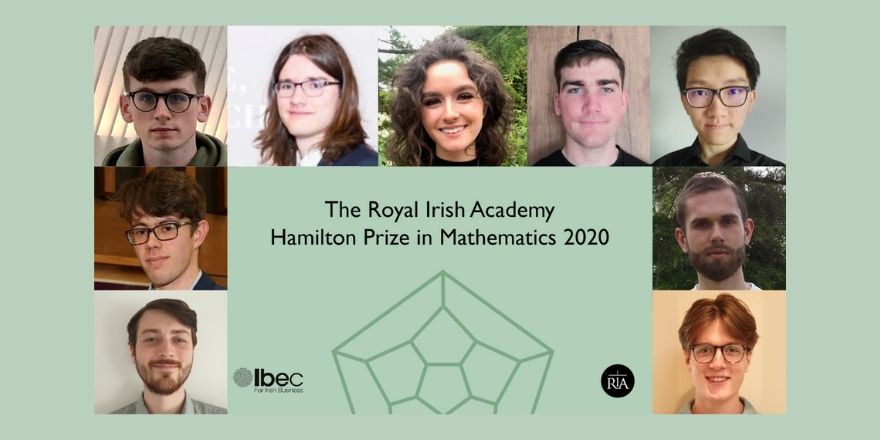 Emily Gribbin was one of nine students across Ireland who received the honour, which is awarded to the top mathematical students in their penultimate year of study as nominated by their university.
Each year, Mathematics departments in Trinity College Dublin, University College Dublin, Dublin City University, University College Cork, NUI Galway, NUI Maynooth, University of Limerick, TU Dublin and Queen's University Belfast are invited to nominate their "best" student in their penultimate year of undergraduate mathematical studies to the Royal Irish Academy for the prize. The selection of the best student is based either on the results of the annual assessment of the year's performance or on the best performance in the ordinary institution examinations in Mathematics at the end of the penultimate year.
An online ceremony took place on 16th October to mark Hamilton Day, the anniversary of famed Irish scientist William Rowan Hamilton's discovery of quaternion algebra on 16th October 1843. The virtual ceremony was attended by family and friends of the winners, as well as representatives from their university departments and members of the Mathematics community in Ireland.
In recognition of their mathematical excellence, the students each received a cash prize of €250, a certificate of achievement and were invited to attend a private masterclass with the 2020 Hamilton Lecture speaker Professor Terence Tao.
For more information on the event, please visit: https://www.ria.ie/news/science-committees-physical-chemical-and-mathematical-sciences-committee-hamilton-day-stem
The School would like to congratulate Emily on receiving this prestigious prize.