Period Freedom in the School of Maths & Physics: A Gender Equality Initiative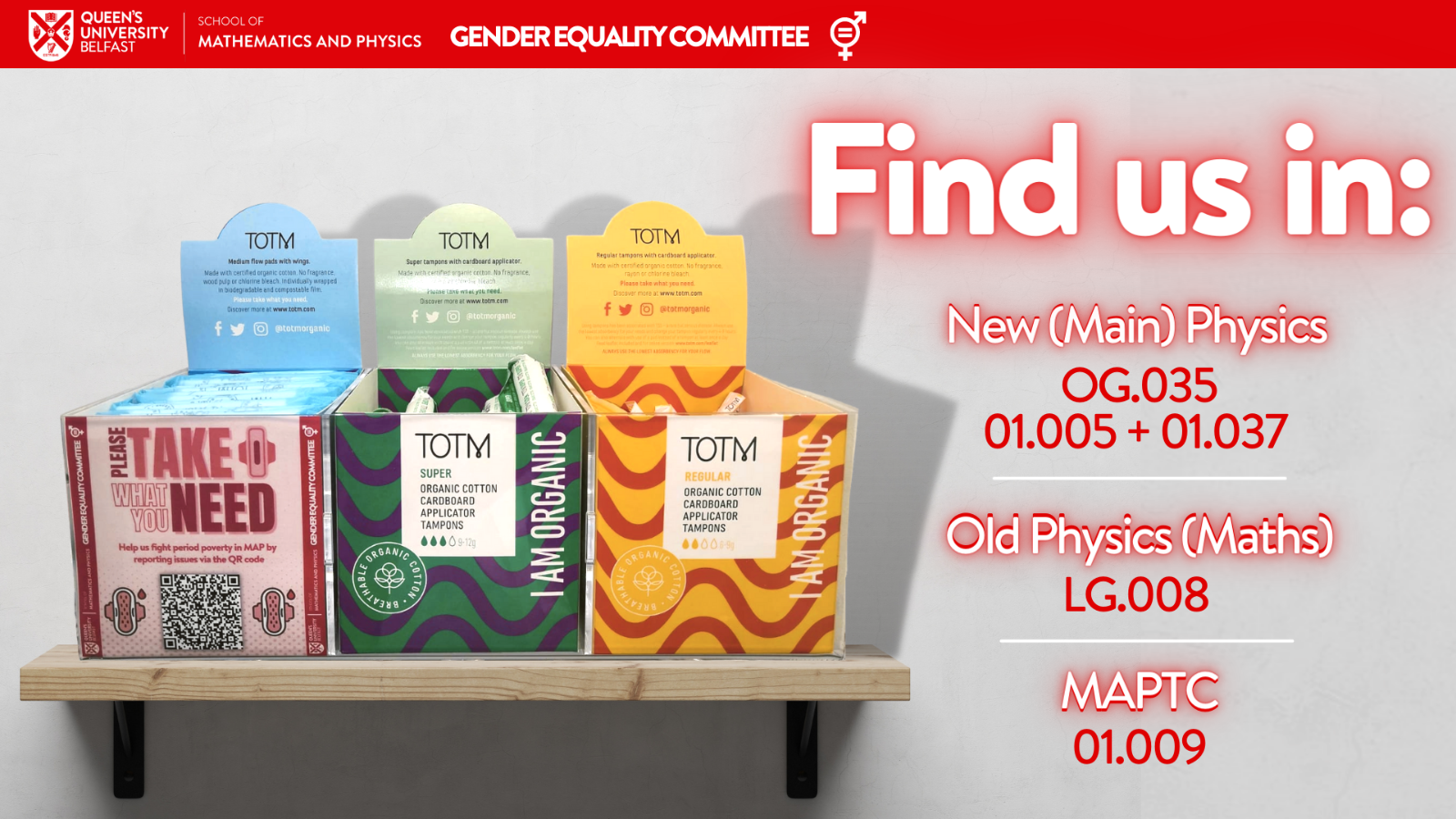 The School of Maths & Physics is taking a stand against period poverty in our campus community.
The School of Maths & Physics, through our dedicated Gender Equality Committee, has this week made a commitment to support period freedom for our MAP staff and student community and have now installed free-of-charge period product dispensers in 5 of our on-campus bathrooms. All products stocked are vegan, cruelty-free and made of 100% biodegradable and sustainable organic cotton, meaning that we can support the health of our community without compromising the health of our planet. We hope that, by improving access to period care across the School, we can make a real positive impact on the wellbeing of our students and staff, support period positivity within higher education and challenge the stigma that still exists around menstrual health in the UK.
The Maths & Physics Period Freedom initiative is led by postgraduate students in the School and is supported by funding from the Gender Equality Committee, which brings together over 30 staff and students to tackle issues faced by underrepresented and minority demographics in the School of Maths and Physics. Emma Crothers, the postgraduate lead for this initiative, said; "With 1 in 5 young women aged 14 - 21 in the UK having experienced abuse as a result of their period and 1 in 10 missing school due to a lack of accessible period care, supporting women and gender minorities to thrive in STEM must go beyond the lecture hall and tackle the prejudice and poverty that many face as a result of their periods directly, which is exactly what this initiative aims to do."
If you would like to find out more about our Period Freedom Initiative, lend us your support or learn how to start a period freedom project in your School, please contact Emma directly on ecrothers01@qub.ac.uk.
To find out more about the MAP Gender Equality Committee, please visit our webpage or contact our Co-Chairs Dr Meg Schwamb and Dr Dan Dundas.