School's involvement in NI Science Festival a hit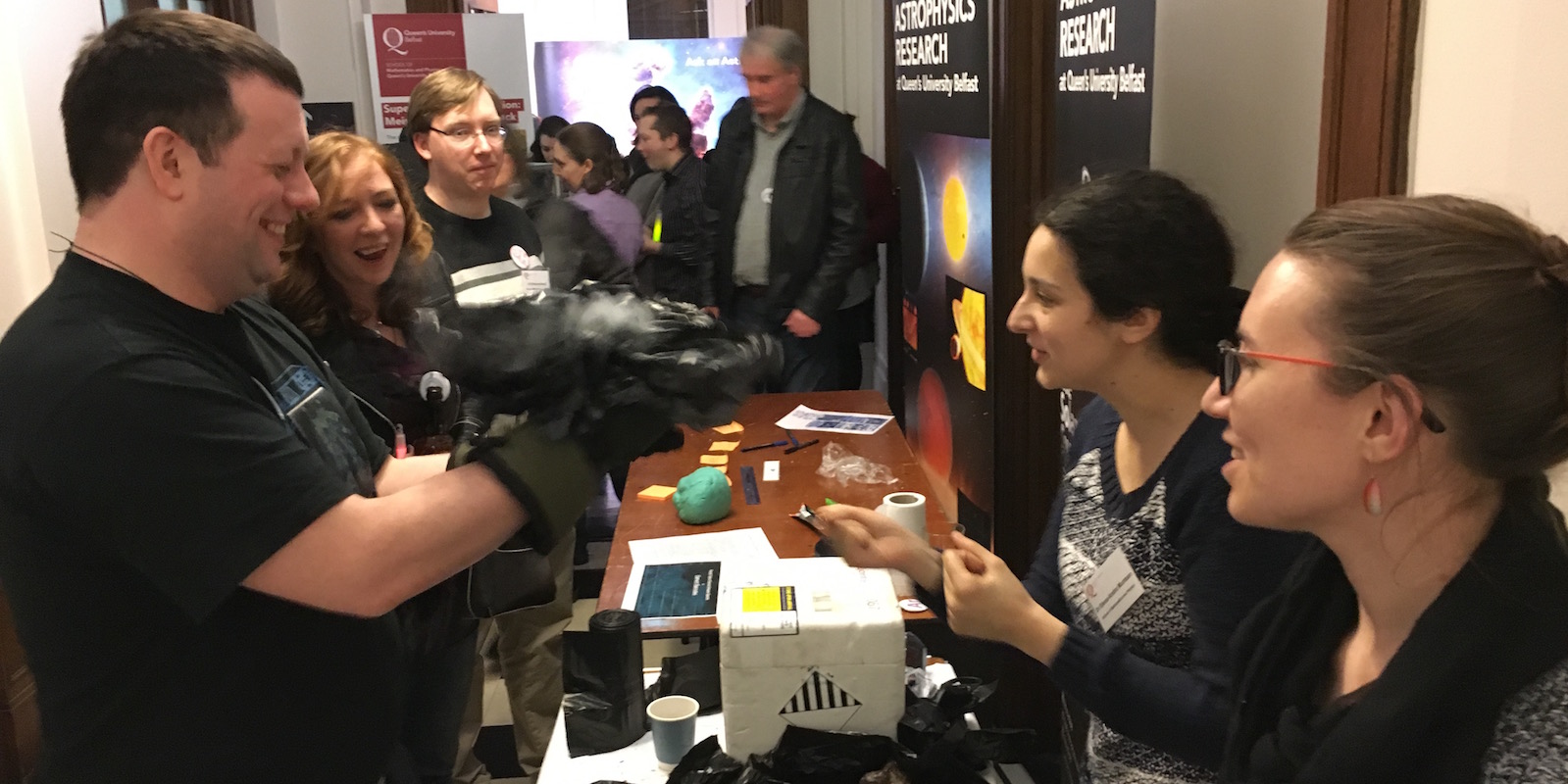 From Lasers Live in the foyer of the Ulster Museum to Tomorrow's Future Today in the Belfast Room, Queen's School of Mathematics and Physics' displays proved a big hit at NI Science Festival 2016!
More than 15,000 visitors over the course of two weeks in February got a close-up view of laser demonstrations, plasma balls, a levitating superconductor 'train', a home-made Aurora (courtesy of the Planeterrella) and a classic double-slit experiment.
Children – and indeed visitors of all ages – could also get their hands on playdough models of the solar system, a laser board-game, and even a computer game, 'Quantum Moves', designed by the 'Science At Home' project to illustrate some of the science behind supercomputers.
Brendan Dromey, Director of Impact for the School said "This year's festival has been a fantastic experience for us. More groups than ever from the School got involved, and we saw our visitor numbers go up by over 5,000 which highlights the clear impact of our involvement the inaugural NI Science Festival in 2015.
"Most importantly of all, we were able to play a part in creating a real buzz of excitement about science in Northern Ireland. I have no doubt that in a few years many of the young people who came through here over this last fortnight will come back to join us as students".
Dr Solveig Felton added: "We'd like to thank the Ulster Museum, our student volunteer demonstrators, and of course the NI Science Festival for helping make this such a great event. In fact it was a truly collaborative experience. Element Six Technologies Ltd lent us diamond samples to demonstrate the principle of solid state physics - that is, that the properties of a material depend on the arrangement of its atoms, not just on what they are made of.
"We also received funding from Institute of Physics Ireland's Walton Fund to help build our Meissner levitating superconductor track.
"We're look forward to working with everyone again in 2017, for an even bigger and better festival!"
For more images from the team, check our Twitter and Facebook accounts, and search for the tags #LasersLive and #QUBTFT
18 March 2016