awarded to Physics student Shannon Matthews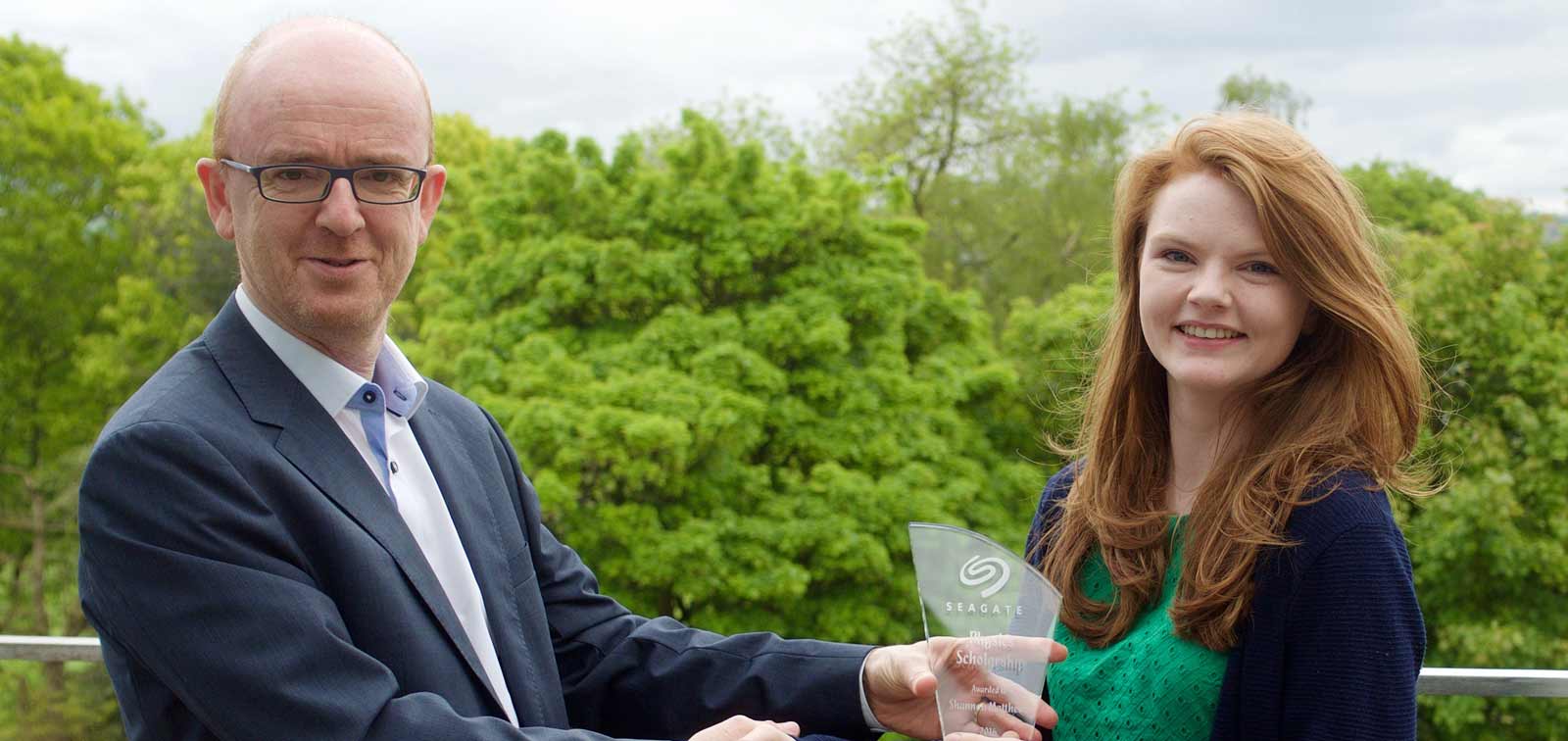 Seagate is the worldwide leader in the design, manufacturing, and marketing of hard disc drives, providing products for a wide-range of desktop, mobile computing, and consumer electronics applications. Seagate employs more than 50,000 people in over 20 different countries.

In the spirit of pursuing excellence, they are keen to support the best students enrolled in Physics at QUB. Students who have scored an average mark above 65% in level 1, and are enrolled on the MSci pathway, have had the very unique opportunity to apply for a bursary for the remainder of their degree, plus an annual book allowance of £200. An exciting aspect of the bursary is the opportunity to undertake a paid 12-week Summer placement tailored to the student's strengths and interests.
This year Shannon Matthews, a level 2 Physics student at QUB, received the Seagate Bursary from Damien Gallagher, Executive Director of Engineering at the Seagate Technology facility in Derry. Shannon is the fourth recipient of the award made annually. In addition to a paid Summer R&D internship at the Derry plant for the next two years, Shannon will also receive a generous £2000 bursary. Also in attendance at the award presentation were Prof Robert Bowman (Head of School of Mathematics & Physics at QUB) Prof Ian Willams (Dean of Education) and Dr Rubina Kotak, Reader in Astrophysics and the Careers Liaision Officer who oversaw the process.

Recipients of the Seagate Bursary from previous years were:
2015: Christopher Dillon
2014: Thomas Fyfe
2013: Ryan Wilson
(Photo credit: E de Mooij, QUB)