Arkwright Scholars Follow STEM Pathway to Mechanical & Aerospace Engineering at Queens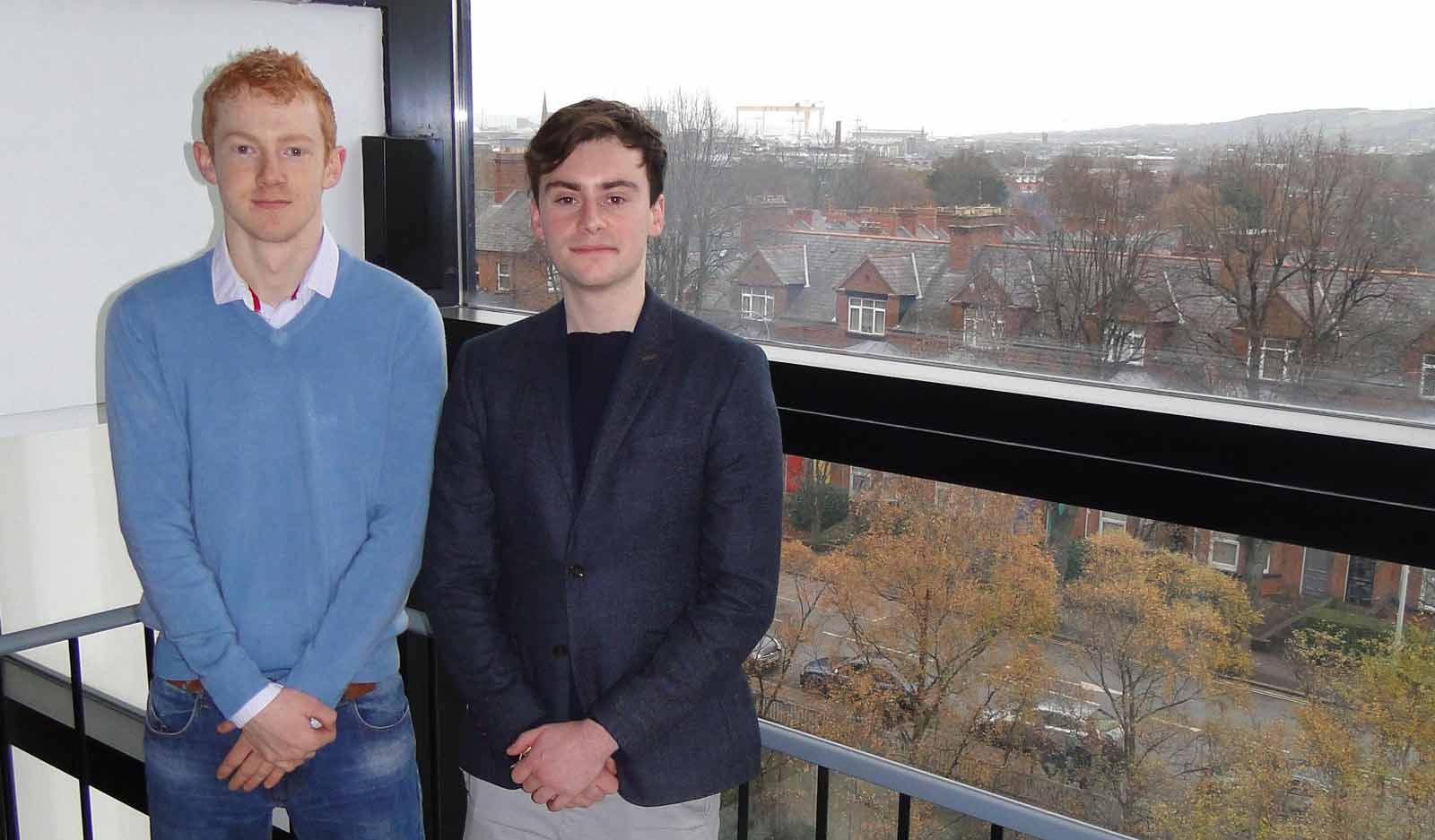 Pictured above are Ryan Rafferty (Left) and Daniel Hawkins (Right) who are currently completing semester one of their undergraduate engineering degree programmes in the School of Mechanical and Aerospace Engineering at Queens. Both Ryan (Mechanical Engineering) and Daniel (Aerospace Engineering) are former Arkwright Scholars having been identified as future leaders in engineering while still in 6th form.
While he was still a student at St. Louis Grammar School, Kilkeel Ryan was sponsored as an Arkwright Scholar by the School of Mechanical Engineering at Queens. This gave him the opportunity to work alongside the Formula Student racing team at the School while they were developing their racing car. In addition to gaining practical engineering skills this gave Ryan valuable insights into our undergraduate projects and the operation of our workshops and prototyping facilities. The mentorship of Dr Geoff Cunningham and the formula student team also helped to reinforce Ryan's view that he wanted to be a Mechanical Engineer. He subsequently went on to achieve the grades that he needed to undertake our Master of Engineering programme in Mechanical Engineering.
Daniel became an Arkwright Scholar while he was at St Aidan's & St John Fisher Sixth Form in Harrogate, Yorkshire. His scholarship gave him the opportunity to work on the development of an experimental wind tunnel. He also travelled to Mexico as an Engineering Ambassador which gave him the opportunity to network and interact with students from other shcools and univeristies from across the world. Daniel's experiences fuelled his interest in Aerospace Engineering and he was able to visit Belfast as part of his scholarship. His positive experience both in the city and around the University strongly influenced his decision to study Aerospace Engineering at Queens. Daniel also achieved the grades required to undertake our Master of Engineering programme in Aerospace Engineering.
If you think that you have what it takes to be an engineering leader of tomorrow, visit the Arkwright Scholarships Trust website to check your eligibility by clicking this link.
For more information on our undergraduate degree programmes please visit our website here.