Laura McElhinney in Top Ten at Target Jobs Undergraduate of the Year Awards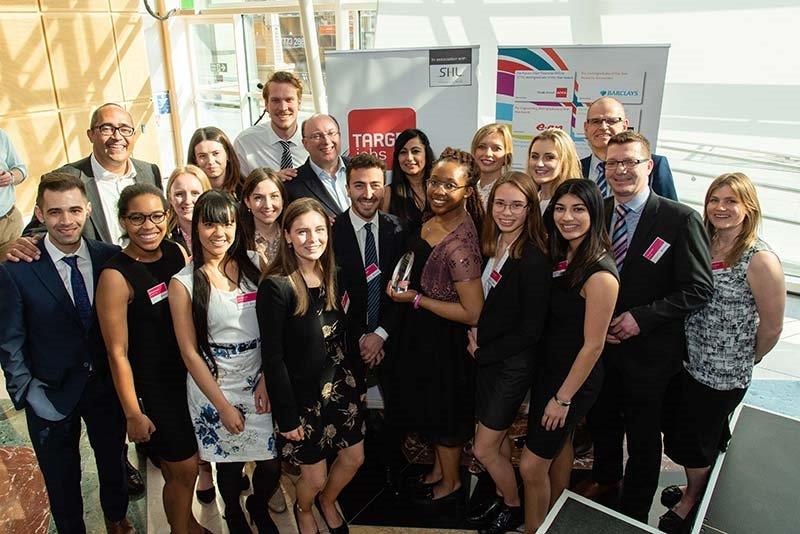 SMAE student Laura McElhinney (pictured, back row, second from left) recently reached the finals of the Target Jobs Undergraduate of the Year Awards and was placed in the top ten of the 616 original applicants. She attended the Awards Ceremony in the East Winter Garden in Canary Wharf, London where the finalists were all treated to a champagne reception and three course lunch before the awards were presented by Rachel Riley.
As a finalist she was then delighted to receive an offer of a summer placement with Rolls Royce, working in their Control Systems Business in Birmingham. Rolls Royce have notified Laura that she will be there around the same time as the integration of a new jet engine so she's extremely excited at the prospect of working on this project.
Laura applied for the Female Undergraduate of the Year in January 2018 by completing an online application, followed by four online aptitude tests; OPQ (Occupational Personality Questionnaire), SJT (Situational Judgement Test), Logical Reasoning and Numerical Reasoning. She was then invited to the Learning & Career Development Centre at Rolls Royce in Derby on the 19th March where she completed an intense day of networking, interviews, presentations, group work and a case study. 20 applicants then progressed to the second stage of the competition and these were whittled down to the final ten. The Assessment Centre was a great chance to learn from inspiring and influential leaders and graduates.
Laura is currently in the final stages of a year-long placement with Northern Irish based firm, Seagate.