Lisa Davison Wins Best Student Presentation at the International Meeting of Radiation Processing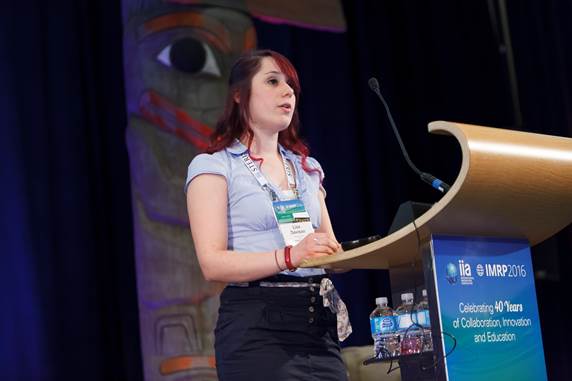 Lisa Davison, who is in the final year of her PhD at the School of Mechanical and Aerospace Engineering at Queens, recently won the Best Student Presentation at the International Meeting of Radiation Processing, held from 6-11 November 2016 in Vancouver, Canada. This allowed her the opportunity to present her work to a plenary audience of around 400 delegates.
The International Meeting of Radiation Processing is celebrating its 40th anniversary this year and was co-sponsored by Lisa's main industrial collaborator, Nordion, who were coincidentally celebrating their 70th anniversary.
All medical implants need to be sterilised prior to use, so this is a critical final processing step that Lisa has found to influence the performance of implants that are produced from certain advanced polymer systems which are designed to dissolve away naturally in the body ('bioresorb') once they have fulfilled their useful function. Her work focusses on identifying optimum gamma irradiation sterilisation conditions that are least damaging to these polymers. Her Supervisors are Dr Eoin Cunningham, Professor Fraser Buchanan and Dr Efrosyni Themistou.
At the closing session of IMRP2016 Emily Craven (Gamma Technology Strand Chair) shared stories about how IMRP had helped engage the next generation of radiation processing professionals, and used Lisa as a prime example, stating that "Lisa is here today because of a sequence of events that was set in motion during the last IMRP in Shanghai. Many of you will remember one of our plenary speakers from that conference, Professor Fraser Buchanan of Queen's University Belfast. Fraser got connected to IMRP through contacts at the Irradiation Panel in Europe which led him down a circuitous route, eventually to to be invited to present in Shanghai on his excellent work with electron modification of bioresorbable medical polymers. That presentation sparked a series of conversations which led to the creation of a student project specific to hard-to-sterilise medical devices within the new Centre for Doctoral Studies in Healthcare Technologies at Queen's. In its December 2013 newsletter, the International Irradiation Association included a Call for Collaborations in a short article entitled "Research and Education Opportunity". That article led to a number of companies, including Nordion, providing resources to help fund what turned into Lisa's doctoral project that she presented in part here this week.
I am very proud that not only is Lisa here, presenting at this conference, but she was chosen as a student poster winner. All because of a conversation started at the last IMRP."