QUEEN'S AEROSPACE STUDENTS MEET COMMANDER CHRIS HADFIELD IN THE LORD MAYOR'S OFFICE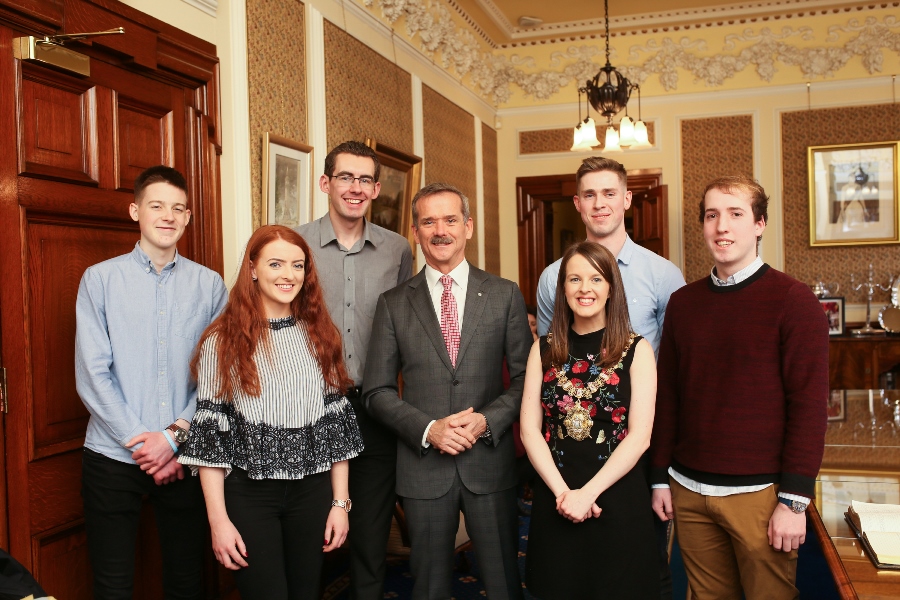 Four Aerospace Engineering students from the School of Mechanical and Aerospace Engineering at Queen's were recently afforded the opportunity to meet with Commander Chris Hadfield.
Chris Austin Hadfield OC OOnt MSC CD (born 29 August 1959) is a retired Canadian astronaut who was the first Canadian to walk in space. An engineer and former Royal Canadian Air Force fighter pilot, Hadfield has flown two space shuttle missions and served as commander of the International Space Station.
All students studying Aerospace Engineering at Queen's were invited to submit a statement of why meeting an astronaut would be of particular interest and benefit to them. The submissions were then ranked and four lucky students were afforded this prestigious opportunity. This was organised by the Lord Mayor's Office as part of the NI Science Festival.
Lauren McGarry, Stage 4 MEng Aerospace student, said:
"…it was brilliant, such a great opportunity... I do not know how else or when I would get an experience like that again. Chris Hadfield was really interested in talking to each person, he came round to the groups, for example he spent some time talking to the QUB students as a group. He had such a great answers to any question asked, so insightful and inspiring."
Pictured L-R
Matt Toland; Lauren McGarry; David Allen; Commander Chris Hadfield; Councillor Nuala McAllister, Lord Mayor of Belfast; Daniel Higgins, Aodhan McCay