Sam Sterling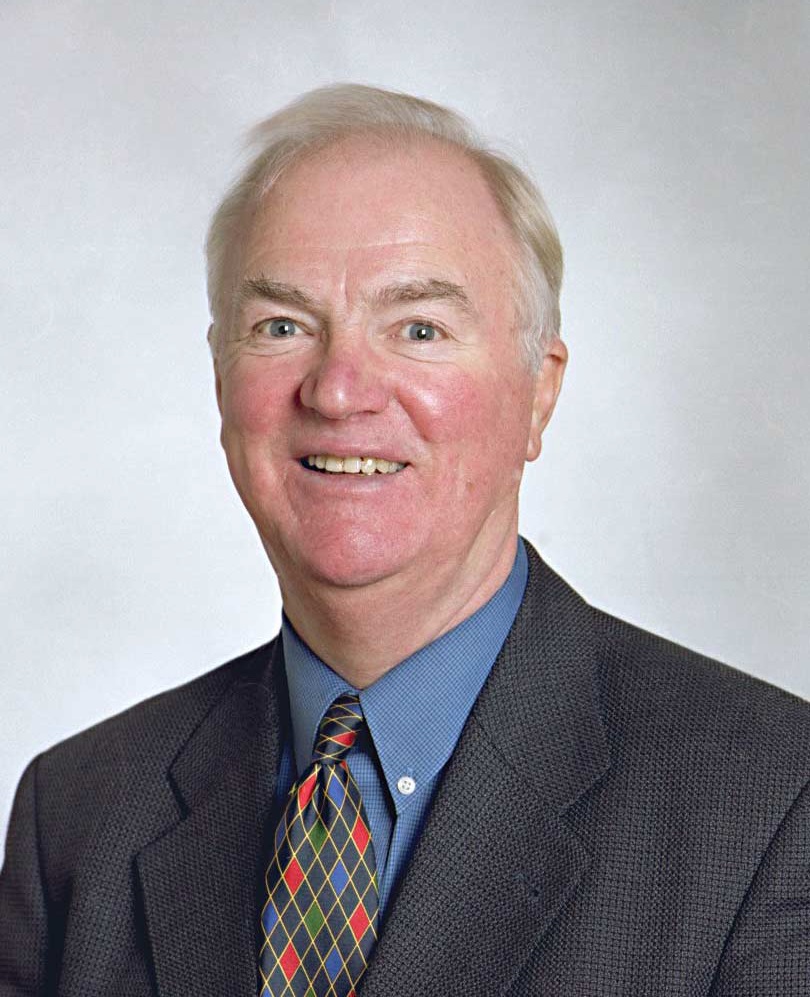 It is with great sadness that we mark the passing of Sam Sterling, Honorary Senior Lecturer in Aeronautical Engineering. Sam was a living legend and a name that was synonymous with Aeronautical Engineering at Queen's for many years.
Born in Tandragee in County Armagh, son of Joe and Jean Sterling he attended Tandragee primary school and then Portadown College. On leaving school he gained a place on the Short Bros Aeronautical Student Apprentice scheme through which he studied at Belfast College of Technology. His apprenticeship started on the shop floor and he worked his way through a number of roles progressing to a staff appointment in the Structural Development section and Engineering test facility. He subsequently moved to London for three years where he graduated with a BSc in Engineering from London University. A keen sportsman he played rugby for London Irish during his student years.
He also attended Cranfield University graduating with an MSc in Aircraft Design having worked on what was then leading technology in finite element methods for aircraft structural analysis. He also obtained a Private Pilots License on Auster Aiglets and flew in flight test courses on the twin engined De Haviland Dove and on the Moraine-Saulnier Paris, a twin-engine jet.
During a second spell at Shorts he designed the Auto Land test rig for the Belfast Freighter in the Engineering test Department. His career path then took him to the stress office at Fokker in Amsterdam where he worked on the F27 Friendship and on the F28 Fellowship. It was at this time that he married Joan Black to whom he was happily married his entire life. They lived in Amstelveen close to Amsterdam and immersed themselves in Dutch life, so different from Northern Ireland. He became a fluent Dutch speaker and continued to read books in Dutch through his life.
Sam returned to England and worked for ICI in their Plastic Division in Welwyn Garden City on the design and stress analysis of thermoplastic structures. Once again, this was a very new material at that time, and he continued to work at the leading edge of engineering technology.
In 1968 he was appointed to a Lectureship in Aeronautical Engineering here at Queen's where he served notably for 44 years. During his time at he held many roles including Advisor of Studies in Aeronautical Engineering and Assistant Dean of the Faculty of Engineering.
Sam was an engine of activity. He established the Aircraft Structures Laboratory at Queens and set up student exchange programmes with the Technical University of Delft in the Netherlands, Aachen University in Germany and with Chalmers University in Sweden. These programmes enabled Queen's aeronautical students to gain valuable international experience and allowed Dutch, German and Swedish students to spend a similar period at Queen's.
During the course of his career he supervised thirty Aeronautical Engineering students at PhD, MPhil and MSc level. Sam was appointed as an external examiner in Aircraft Design for Cranfield University in Bedfordshire and for the National Test Pilots School in Mojave in California. He became a student member of the Royal Aeronautical Society while an apprentice, eventually being elected as a Fellow in 1999. He was also a Chartered Engineer.
Sam was an inspiration to the many students who passed through Aeronautical Engineering. Someone who imprinted values of organisation, diligence and ensuring things were done to a high standard. But above all he loved people. His spirit of building a team that shared values and worked together has nurtured several generations of successful QUB engineers. He was always proud of everyone and shared in the joy of all their successes. He kept in touch with many, and they remained in contact with him, keeping up to date with all the developments in a hundred careers. It was this skill of connecting that enabled him to build the great international networks for our students.
The connection with Delft lead to a joint design project which ran for 10 years, with students from Delft and QUB undertaking a project together. This was before any such international co-operations were common. Installing the first departmental video conferencing system in Aeronautical Engineering, he enabled a unique and leading experience for students. This led to QUB joining a programme called TIME, Top Industrial Managers in Europe, as the only UK university to do so, and our graduates remained the only UK graduates from that programme for many years. Remembering that this is more than 20 years ago shows that Sam was well ahead of his time with these initiatives.
Sam's connections with international partners created an impressive network that many graduates and QUB staff have been able to take advantage of creating partnerships and lasting friendships. His approach to teaching was exemplary with notes carefully organised, clear examples and calculations that made even complex concepts easy to follow, and tutorial and past exam solutions available to help a nervous student navigate the dreaded gauntlet of end of year exams. Ever one for stories he brought the history of concepts into lessons so that everyone knew the origin and reasons for learning. Aerospace structures at QUB is still taught the Sterling way, and with such success that external examiners have commended the level of capability of graduates from QUB. It takes such skill to make it look easy.
He had a wonderful way of engaging with students. Ever keen to ensure everyone got an opportunity to excel he talked to students about where they were from, what they were interested in and happily shared lessons from his own experience. He supported many a student through troubled waters with this thoughtful engagement.
Outside of his academic life Sam had a lifetime involvement with the Scouting movement. He was a Queen's Scout and became District Commissioner for Ballynahinch and Downpatrick. He was also the Chairman of the County Down Scout Council and is the holder of a Silver Acorn Award in recognition of "specially distinguished service to Scouting". In view of his long service to Scouting he was appointed as Honorary Vice President of the County Down Scout Council in 2016. This is a lifetime appointment and reserved for those who have distinguished themselves in their service. He brought his engineering skills to bear here when the scouts erected a standing stone to mark the Millennium, with the ropes and pully system tested in the Aeronautical structures labs. A wonderful example of engaging with our community.
Remaining ever interested in global connections, Sam spent some fourteen years learning Spanish, in classes in Downpatrick and at international language schools in Puerto de la Cruz in Tenerife. His engineering skills and creativity came together in woodworking and he gained a City and Guilds in Machine Woodwork at Ballynahinch Technical College.
Sam was truly a legend in the eyes of the many students he has taught over the years. He was the epitome of 'old school' where everything should be done to the highest standard and the team should stick together. He will be very much missed by all who knew and worked with him. He is survived by his wife Joan, son Michael, daughter-in-law Joanna and his four grandchildren, Eva, Scarlett, Bonnie and Max, and his sister Margaret in Spain.