Queens University progresses 'Common Assets' work with Colin Neighbourhood Partnership (CNP)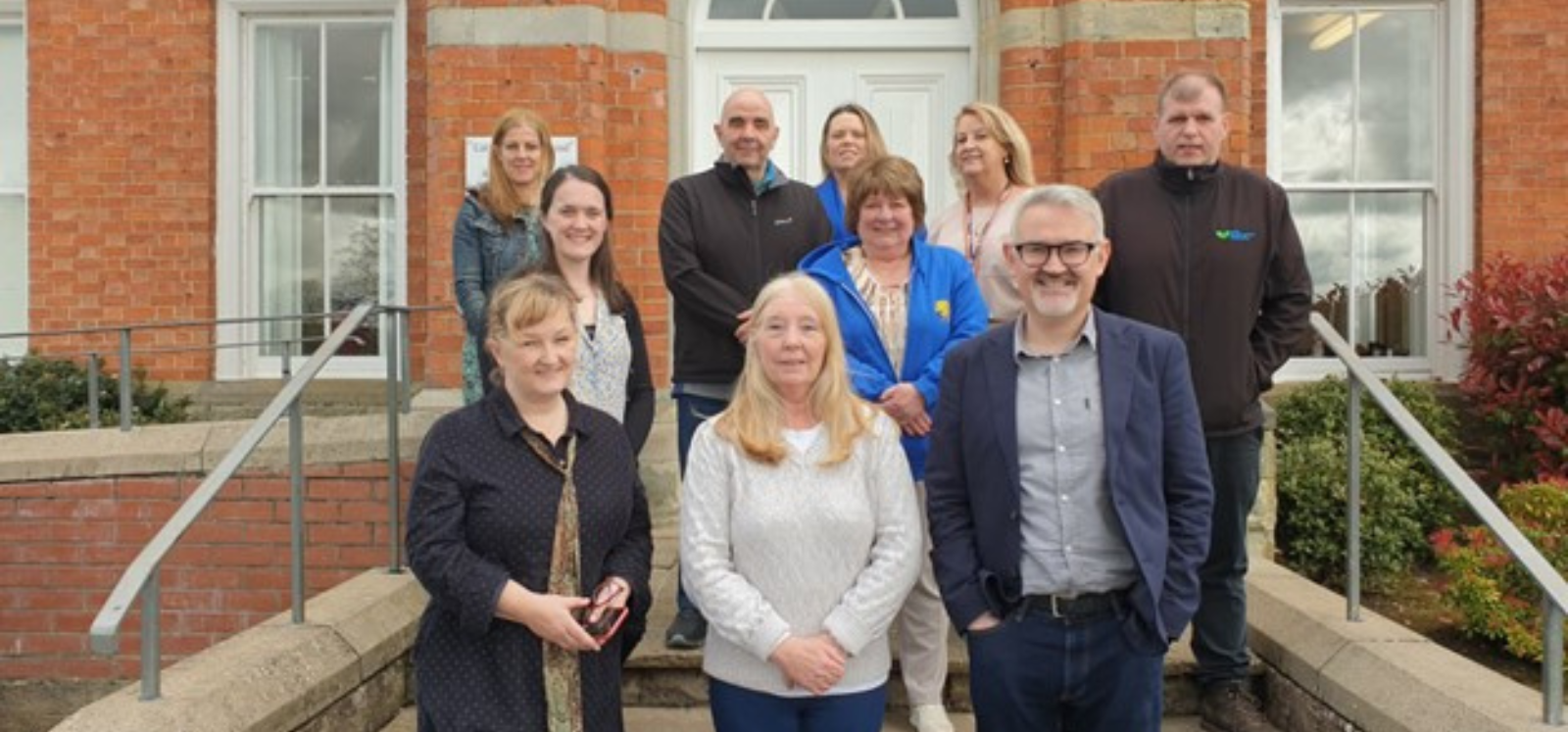 Queen's University Belfast and Colin Neighbourhood Partnership (CNP) are collaborating on a number of projects through Queen's Innovation Zones, including Common Health Assets, a large scale UK based study led by Professor Rachel Baker at Glasgow Caledonian University.
Funded by the National Institute of Health Research, the study explores the impact of community led organisations on health and well-being in communities across Scotland England and Northern Ireland.
On Wednesday, CNP's Management Team welcomed Queen's researchers to Cloona House to discuss how the project can be shaped by the those working directly with community members in the Colin Area. This project builds on previous research findings supporting the value of community based support and uses a range of novel methodologies designed to capture the complexities of what works for whom under what circumstances. This 'realist' approach allows the researchers to avoid pre-conceived ideas about what works, instead building and testing theory through a process of collaboration. It also builds on the long term relationships built up between Colin and Queen's through the work of the Innovation Zones.
Community led organisations (CLO) play a vital role in health promotion and protection, providing much needed support that statutory services are often unequipped or unable to provide. This became very clear through the pandemic, when community led initiatives were able to fill gaps that health services did not have the capacity to address.
With the legacy of the pandemic compounded by economic hardship on the rise this work will shine a light on the importance of community led support. It will help us to evidence how best to enable and empower communities to tackle the emerging issues, such as ongoing isolation and loneliness, through positive connections and the myriad of benefits that are possible with the support of an improved and robust evidence base.
The Common Health Assets project will help us to better understand what community based organisations like CNP need from funders and policy makers, in order to maximise their reach and impact. With focused, longer term funding structures CLOs such as CNP could provide more consistent support for the most vulnerable members of society and importantly, help to prevent negative health and social outcomes for future generations.
Moving forward, the research team will continue to work in close collaboration with CNP, as well as Bogside and Brandywell Health Forum in Derry and Oak Healthy Living Centre in Lisnaskea to gather and analyse a range of data and insights gathered with staff and clients within these organisations. The research findings will investigate impacts on health and well-being, scalability of CLO services, policy implications and importantly, economic analysis on value for money of CLOs. This flagship research will have a significant impact on policy and practice, by providing evidence of the important role CLOs have in the efficient use of scarce resources for tackling health inequalities across the UK.
Senior Lecturer in Mental Health, at the School of Nursing and Midwifery, Dr Karen Galway and Director of the Innovation Zones, Dr Liam O'Hare from the School of Social Sciences, Education and Social Work, are leading the NI team at Queen's University, with Research Fellow Dr Aideen Gildea and nurse researcher and PhD student Jill Mulholland. Reflecting on the meeting Karen stated "We are already seeing the additional benefits of working collaboratively to establish the research activities. We are confident the project will facilitate real change to provide more sustainable support at the community level."
CNP manager Annie Armstrong said "It is fantastic to be involved in the Common Health Assets Project to strengthen our great relationship with Queen's. Our continued collaboration is supporting innovation both in our community and in Queens. It is also providing evidence of the positive impact CNP is having on health and wellbeing within our community. I believe, through this project we will have the potential to address the health inequalities that have persisted in this community for far too long."
Dr Liam O'Hare said "The Common Health Assets project is another great example of the shared benefits of the long term partnership between universities and local communities like the Innovation Zones. Together we are creating world leading research and producing community level data that is helping reduce health inequalities."
For more information about the common assets project contact Dr Karen Galway k.galway@qub.ac.uk or follow us on Twitter @AssetsCommon and at the project website. For more information about Queen's Innovation Zones contact Dr Liam O'Hare.