Neonatal Intensive Care Outcomes Research & Evaluation (NICORE)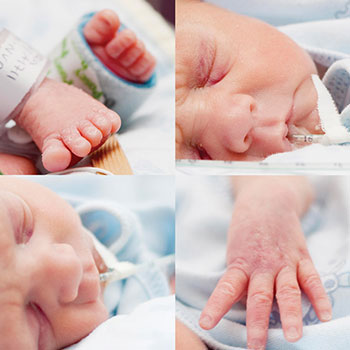 The 2006 Position Paper on Specialist Neonatal Services in Northern Ireland commissioned by the Department of Health stated:
'The care which is provided in a specialist neonatal unit can have life-long effects. Continuing research is required to monitor outcomes from the neonatal units and to increase the evidence-base for what constitutes good neonatal care.'(1)
In the United Kingdom, approximately one in nine babies is born premature or sick which equates to 80,000 babies per year with one baby being admitted to specialist care every six minutes (BLISS)(2). Each year, approximately 2,000 (7%) newborn babies in Northern Ireland will need extra care and will be admitted to one of the seven neonatal units. More than half of these babies will need intensive or high dependency care.
Therefore, although neonatal care provision is relatively low volume it represents a substantial cost within the health service and can be associated with significant mortality and long-term morbidity particularly for very immature babies. (3) NICORE is a joint initiative between the Public Health Agency (PHA) and Queen's University Belfast (QUB) and is funded by the Department of Health, Social Service and Public Safety (DHSSPS).
NICORE aims to work towards improved outcomes for newborn infants admitted to neonatal care and their families in Northern Ireland under the guidance of the newly established Neonatal Network for Northern Ireland (NNNI).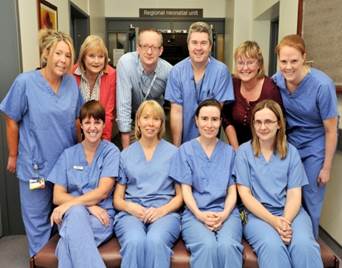 N‌eonatal Teams: Belfast Health & Social Care Trust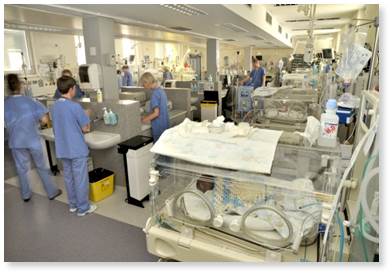 Regional Neonatal Unit: Royal Maternity Hospital, Belfast
The primary function of NICORE is to provide high quality data which are accurate, timely, comprehensive, accessible and relevant in order to support service provision, research, clinical governance, quality improvement, surveillance and to facilitate local, national and international benchmarking.
The anonymous core dataset provides a detailed account of the neonatal care provided for all babies in Northern Ireland: admission details, pregnancy and delivery, parent details, early outcomes within 28 days, discharge details, interventions, treatments, diagnoses, activity and performance against evidence based quality standards.
The neonatal population in Northern Ireland has little cross boundary flow and is therefore ideal for conducting research within a geographically defined region. The Child Health System Bureau Service and the Northern Ireland Statistics and Research agency (NISRA) provide denominator data and have good working relationships with NICORE.
References:
Mistry, H., Dowie, R., Franklin, R.C.G. and Jani, B.R. (2009) 'Cost of neonatal care for low-birthweight babies in English hospitals', Acta Paediatrica, 98, pp. 1123-1129.
DHSSPS Child Health System Bureau Service Database, Northern Ireland.
External Benchmarking Links:
External Premature Baby Charities Links:
Other Links:
Resources Available For Download:
FOR FURTHER INFORMATION
Email: nicore@qub.ac.uk