Belfast Music Society: Student Showcase
Fast-foward to 1:06:00 to hear School of Creative Arts students perform on Radio Ulster's Sounds Classical programme on 9 February.
Please come along to the Belfast Music Society's Student Showcase on Valentine's Day to show your support for these and other student performers. Entrance is free and all are welcome. Friday 14 February, 1.10 pm, Harty Room (Music Building).
PhD student composer and harpist Anne-Marie O'Farrell is appointed as Composer in Residence
PhD student composer and harpist Anne-Marie O'Farrell has been appointed in March 2014 as Composer in Residence to Mary Immaculate College in Limerick. This exciting appointment comes soon after Anne-Marie's work as a choral composer was recognized by the BBC Singers: in 2013 her choral setting Skimming Stones was selected for a BBC Singers Workshop in Dublin led by James MacMillan. Thereafter, Anne-Marie was chosen from that event to take part in an all-day choral event at St Paul's Knightsbridge, London, with the BBC Singers; their workshop on writing for choirs included an open rehearsal of pieces and ended with a concert, which in turn led to a broadcast of her piece Skimming Stones on Monday 3rd March on BBC Radio 3. The conductor was Matthew Hamilton.
Sounds Alive Festival - Call for Fixed Media Pieces and Sound Installations
SARC @ Sounds Alive Festival
6 – 7th September 2014, Dublin http://soundsoutloud.com
A call for Fixed Media Pieces and Sound Installations
I am proud to have been asked to curate parts of the Sounds Alive Festival in Dublin, 6 - 7th September 2014. Taking place in some incredibly unusual spaces – the Egyptian themed Grand Chapter Room, the Prince Masons Room and the Knight Templar Preceptory Room in the Freemasons in Dublin (see photos below) - SARC has been given day time listening sessions and venues for sound installations that 'tell stories'. It is for those spaces that I am now soliciting works.
I am looking for fixed media pieces of varying lengths and 2 or 3 sounds installations that suit the rooms and their inherent acoustics.
The fixed media works and installations should address story telling, whether this relates to the process of creating the piece or to narrative content in the work itself. Sound is central to the festival, and therefore works that focus on innovative, new, fun and exploratory ways of experiencing sound will be warmly welcomed.
All rooms will be open to attendees throughout the day and in the run-up to both of the evening radio concerts (see below for further details). The rooms can accommodate only 20-30 people max per space, so I am interested in small, intimate installations that won't be physically too intrusive but are ambitious and will essentially enhance these remarkable listening spaces.
The festival's emphasis is sound and story-telling and all submissions need to address this theme (see below for the festival's aims and description).
To be considered for the festival, please email Franziska Schroeder:
- a short description of the fixed media piece and/or proposed sound installation and how the work might use the specific space (you can apply for both categories)
- a URL to the fixed media piece
- the length of the piece
- technical requirements - a short biography
Email to: f.schroeder@qub.ac.uk AND cc: julien.clancy@gmail.com
The proposal should be no longer than 300 words in total.
The deadline for all submissions is 31 May 2014.
Sounds Alive Festival in Dublin this week-end
The Sonic Arts Research Centre (SARC) at Queen's University Belfast invites you to three specially curated events as part of the Sounds Alive Festival in Dublin this week-end, 6th September 2014: http://soundsalive.ie
1) Curated Listening Room / Saturday, 10am - 4pm
http://soundsalive.ie/listeningrooms/
A listening room curated by the Sonic Arts Research Centre will feature three works that have woven together sounds and stories. Pieces by John D'Arcy, Michael Dzjaparidze and Min Kim Hyeon
2) Participatory Sonic Arts Panel / Saturday, 2-3pm, Grand Lodge
With Professor Pedro Rebelo and Matilde Meireles, moderated by Dr Franziska Schroeder and Claire Cronin
http://soundsalive.ie/sonic-arts-research-centre-presents-sounds-city-2-3pm/
3) Book launch and Performance / Saturday, 5pm, Various Spaces
For the final SARC event we will showcase an improvisation event with musicians distributed across several rooms and floors of Dublin's Freemason Hall. http://soundsalive.ie/sarc/
All events curated by Dr Franziska Schroeder, School of Creative Arts, Queen's University Belfast
Lights! Action! Lux Film Prize for Film Studies Student.
Recent Film Studies graduate, Amy Moore, has won a year-long placement in Strasburg and Brussels after being awarded a LUX film prize in Venice Film Festival. Amy says, 'From the enthusiasm and knowledge demonstrated by my lecturers, to the opportunities they afforded me, like attending the Venice Film Festival, the experience of being a student at Queen's has been a great introduction for me to the world of film.'
Article: It's 'Action' For Amy As a Career In Movies Beckons
Soundscape Park Opening
"Experience another world here in the heart of Belfast"
Staff and students from the Sonic Arts Research Centre opened a new permanent interactive sound installation in East Belfast on Friday 12th September 2014. It is called the Soundscape Park Project and is located in Bridge Community Garden, on the Albertbridge Road. The project aims to bring something different to Belfast City.
Loudspeakers are hidden all around the garden amongst the planting. Visitors experience ambient soundscapes from all over the world... these might include sounds of the Amazon Rainforest, waves crashing in the Atlantic Ocean, or even the factory sounds from Harland & Wolff shipyards.
Motion detection, social networking and smartphone technology are also some of the tools being used to allow visitors to interact with the sounds. For example, you can use Twitter to trigger sounds in the garden (visit www.soundscapepark.org for more information).
The project was created by a partnership between the Sonic Arts Research Centre at Queen's University Belfast and Business in the Community and funded by Allstate Northern Ireland. The Sonic Arts Research Centre is a world leader in installations of this nature and the staff and students at the centre are contributing to the project with expertise in field recording, composition and the use of interaction technology. There are also plans to make use of the space as an outdoor 'sonic gallery' and for community workshops.
Have a listen to the feature broadcasted on BBC Arts Extra about the project. Listen from 7' 30".
For more information please contact Craig Jackson c.jackson@qub.ac.uk
---
18-25 YEAR OLDS SOUGHT FOR THE CHRISTMAS STAR PRODUCTION CREW
Cinemagic Press Release:
Cinemagic has launched its search for a young film production crew and film music crew, aged 18-25, for the film 'The Christmas Star', Northern Ireland's first Christmas feature film made by young people under the guidance of industry professionals. Budding film profesionals will have the chance to develop their talents and earn their first credit on the local feature film being made in Northern Ireland later this year. Read more...
British Board of Film Classification visits Queen's.
Last Wednesday saw Director of the British Board of Film Classification David Cooke and Head of Policy David Austin visit the department of Film Studies at Queen's and take part in a seminar with students. In a lively discussion event hosted by Dr Sian Barber in the Queen's Film Theatre, BBFC policy decisions on a range of films were discussed, notably The King's Speech and Made in Dagenham, as well as the problems posed by more extreme fare such as Human Centipede 2.
As well as considering the ethics of classification, the BBFC also answered questions on their work classifying films in the digital age and the complexities of classifying material for different regional audiences. The BBFC also talked about their recent pilot in classification of online music videos which is an ongoing collaboration with the British music industry.
The event was well attended and included students from Law and English as well as staff and student from Film Studies.
Director of the BBFC David Cooke with 3rd year Film Studies students Rachael Doherty, John Emerson and Joanne Russell
Unheard Voices: Stories from the Troubles
WAVE Trauma Centre has recently made available online the short film, Unheard Voices: Stories from the Troubles, which tells the stories of those who lost someone or who were injured during the Troubles. Directed by Cahal McLaughlin, Chair of Film Studies, the film was produced collaboratively with the participants and has been screened by seven Borough Council Good Relations Departments across Northern Ireland.
http://www.wavetraumacentre.org.uk/about-us/wave-projects/unheard-voices
School of Creative Arts Teaching Assistants 2014-15
School of Creative Arts Teaching Assistants 2014-15
The School of Creative Arts wishes to engage the services of a number of Teaching Assistants to help in the delivery of modules on the BA Film, BA Drama, BMus and BSc Music Technology and Sonic Arts pathways during the academic year 2014-15.
The minimum requirement for someone wishing to act as a Teaching Assistant is a second-class undergraduate degree in the relevant subject (or equivalent) and previous experience of undergraduate teaching in that subject is desirable. If you wish to be considered for this opportunity then please complete the application form and return it to the School of Creative Arts by 5.00pm on 04 July 2014. Late applications will not be accepted. Those who have previously acted as Teaching Assistants in the School must also complete and return the form if they wish to be considered for opportunities in the academic year 2014-15.
The School will contact successful applicants with details of module teaching being offered. Those who are not selected for teaching assistance in 2014-15, but who meet the minimum requirement, will have their forms retained should future opportunities arise. Those who do not meet the minimum requirement will be informed that they cannot be considered for any opportunities. Please note that in the allocation of teaching assistance duties, priority may be given to full-time PhD students in the School who are entering the second year of their studies.
Teaching Assistants will be paid at the rate of £34 per hour: this hourly rate includes marking support, where required. Those who are offered teaching opportunities will be expected to undertake a short training course in October 2014.
Modules for which teaching assistance may be required include:
BSc Music Technology and Sonic Arts
MTE1004 Listening and Repertory
MTE1009 Audio Engineering 1
MTE1018 Fundamentals of Sound
MTE1022 Composition (Sonic Arts)
MTE2004 Electroacoustic Composition 1
MTE2005 Acoustics
MTE2009 Recording Techniques 1
MTE2015 Sound Design for Film
MTE2040 Designing Digital Music and Interactions 1
MTE2042 Designing Digital Music and Interactions 2
MTE3003 Electroacoustic Composition 2
MTE3005 Psychoacoustics
MTE3009 Recording Technologies
MTE3013 Designing Musical Interactions
BMus
MUS1001 Musics of the World
MUS1011 Composition 1
MUS1013 Fundamental Harmony 1
MUS1014 Fundamental Harmony 2
MUS1041 Repertory A (Classical and Romantic)
MUS1042 Repertory B (Western Music 1890-2000)
MUS2001/ Early 20th Century Technique and Style
MUS3001
MUS2015 Classical Analysis
MUS2037/ Piano Pedagogy
MUS3037
MUS2041 Repertory C (Western Music: Medieval to 1750)
MUS3054 Experimental Music
MUS3069 Traditional Irish Music: Form, Style and Development
BA Film Studies
FLM1001 Introduction to Film Studies 1
FLM1002 Introduction to Film Studies 2
FLM1004 Introduction to Film Practice
FLM2001 Hollywood Cinema 1
FLM2015 Cinema and Modernism
FLM2019 Introduction to Screenwriting
FLM2026 British Cinema: Nation, Identity and Industry
FLM2027 Experimental Practice
FLM3019 Hollywood Cinema 2
FLM3024 Film and Music: Theory and Criticism
BA Drama Studies
DRA1001 Drama 1: Performance Analysis
DRA1002 Drama 2: Classical Theatre
DRA2001 Drama 3: Renaissance to Romanticism
DRA2002 Drama 4: Modernist Theatre
DRA3001 Drama 5: Postmodern Performance
DRA3033 Applied Theatre
Other Modules
SCA1001 Transitional Study Skills
SCA2043 Writing about the Creative Arts
Application:
To apply, please complete the following application form. The completed form, together with a recent CV should be returned in electronic or hard copy to:
Mr Kirk Shilliday
School Manager
School of Creative Arts
Sonic Arts Research Centre
Queen's University Belfast
BT7 1NN
Further Information: For further information, please email Kirk Shilliday k.shilliday@qub.ac.uk or telephone on 028 9097 4843.
Creative Arts Film Students Attend Cinemagic Event in Los Angeles
Cinemagic Hosts Los Angeles Festival Showcase.
The LA Cinemagic International Film & Television Festival for Young People took place from 2-10 March with a special closing night showcase on 10 March, which recognised young film talent.
Speakers included Northern Ireland First Minister the Rt. Hon. Peter D. Robinson MLA, deputy First Minister Martin McGuinness MLA, Snow Patrol's Gary Lightbody, and the charismatic MC for the evening Ross King.
Guests were treated to spirited performances from the talented group of young people from Northern Ireland as well Alexander Hamilton High School in Los Angeles. The young people participating in Cinemagic this year impressed the audience with their premiere screening of their short film "Punch" made at Cinemagic's International Film Camp. The film dealt with a young girls struggle with domestic violence and her transformation from troubled teen to young adult through boxing; the film earned a well-deserved standing ovation.

The evening came to a close with a Q&A from entertainment industry professionals such as Peter Devlin (Sound Mixer, Thor, Iron Man 3), Ian Fox (Camera Operator, The Amazing Spiderman), Bernie Caulfield (Executive Producer, Game of Thrones), Lance O Connor (Producer) and Paula Malcolmson (Hunger Games).
Guests Included: Courteney Cox (Cougar Town), Gary Lightbody (Snow Patrol), Rory Cochrane (Argo), Damian McGinty (Glee), Ross King (TV Host), Darwin Shaw (The Bible), Jamie Gray Hyder (True Blood), Ocatvius J. Johnson (Intelligence), Russ Bain (Intelligence), Emma Fuhrmann (Blended), Desi Valentine (Singer/Songwriter).
Cinemagic Los Angeles engaged with 2,000 young people, over 10 days of festival activity, which boasted a wide programme of events with industry masterclasses, Q&A's, and studio tours. Young people got insights into organizations such as The Jim Henson Company, HBO, Walt Disney Animation Studios, 20th Century Fox, The Academy of Motion Picture Arts and Sciences, New York Film Academy, Aero Film, Creative Visions Foundation.
Joan Burney Keatings, Cinemagic CEO said "With the support of our funders we are proud to present our 5th Cinemagic Los Angeles Film Festival. The industry partners have come on board to share their knowledge and skills with young people and this interaction provides vital encouragement for young people, inspiring and motivating them.
The Cinemagic Festival gives young people the opportunity to work with others from different cultural backgrounds and to create new channels of communication through the medium of film. The workshops help develop not only the young people's film making skills but also their inter-personal skills, and the overall process of film viewing contributes to a deeper understanding of cultural difference."
Some of the young people involved include Rebecca Kelly from Newry, Daniel Crowe from Bangor, Lori Brown from Larne, Niamh Brennan from Dunmurry, Rachel Carvill from East Belfast, Rebekah Jane Davis from Ballynahinch, Rory Maguire from Derry and Kyle Plunkett from NYC.
Carál Ní Chuilín, Arts Minister, commented "The work being done by Cinemagic in Ireland and internationally continues to provide young people with fantastic experiences. It also demonstrates the innovation and determination of the Cinemagic team to position themselves at the forefront of creativity on an international stage. Congratulations to all involved."

Celebrating Women in NI Music
Celebrating Women in NI Music
On 8 March, in celebration of International Women's Day, Dr Gascia Ouzounian curated a series of events that featured the talents of several students and staff in the School of Creative Arts. The day started with an all-ages improvisation workshop lead by vocalist and Performance Workshop tutor Caroline Pugh. This was followed by a panel on Women in the NI Music Industry that examined the different opportunities and challenges faced by local musicians. An evening concert, CarousELLE, featured SOCA students and staff including Isobel Anderson, Helena Hamilton, Matilde Meireles, Úna Monaghan, Katharine Philippa, Pugh and Ouzounian, as well as local musicians Rachel Anne Coulter, Claire Hall, Catherine Hatt, and Kasey Peters. The concert, which was promoted by a live performance on BBC Arts Extra and a full-page write-up in the Mirror, was played to a packed hall. It was warmly received by audiences, and the musicians are now planning further collaborations.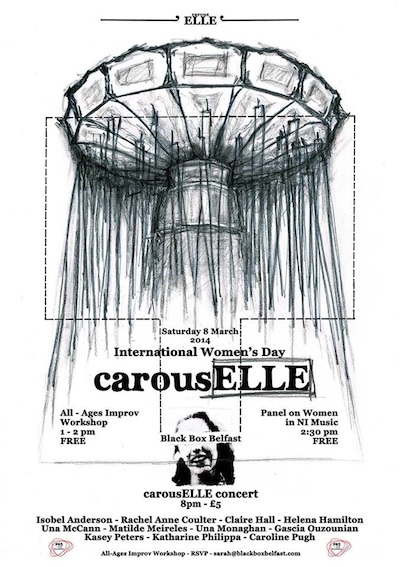 CarousELLE poster by Helena Hamilton, MA candidate in Sonic Arts.
CarousELLE was produced by John McGurgan, who along with Kris Strong founded the Carousel improvisation series in 2008. It received generous support from the
PRS for Music Foundation
and Black Box Belfast. Special thanks go to Sarah Jones from Black Box Belfast, John McGurgan, and all the musicians and production team involved in this memorable day of events.
‌Photos from CarousELLE concert, Black Box Belfast, 8 March 2014.