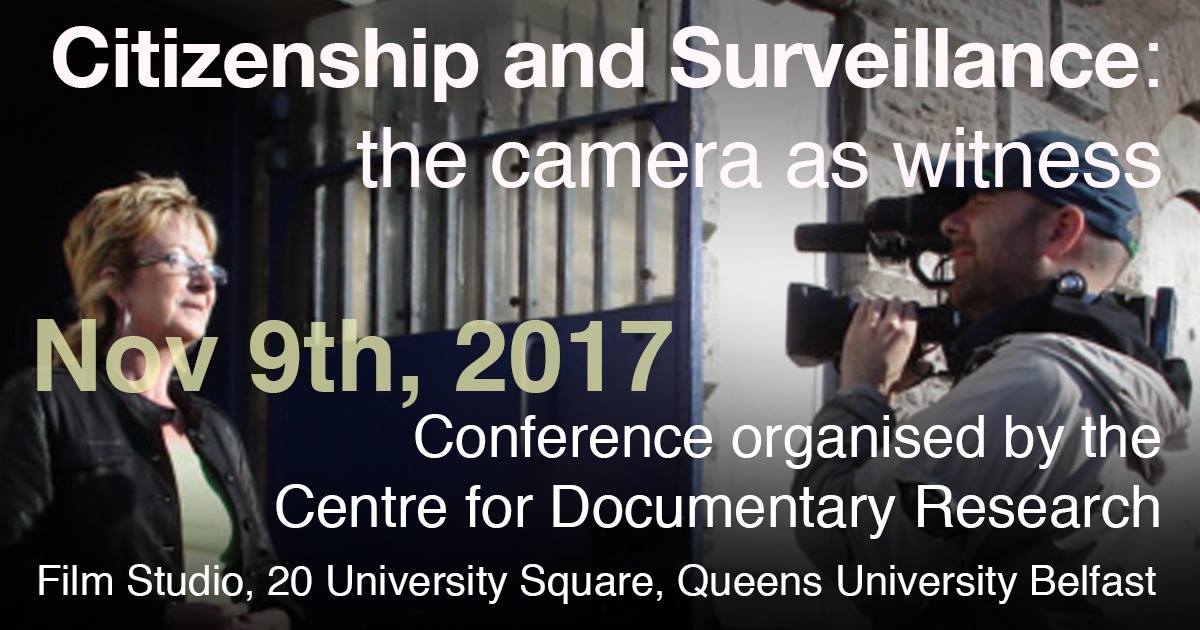 'Citizenship and Surveillance: the Camera as Witness' Conference, Nov 9th, 2017
Organised by the Centre for Documentary Research

Film Studio, 20 University Square, Queens University Belfast. In collaboration with San Francisco State University's Documentary Film Institute.
10am Introduction
10.30 – Mary Freedman (PhD student, QUB) 'Urban Trajectories: Female Citizenship in the In-Between. A case study from Rio de Janeiro'
11 – 12.30 Workshop with visiting Brazilian filmmaker Maria Augusta Ramos on her work in progress.
12.30 – 1.30 lunch
1.30 Casey Hayward (filmmaker and Bentley University, USA) 'No Refuge for the Refugee: Documentary Film and International State Surveillance'
2pm Sean Murray (filmmaker and QUB) 'Documenting the Past: The Construction of a New Historical Understanding'
2.30 Nisha Kapoor (York University) and Ken Fero (filmmaker and Regents University London) 'De-port, Deprive, Extradite'
3pm Dyfrig Jones (Bangor University) screenings of Sousveillance Utah (7"10') and Empathic Media: Emotiveillance in Marketing and Media (6"40')
3.30 - Cahal McLaughlin, the Prisons Memory Archive; camera as collaborator.
4pm Coffee
Link up with San Francisco State University's Documentary Film Institute – Politics, Activism and Visibility
4.30 Şirin Fulya Erensoy (Istanbul Kültür University) 'Documenting Injustice in a Time of Media Blackout'
5.00 Soumyaa Bhrens (San Francisco State University) 'Nail House: Political Gentrification in San Francisco'.
Screenings at Queens Film Theatre:
Nov 8th 6.30pm, Cambodian Spring (Chris Kelly, 120 mins, 2017)
Nov 9th 8.50pm, Future June (Maria Augusta Ramos, 100mins, 2015)
Conference attendance is free, but please RSVP Film.studies@qub.ac.uk with the title 'CDR'.
Latest News