Christopher Molloy wins Anjool Malde Award for his short film The Quiet, Uncredited Photographer
Christopher Molloy, MA Film student, wins Young Journalist of the Year - Anjool Malde Awards 2023 (co-hosts Queen's University Belfast) for his short film The Quiet, Uncredited Photographer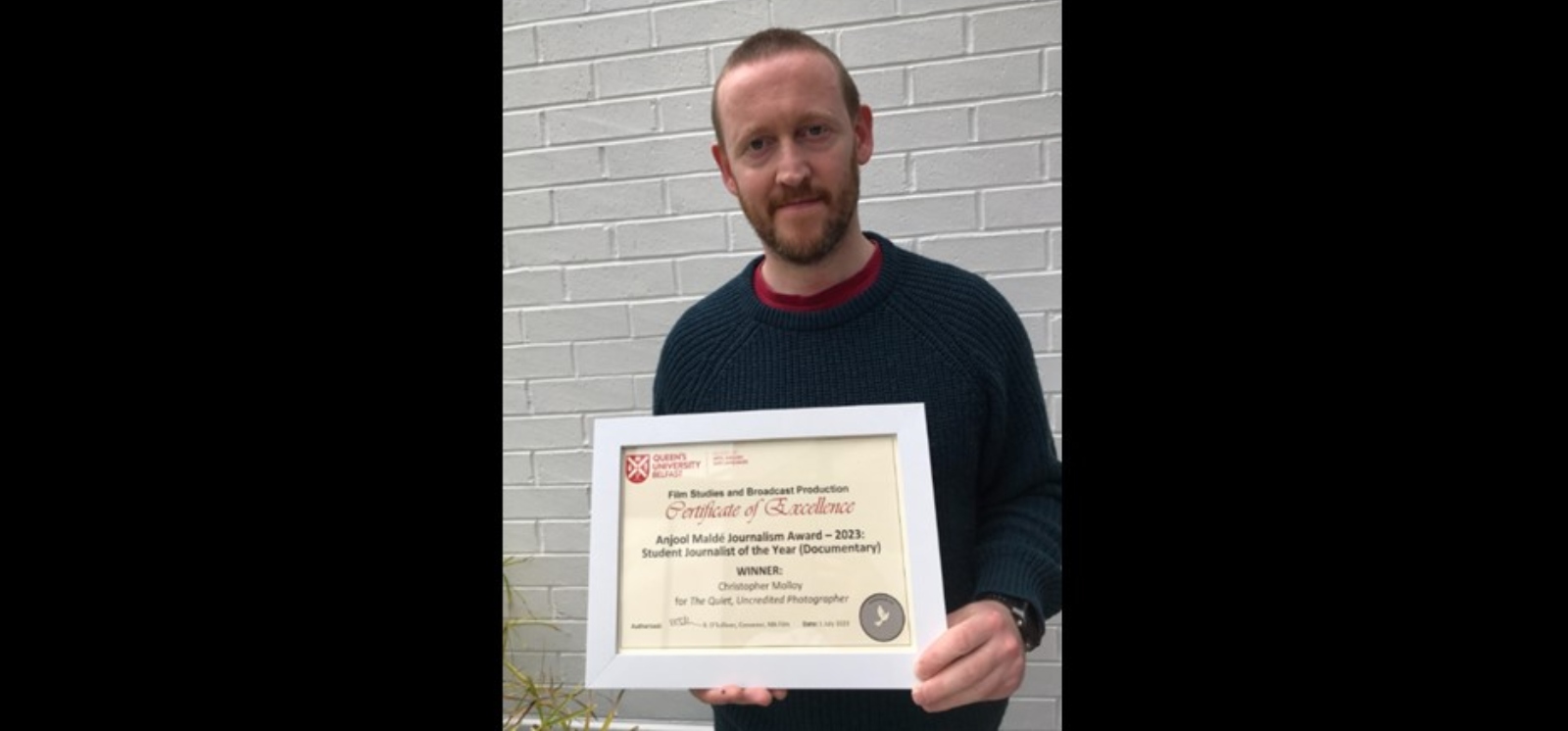 Judge Richard O'Sullivan (Senior Lecturer in Film and Convenor, MA in Film, Queen's University, Belfast):
"Christopher Molloy's 'The Quiet, Uncredited Photographer' is beautifully filmed and conceptually rich, and prompts us to consider the challenges of portraying the lives of those we love, that ubiquitous aim of much personal documentary. The film evokes a poignant connection to the filmmaker's mother which is truly potent in emotional terms. The judges were agreed that this meditation on the image and the power of family stood out amongst the excellent films made in the MA Film this year."
Christopher Molloy (Winner):
"I feel a deep privilege and am extremely humbled in accepting the Anjool Maldé 'Journalist of the Year' Award. The film at its core speaks of the transcendent bond between family, and how analogue printed photographs grant us a tangible reminder of this. This film means a lot to me on a personal level, and to know that it is valued by others is a wonderful addition. I will take the confidence gained from receiving the Anjool Maldé Award and devote it to my future artistic endeavours. Thank you."
CLOSING STATEMENT (AMMT TRUSTEES):
"In among another crop of highly talented great achievers, the Trust would like to take the opportunity to highlight the Journalism Award Winner Chris Molloy for his film The Quiet, Uncredited Photographer. It enables us to celebrate the modest, unseeking quality of so many unsung heroes who go about pursuing their talents, patiently and steadfastly, regarding this as reward itself. As captured so well by Chris in his short film about his mother".
For full details on all the awards