Dr Síobhra Aiken awarded prestigious book prize by the Royal Historical Society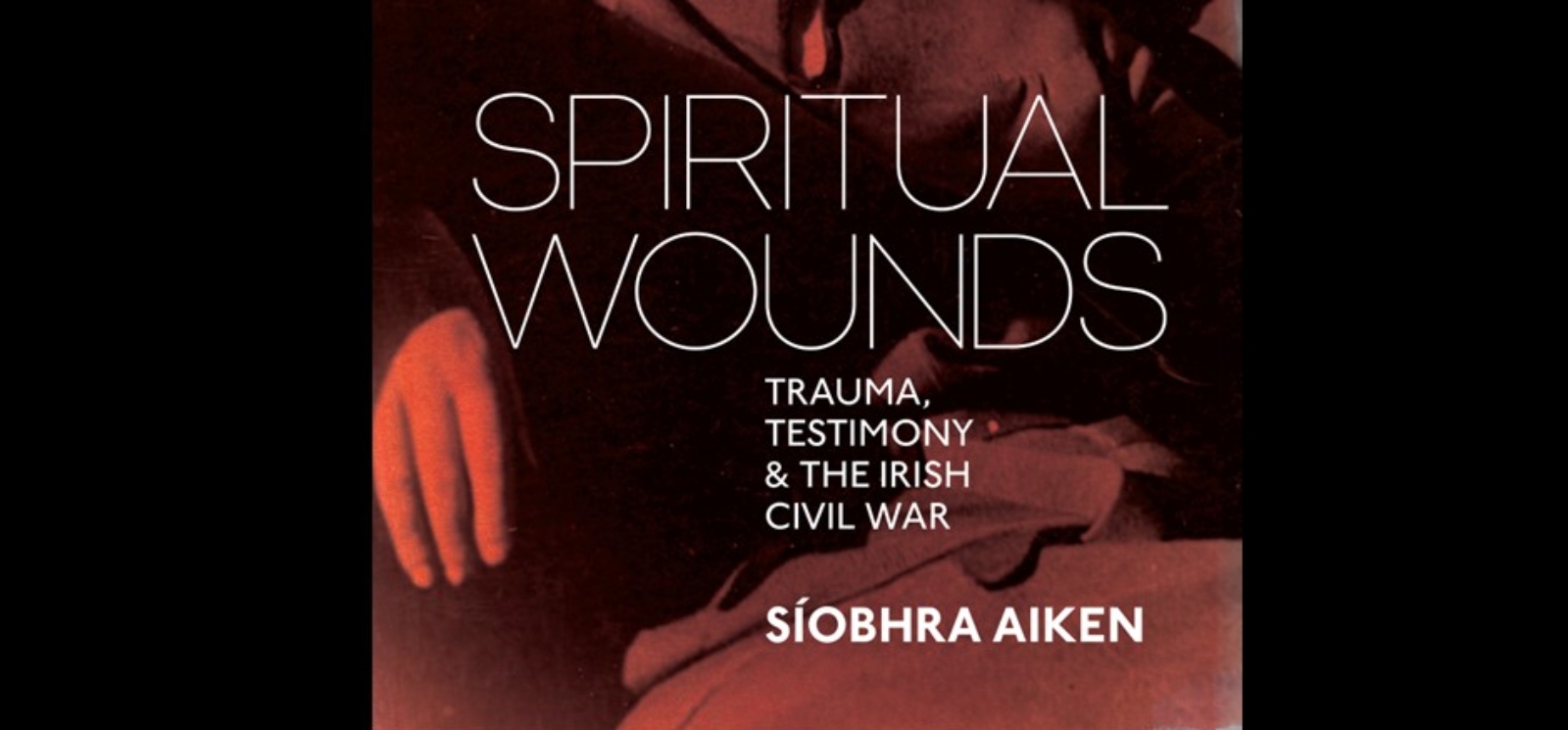 Dr Síobhra Aiken, lecturer in Roinn na Gaeilge agus an Léinn Cheiltigh (Department of Irish and Celtic Studies) in AEL, was awarded the 2023 Whitfield Prize by the Royal Historical society for her book, Spiritual Wounds: Trauma, Testimony and the Irish Civil War, published by Irish Academic Press. The Whitfield prize is awarded annually to the best first book in British or Irish history and is described as 'one of the most sought after book prizes for early career historians'.
Dr Aiken's book is the second work of Irish history to be awarded the Whitfield Prize since its establishment in 1976 (following Niamh Gallagher's 2020 award for Ireland and the Great War: A Social and Political History).
Spiritual Wounds challenges the prevailing view that the events of the Irish Civil War were shrouded in silence by uncovering a wealth of previously neglected testimonies written in both English and Irish. These testimonies are excavated from various genres of life writing and are skilfully examined to probe new questions regarding the perceived therapeutic benefits of witnessing, gendered and sexual violence, exile, and perpetrator trauma.
The judges of the Whitfield Prize remarked that "the book shows how the code of silence around the Irish Civil War was culturally constructed, and it adopts and historicises the framework of 'trauma' for its study, offering a model for others to follow. Aiken's afterword presents fascinating comments on the researcher's own subjectivity, and the challenges of writing about topics which 'defy straightforward empathic identification'. It is a powerful contribution to our understanding of the legacy of war, and of historical practice and the role of the historian".
Commenting on the award, Dr Aiken remarked that "Spiritual Wounds is multidisciplinary to its core, in that it engages with scholarship from a range of academic fields from psychology to trauma studies and gender studies to literary criticism. In addition to working with archival materials, it incorporates sources that historians are often not accustomed to handling, such as fictionalised life writing, oral narratives, and sources in languages other than in English.
"This award is thus a real endorsement of not only the calibre of Irish historical scholarship, but also of the merits of multilingual research and interdisciplinary historical approaches. The award also gives due recognition to publishers like Irish Academic Press who publish first-rate academic works and make them affordable and accessible to the general public."
Spiritual Wounds is based on Dr Aiken's doctoral dissertation from the Centre for Irish Studies, University of Galway, which was awarded the Adele Dalsimer Prize by the American Conference for Irish Studies (ACIS) in 2021. Spiritual Wounds appeared in the Times Literary Supplement's Books of Year 2022 and was awarded the Michael J. Durkan Prize for Books in Language and Culture 2022 by the ACIS.
Dr Aiken was recently selected to form part of the Young Academy Ireland – an all-island network of 40 early career researchers and innovators based out of the Royal Irish Academy. She is currently completing a second monograph – entitled GAELTACHT SPRINGFIELD: Pádraig Ó hÉigeartaigh & pobal na nGael san Oileán Úr – which is an examination of the efforts by early twentieth-century working-class immigrants in the industrial city of Springfield, Massachusetts to sustain an Irish-speaking enclave in their adopted home.