Dr Kurt Werner, SARC, and Ólafur Bogason, Genki Instruments, win Best Paper Award for their Research
Dr Kurt Werner, SARC, and Ólafur Bogason, Genki Instruments, win Best Paper Award for their research at the DAFx 2018 Conference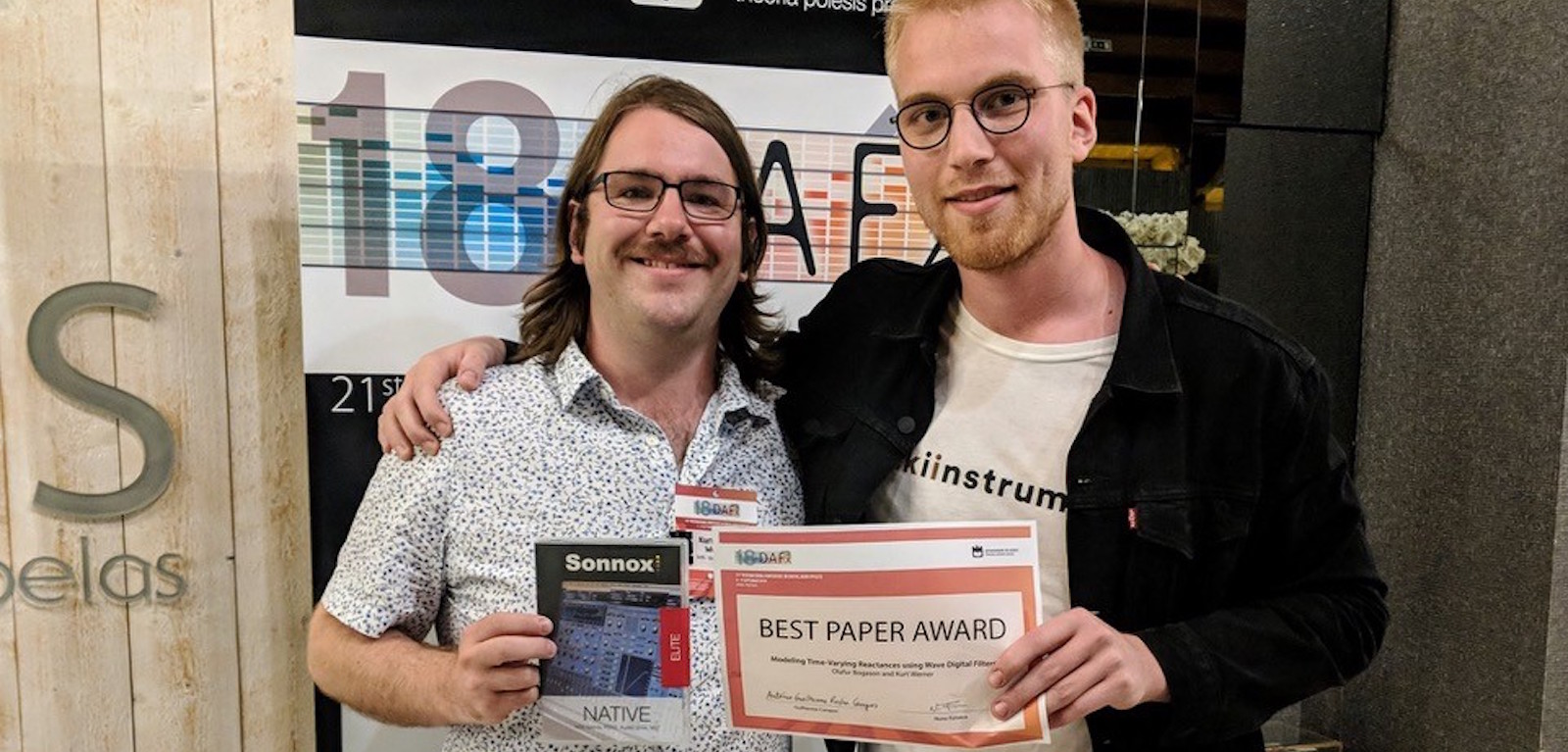 At the 21st edition of the International Conference on Digital Audio Effects (DAFx) which took place at the Universidade de Aveiro (Aveiro, Portugal), 4–8 September 2018, the Best Paper Award was given to a team of two authors Ólafur Bogason and Dr Kurt James Werner for their paper entitled 'Modeling time-varying reactances using wave digital filters'. This award was presented to Mr Bogason and Dr Werner by distinguished Portuguese producer and recording engineer José Fortes.
The award-winning paper improves the modeling of time-varying electronic components in audio circuits (such as wah-wah pedals), allowing the design of more accurate and flexible virtual analog models. The paper also contributes new theoretical insight on the choice of wave variable types in Wave Digital Filter formalism.
The conference was hosted by Profs Guilherme Campos and Nuno Fonseca through the University of Aveiro Institute of Electronics and Informatics Engineering and in collaboration with the Portuguese Audio Engineering Association (APEA). At DAFx, academic and industry presenters from around the world gave papers, posters, tutorials and keynote talks on a range of subjects related to audio signal processing, including virtual analog modeling, music information retrieval, machine learning and audio effect design.
Upcoming Related Events
If you are interested in the work being done by Dr Werner and Mr Bogason, you can hear public lectures on their recent work on wearable audio electronics and the history of drum machine circuitry at two upcoming SARC/Music Seminars at Queen's University Belfast.
Both seminars are free and open to the public:
Dr Kurt James Werner: ' "Nothing Sounds Quite Like an 808": Pop Music's Most Celebrated Kick Drum Circuit and its Ancestors'. 1:00–2:00pm on 7 November 2018 at SARC's Sonic Lab (4 Cloreen Park, Belfast BT9 5HN)
Ólafur Bogason: 'Title TBA'. 1.00-2.00pm on 6 February 2019 at SARC's Sonic Lab (4 Cloreen Park, Belfast BT9 5HN)