QUB win a number of prizes at the Northern Ireland Student Television Awards 2018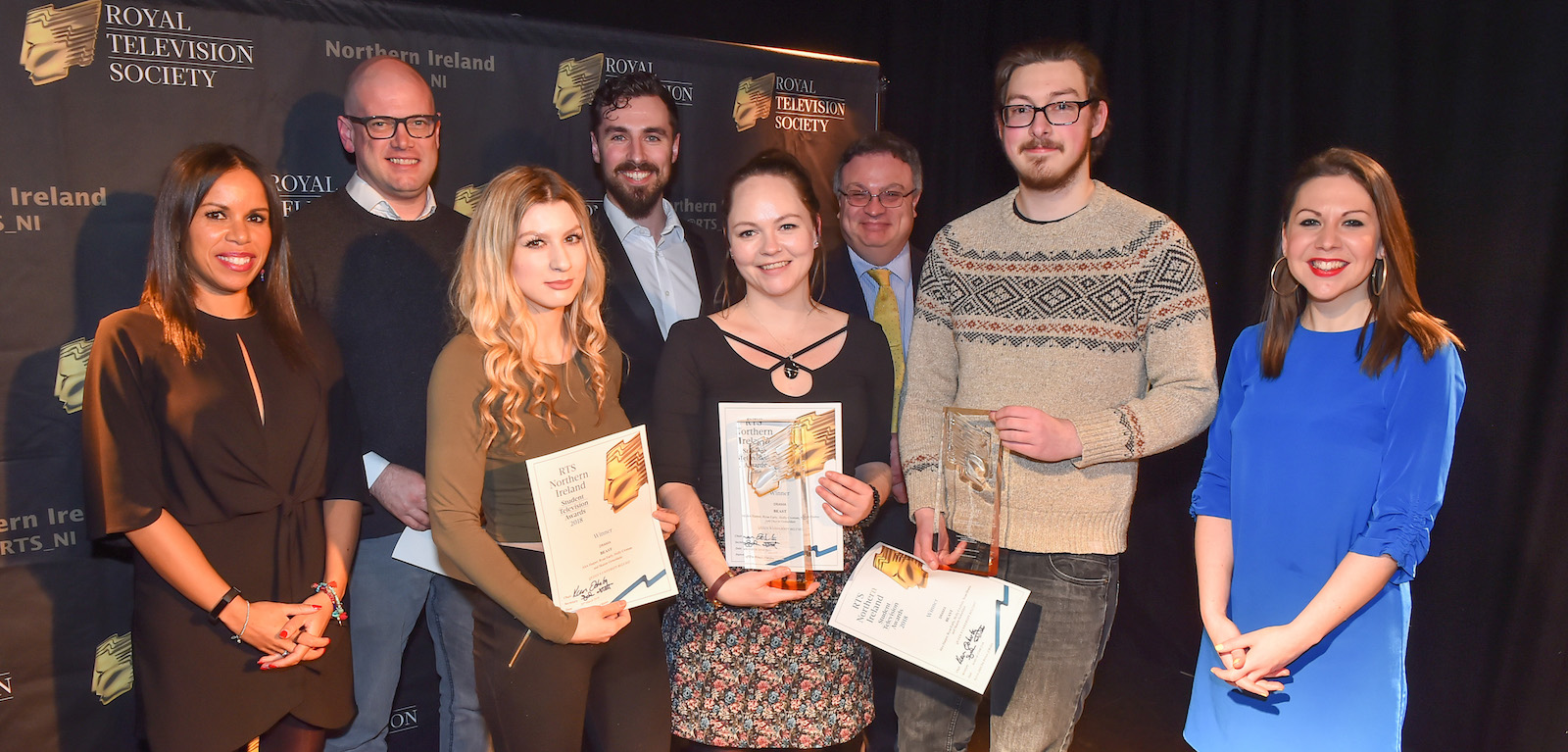 The Royal Television Society Northern Ireland (RTS NI) Student Television Awards Winners were announced on Tuesday 20 March 2018 in Belfast at an awards ceremony hosted by TV presenter Judith Hill, with the Joe McKinney memorial keynote speech delivered by Emma-Rosa Dias, MD of Afro-Mic Productions.
The winners from Queen's included:
In Drama, sponsored by Westway Films the honours went to Queen's University Film Studies & Production students for Beast by Alex Harper; Ryan Early, Holly Croman, Sean Dorris and Skaiste Gotseldaite. Highly commended also went to Queen's students for Red Brick City by Mark McNally, James McBrien, Ryan Campbell, Darragh McCaughey and Ryan Humphreys.
The Factual award, sponsored by Crawford McCann went to Nomad by Queen's University Film Studies & Production students Zoe Tweedy and Joshua McGonigle, who also picked up the new Craft award recognising particular skill in camera work for their production, sponsored by UTV.
Kieran Doherty, Chair of RTS NI who studied at the Belfast Institute of Further and Higher Education said: "As an educational charity these awards help the RTS to raise awareness of the amazing home grown talent emerging from our third level colleges. This year's entries all displayed very high standards of creativity, innovation and technical capability and I know the judges had a difficult task selecting our winners, I trust these awards will assist all the students in their future careers.
"The third level colleges continue to play an increasing important role in preparing future generations for a career in the creativity industries, keeping up with the ever changing technology and the RTS looks forward to continuing our relationship to showcase their achievements."
Supported by the Department for Communities as part of Creativity Month, the RTS NI Student Television Awards recognise the importance of education within the growing creative industry sector in Northern Ireland. The winners of these Awards go forward to the national RTS Student Media Awards which will be held in London later this year.
The winning films are products from the Advanced Film Practice modules at level three, convened and taught by Dr Declan Keeney and Richard O'Sullivan, from the School of Arts, English and Languages.