QUB Film Studies and Production students shine at the Royal Television Society (NI) student awards
Following on from previous years QUB Film Studies and Production students again shine at the Royal Television Society (NI) student awards on Tuesday 26 March 2019, held at the Black Box in Belfast.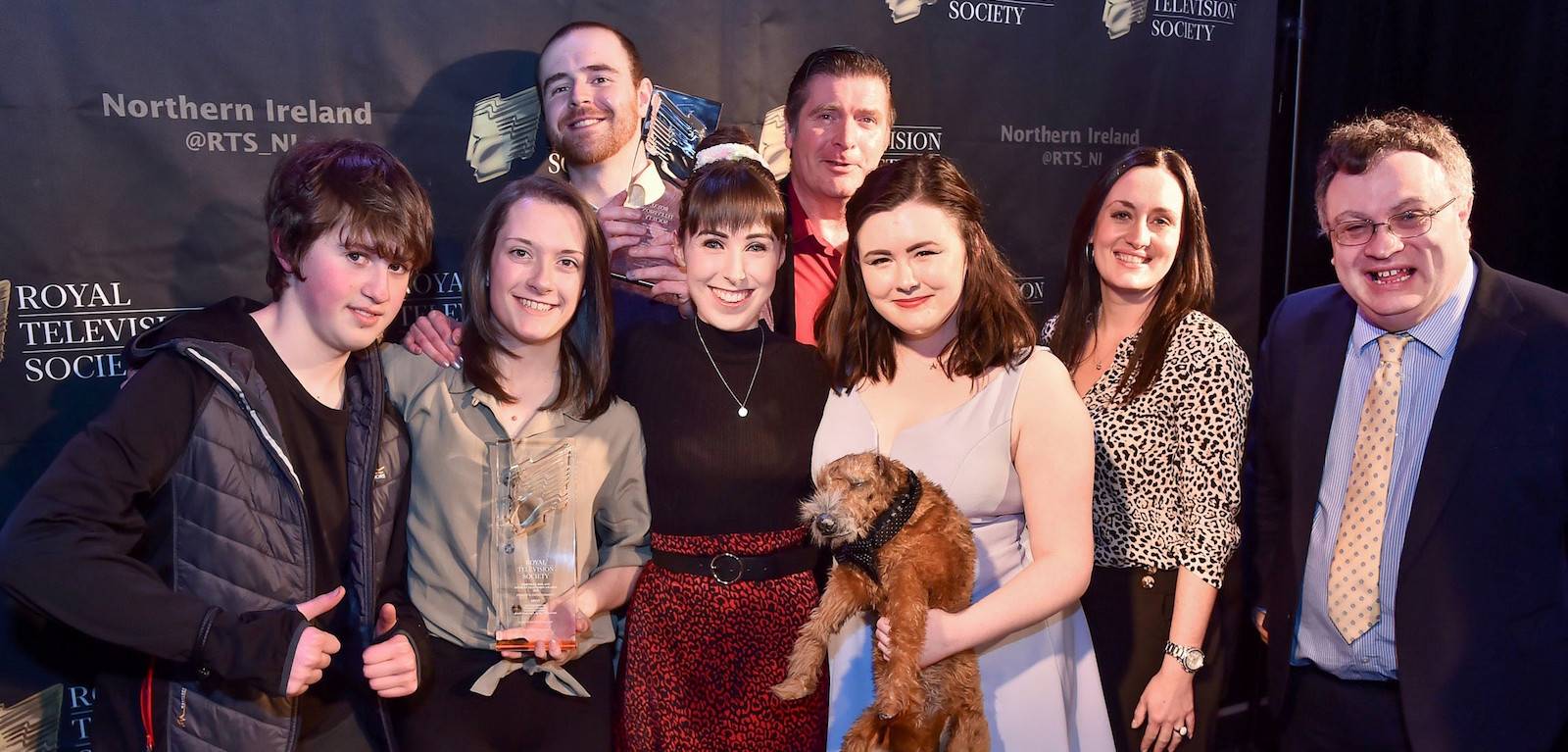 The ceremony was hosted by BBC Newsline's Jo Scott, with speakers including Eden Wilson (UTV) and Dr. Stephen Farry MLA (Minister for Employment and Learning, 2011-16). The standing-room only event included screenings of the winning films and clips from the nominees.
This year's award for achievement in Craft went to Lucy Browne for the experimental piece Evelyn's Opus, recognising the quality of the film's production design. Lucy wrote and directed the piece, and the filmmaking team included Sarah Cummings, James Doran, Sian McManus, and Jamie Orr. The judges described the film as technically stunning, visually engaging creative work.
In the Comedy and Entertainment category, Spot, written and directed by Hannah McEvoy, took home the award. The filmmaking team included Patrick Magennis, Conor Patterson, Jenny Parkhill and Bethany Mackin
Snapping at Spot's heels in the same category, Johnson Orr's Forbidden Fruits was 'Highly Commended'. Laura McQuaide, Oran McStay, Paul Kennedy and Rachel Cummings worked on the outrageous comedy.
Last but certainly not least, the documentary piece Childhood, by Peter Young, Caleb Roberts, and Joshua Montgomery, took home the award in the Factual category.
This brings the tally to 11 Royal Television Society awards to Queen's students in the past three years alone.
Congratulations to these Queen's filmmakers, and all who contributed to the films. These works were developed, written and produced as part of QUB classes overseen by Dr Declan Keeney, Richard O'Sullivan, Prof. Cahal McLaughlin, and Lucy Baxter, with technical support from Glenn Gallagher and Paula Johnston.
Picture: Comedy & Entertainment Winner – SPOT by Queen's University students Hannah McEvoy, Patrick Magennis, Jenny Parkhill and Bethany Mackin with actors Frank and Rory, Vikki Taggart, Stellify Media who sponsored the award, Dr Stephen Farry, MLA and Spot the dog (Photographs by Simon Graham).
https://www.facebook.com/qubscreen/?epa=SEARCH_BOX