The Project
'Performing Restoration Shakespeare' is an international and multidisciplinary research project that brings together scholars and practitioners in theatre and music to investigate how and why Restoration adaptations of Shakespeare succeeded in performance in their own time (i.e., 1660-1714) and how and why they can succeed in performance today.
When London theatres reopened in 1660 upon the restoration of the monarchy, few new plays were available. Logically, the patent companies headed by Thomas Killigrew (The King's Company) and Sir William Davenant (The Duke's Company) staged works by Shakespeare and his contemporaries. But they did not perform Shakespeare's plays the way that Shakespeare's own company had done decades earlier. In the Restoration theatre, women (and not boy actors) played women's roles; the new indoor theatres were equipped with a proscenium arch and moveable scenery; and song, music and dance featured more prominently. With few exceptions, the plays were rewritten, sometimes radically: King Lear survived; the witches in Macbeth sang and danced; Miranda in The Tempest had a sister.
Much scholarship to date in this area focuses on textual adaptation, despite the fact that Restoration Shakespeare was a complex theatrical experience that integrated song, music, dance and acting. We seek to correct this imbalance by focusing on the performance dimensions of Restoration Shakespeare and by forming a community of scholars and artists who together will undertake archival study, run studio-based workshops, and create public performances. Additionally, our project proposes a dynamic historicist alternative to current performance methodologies aimed at reviving 'original' styles or conventions. Rather than seeking to recreate conjectured period styles, we seek to create fresh theatrical experiences that are meaningful to audiences today. In so doing our presumption is that scholars and artists have equal—and equally valuable—agency in the collaborative research process. Our method was first tested in a workshop on Restoration Shakespeare that Richard Schoch and Amanda Eubanks Winkler co-directed at the Folger Shakespeare Library in 2014.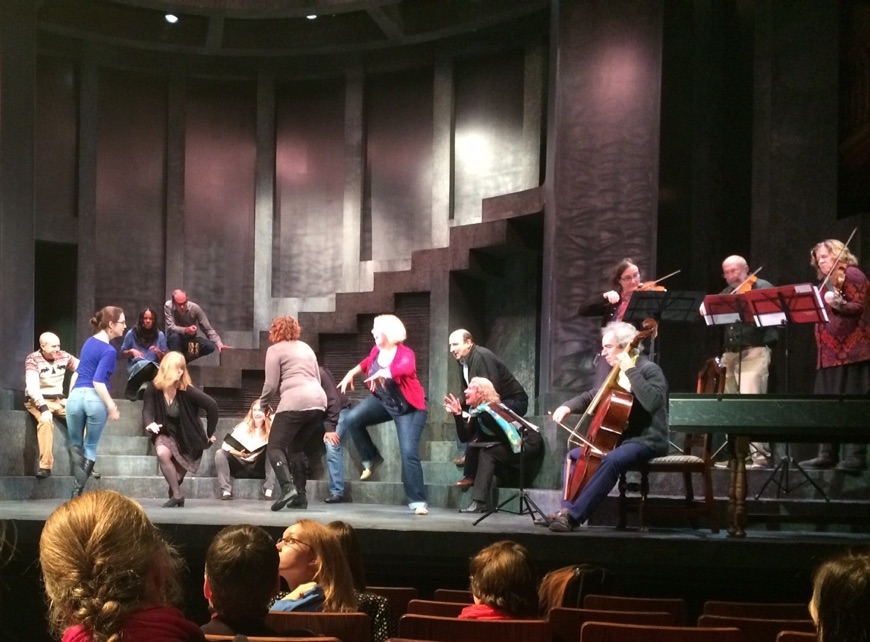 The project's objectives are:
1. To enhance academic, artistic and public understanding of Restoration Shakespeare (core objective).
2. To create—and empower—an international research community of scholars (musicologists, theatre historians, Shakespeareans) and artists (musicians, singers, actors, stage directors) to undertake collaborative research during—and beyond— the project life cycle.
3. To significantly influence the direction of theatre studies and musicology by creating new collaborative methods for investigating and reanimating historical performance genres, thereby providing a compelling alternative to methods that seek to reproduce historically 'authentic' musical styles or theatrical conventions.
4. To disseminate research findings within the academic disciplines of musicology, theatre studies, and Shakespeare studies through a co-authored monograph—the first on Restoration Shakespeare to be jointly authored by a musicologist and a theatre historian—an edited volume, peer-reviewed journal articles, and national and international conference papers.
5. To reach non-academic beneficiaries—general public, performing artists, and producers and educators at theatre and music organizations—through public workshops, public performances, documentary videos, a Restoration Shakespeare summer school, and artistic and audience enrichment resources.
We will achieve these objectives through the project's research and public engagement events run in partnership with The Folger Shakespeare Library (Washington, DC), Shakespeare's Globe (London), and The Shakespeare Birthplace Trust (Stratford-upon-Avon):
10-13 July 2017: Workshop on The Tempest at the Globe, involving scholars, artists, and the public.
August-September 2018: Scholar-artist workshop on Macbeth at the Folger, culminating in a professional production. The production will be recorded and the creative process will be documented in videos, all accessible to the public.
July 2019: Restoration Shakespeare summer school at The Shakespeare Birthplace Trust, with participants from UK theatre and music organizations.
Impact
Performing Restoration Shakespeare seeks to create immediate and lasting impact outside academia by engaging and collaborating with three communities of non-academic beneficiaries: (1) theatre and music producers, (2) individual performing artists, and (3) the general public.
1. We will benefit theatre and music organizations by demonstrating to them the value of (i) performing Restoration Shakespeare for audiences today and (ii) embedding scholars in the full creative process. Immediate impact will be via scholar-artist workshops on Macbethculminating in a production at the Folger Theatre in September 2018.
To achieve similar impact on a wider scale, our Restoration Shakespeare summer school in 2019 will introduce UK theatre/music organizations to a new repertoire and to new methods for staging historical works. Our goal is to influence arts programming in the long term by building institutional capacity for performing Restoration Shakespeare and for maximizing scholar-artist collaboration.
2. We will benefit individual artists in three ways: (i) sharing with them our research findings on Restoration Shakespeare; (ii) expanding their repertoire by performing Restoration versions of The Tempest and Macbeth with them; (iii) enhancing their creative process by involving them in scholar-artist collaboration. These benefits will initially be realised through events at the Globe (The Tempest, 2017) and the Folger (Macbeth, 2018) To extend that impact we will collaborate with theatre and music organizations in the summer school and through professional networks, so that institutional changes will cascade down to individuals.
3. We will benefit the general public by enhancing their understanding of Shakespeare's complex theatrical afterlife. We will engage the public in our research via open workshops, public performances, freely accessible video recordings and documentaries, and audience enrichment materials distributed via partner organizations and also made available through the project's website.