RESEARCH FOCUS
Dr Roberts's work focuses on interconnections between east and west during the long eighteenth century. He is the editor of critical editions of works by Charles Johnston, Robert Southey and Thomas De Quincey. He has published widely on writers of the Lake school, Periodical writers, Orientalist poetry, and contemporary Indian literature in English. He would welcome proposals in any of these area.
---
RESEARCH OPPORTUNITIES
Open to PhD applications in the field of
Eighteenth-century Periodicals
Literature and empire
Indian Literature in English
The Lake Writers
Ireland and Empire
Make a PhD enquiry
PUBLIC OUTREACH AND KEY ACHIEVEMENTS

His edition of Robert Southey's The Curse of Kehama was volume 4 of The Works of Robert Southey,
1793-1810, which received a citation as 'Distinguished Scholarly Edition' from the Modern Language Association
of America (MLA):
"Lynda Pratt, Tim Fulford, and Daniel John Sanjiv Roberts have provided five volumes constituting a stellar critical
edition, with reports on the significant revisions that many of these texts underwent from manuscript to first publication
to final Southey-supervised Poetic Works. The editorial matter is scrupulous, informative, and generative, resulting in a
rich scholarly resource that should now be the long-needed standard edition."
Has contributed to RTÉ radio and TV programmes on topics such as Ireland and its Diaspora; and Thomas Moore's
Lalla Rookh.
Has delivered public lectures and academic papers by invitation in Kolkata, New Delhi, Chennai, Oxford, Edinburgh.
Was a Research Fellow at the Jawaharlal Nehru Institute of Advanced Studies of Jawaharlal Nehru University (JNU),
New Delhi in 2012.
Received funding for, and had oversight over, a UKIERI PMI-2 mobility grant towards QUB student placements in
India between 2008 and 2011.

DISCOVER MORE

Faculty of Arts, Humanities and Social Science

School Of Arts, English And Languages

Director of the Centre for Eighteenth-Century Studies at QUB
PhD title: Representations of Hinduism in the Long Eighteenth Century
---
Name: Prayag Ray
Years of Study: 2014 - present
Country: India
Alumni: where are they now?
Maaz Bin Bilal
---
PhD title: From Hellenism to Orientalism: Friendship in E. M. Forster, with Reference to Forrest Reid
Years of Study: 2012 - 2015
Country: India
Current position: Assistant Professor, Jindal School of Liberal Arts and Humanities, O. P. Jindal Global University, India

http://www.jgu.edu.in/users/maaz-bin-bilal

"I thoroughly enjoyed and benefitted from my PhD experience at QUB. I learnt from the academic rigour of the School of English as it existed then, and particularly from my supervisors, Dr Daniel Roberts and Prof Brian Caraher, who helped me immensely with my written expression and theoretical and conceptual clarity. The Belfast experience also benefitted me as an Indian postcolonial scholar to understand and engage with the legacy of empire within Europe. My poetry profited from my interactions at the Seamus Heaney Centre, as I look forward to publishing my first collection, Ghazalnama: Poems from Delhi, Belfast, and Urdu, in 2019."


Clara Neary
---
PhD title: A Stylistic Analysis of Gandhi's Autobiography, The Story of My Experiments with Truth
Years of Study: 2007 - 2011
Country: Republic of Ireland
Current position: Senior Lecturer in English Language, University of Chester
https://www.chester.ac.uk/departments/english/staff/dr-clara-neary
"The knowledge, professionalism and unfailing support of my supervisors; the high quality academic and bibliographic resources available; the efficiency and patience of the departmental administrative team; and the camaraderie provided by fellow PhD students all rendered what should have been one of the most stressful periods of my life one of the happiest and most fulfilling!"
Timothy Carson
---
PhD title: Perpetual Benedictions: Wordsworth and the Bible
Years of Study: 2013 - 2017
Country: United Kingdom
Current position: Branch Manager, Libraries NI
"I was grateful for the opportunity (given the funding) and the space and time to read, write, and think under expert guidance for three years, and grateful to do it in an environment that was attempting to foster and maintain educational and literary values while under significant external practical pressure."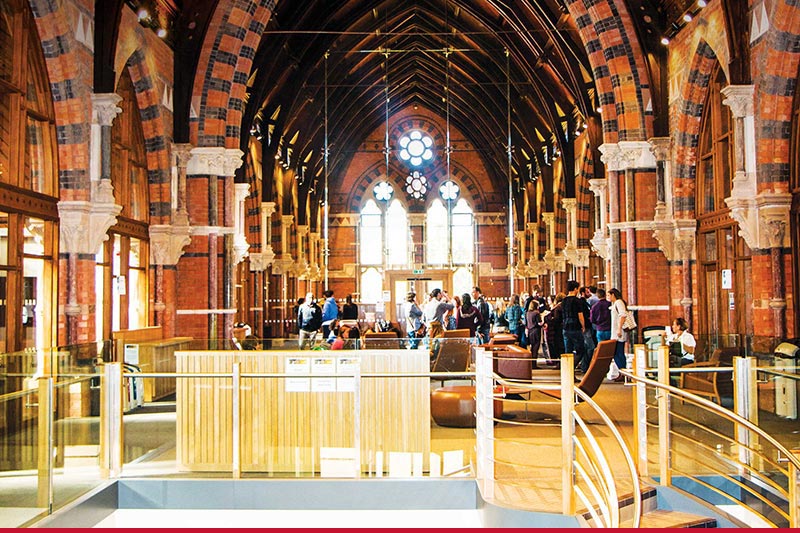 Postgraduate Experience
The Graduate School
Our dedicated hub for postgraduate students, providing state-of-the-art facilities for study, and high-quality training and development programmes within a diverse interdisciplinary community.
The gateway to your postgraduate experience