Global Recognition for EEECS MEng Student's Wireless Power Amplifier Research
4/05/2017
Matthew Love, a final year EEECS student, has been awarded Best Student Paper 2nd Place at the 18th annual IEEE Wireless and Microwave Technology Conference (WAMICON) for research that he conducted for his final year undergraduate project.
The conference took place in Cocoa Beach, Florida, USA in April 2017. Sponsored by IEEE Microwave Theory and Techniques Society (MTT-S) and major RF companies such as Keysight Technologies, Qorvo, Harris, and Mini-Circuits, the conference was attended by 220 people from 14 countries including USA, UK, Spain, France, Italy, Norway, Denmark, and Taiwan, and has a paper acceptance rate of 52%. The conference also features vendors' exhibition, a panel session on 5G technologies, and IEEE Young Professional workshop with strong involvement of students and early career engineers.
Matthew's paper entitled 'A 5-GHz Class-E3F2 Power Amplifier with 51% PAE and 21-dBm Output Power on 65nm CMOS' described his final year project work that was supervised by Dr Mury Thian of the Centre for Wireless Innovation (CWI), part of the Queen's University ECIT Institute. The paper was co-authored by Dr Andrei Grebennikov an industrial partner at Sumitomo Electric Europe. Upon receiving the award, Matthew said "I was thrilled to receive this award and it has increased my enthusiasm for my future work in the RF field".
Further, the Head of School Professor Dimitrios S. Nikolopoulos said "Matthew's award is a prime example of how inquiry and problem solving based teaching in the School broadens and deepens the ability of our students to discover and innovate".
For more information on the conference: www.wamicon.org
Latest News
24/06/2017 - Saturday, 24th June 2017, 10am – 3pm Ashby building, 125 Stranmillis Road, Belfast, BT9 5AH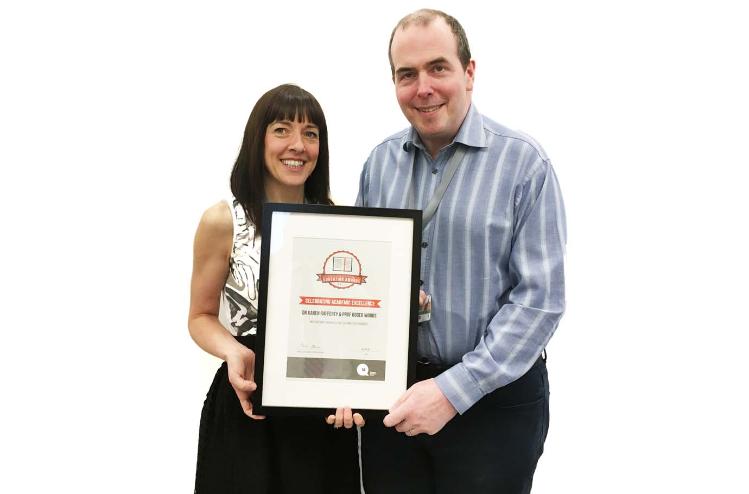 Latest News
22/05/2017 - Two members of staff Prof Roger Woods and Dr Karen Rafferty, have been awarded the Queen's University of Belfast's Students Union's Most Inspiring and Motivating Teaching Staff Members for their work on the Industrial Project.