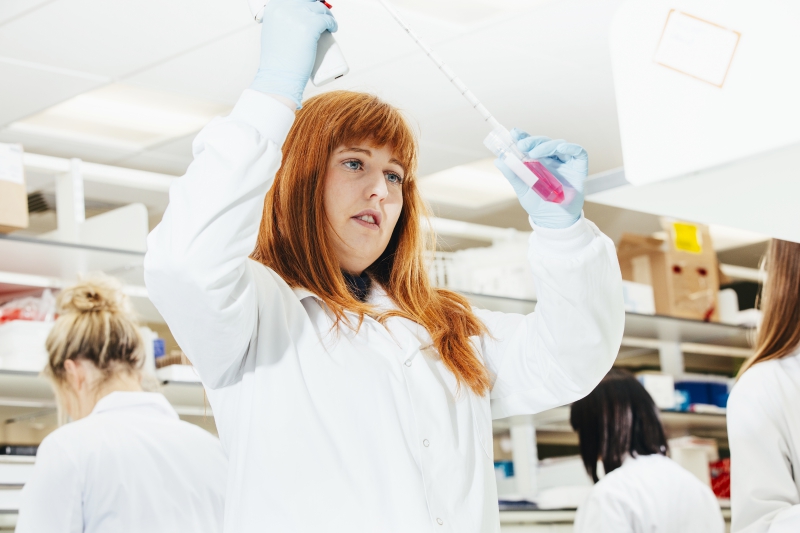 CCRCB
Funded PhD Opportunity
RNA methylation/modification as a biomarker or therapeutic target in myeloid malignancies
Project Description
Myeloid malignancies such as Myeloproliferative neoplasms (MPN), Myelodysplastic syndromes (MDS) and acute myeloid leukaemia (AML) represent a spectrum of diseases affecting the haematopoietic cell development and differentiation.

Aberrant epigenetic modifications such as DNA methylation and histone acetylation /methylation are seen in all of the myeloid malignancies and as such some of these disease are classified as having an "epigenetic" phenotype. Aberrant RNA methylation has been less studied than its DNA counterpart and the effect of the DNA demethylase inhibitors on RNA methylation is unknown. RNA methylation influences the regulation of gene expression to proteome and phenotype variations. Furthermore, the regulation of RNA methylation shares some common enzymes that also regulate DNA methylation which may provide mechanistic insight in to the application of DNA demethylation inhibitors in multiple myeloid malignancies.

This project will be based between the Centre for Cancer Research and Cell Biology (CCRCB) and the School of Pharmacy and will examine the role of RNA methylation in myeloid malignancies. The aims would be to identify patterns of differential RNA methylation, the possible use of RNA methylation as a biomarker for disease classification and as a target for therapeutic intervention.

Techniques used would include cell culture, RNA extraction, RNA-sequencing and bioinformatic analysis in myeloid cell lines and patient material obtained via the NI Biobank.
Supervisors
Prof K Mills
Dr F Furlong
Entry Requirements
Candidates should have or expect to obtain a 2:1 or higher Honours degree or equivalent in a relevant biomedical or life sciences subject.
English Language
Candidates applying from countries where the first language is not English should produce evidence of their competence through a qualification such as IELTS or TOEFL score.
The minimum recommended score for the School of Medicine, Dentistry and Biomedical Science is:
• IELTS score of 6.0 with not less than 5.5 in each of the four component elements of listening, reading, speaking and writing taken within the last 2 years;
• TOEFL score of 80+ (internet basted test), taken within the last 2 years, with minimum component scores of; Listening 17, Reading 18, Speaking 20, Writing 17);
• A valid Certificate of Proficiency in English grade A or B;
• A valid Certificate of Advanced English grade A; or
• A first or upper second class honours degree from a university based in the UK, Republic of Ireland or other suitably quality assured location in a country deemed by the UK Border Agency to be majority English speaking.
For a list of English Language qualifications also accepted by the School and University please see the following link:
http://www.qub.ac.uk/International/International-students/Applying/English-language-requirements/#English
The English Language Unit (ELU) offers both pre-sessional and in-sessional courses in English for academic purposes and study skills. Courses vary in length and full information can be obtained from the ELU
http://www.qub.ac.uk/tefl/
Funding Notes
*FUNDING CONFIRMED – Leukaemia & Lymphoma NI*

Eligibility for both fees (£4260 for 2018/19, 2019/20 TBC) and maintenance (£14,777 for 2018/19, 2019/20 TBC) depends on the applicants being either an ordinary UK or EU resident.
Closing Date
Sunday, January 20, 2019