Imposter Syndrome Online Workshop - 22 November 2022
The Queen's Gender Initiative and Athena Swan Teams held another successful online Imposter Syndrome Workshop on 22 November 2022.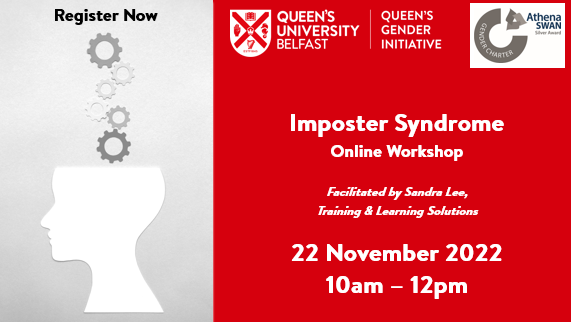 This workshop was facilitated by Sandra Lee, Training & Learning Solutions and was open to all staff.
The learning outcomes for the workshop included how to:
Recognise Imposter Syndrome and how it manifests in everyday situations
Explore unhelpful thinking styles and the impact it has on how we show up
Discuss the underlying causes of our negative self-talk
Challenge our limiting beliefs through a coaching activity
QGI plan to run the workshop again in February 2023. Please keep checking the QGI website, Twitter and LinkedIn accounts for further details.