Queen's celebrates sector-leading achievement in gender equality
On Monday 5 December 2022, members of the Queen's community came together for our Athena Swan Awards Celebration, recognising our sector-leading achievements towards gender equality.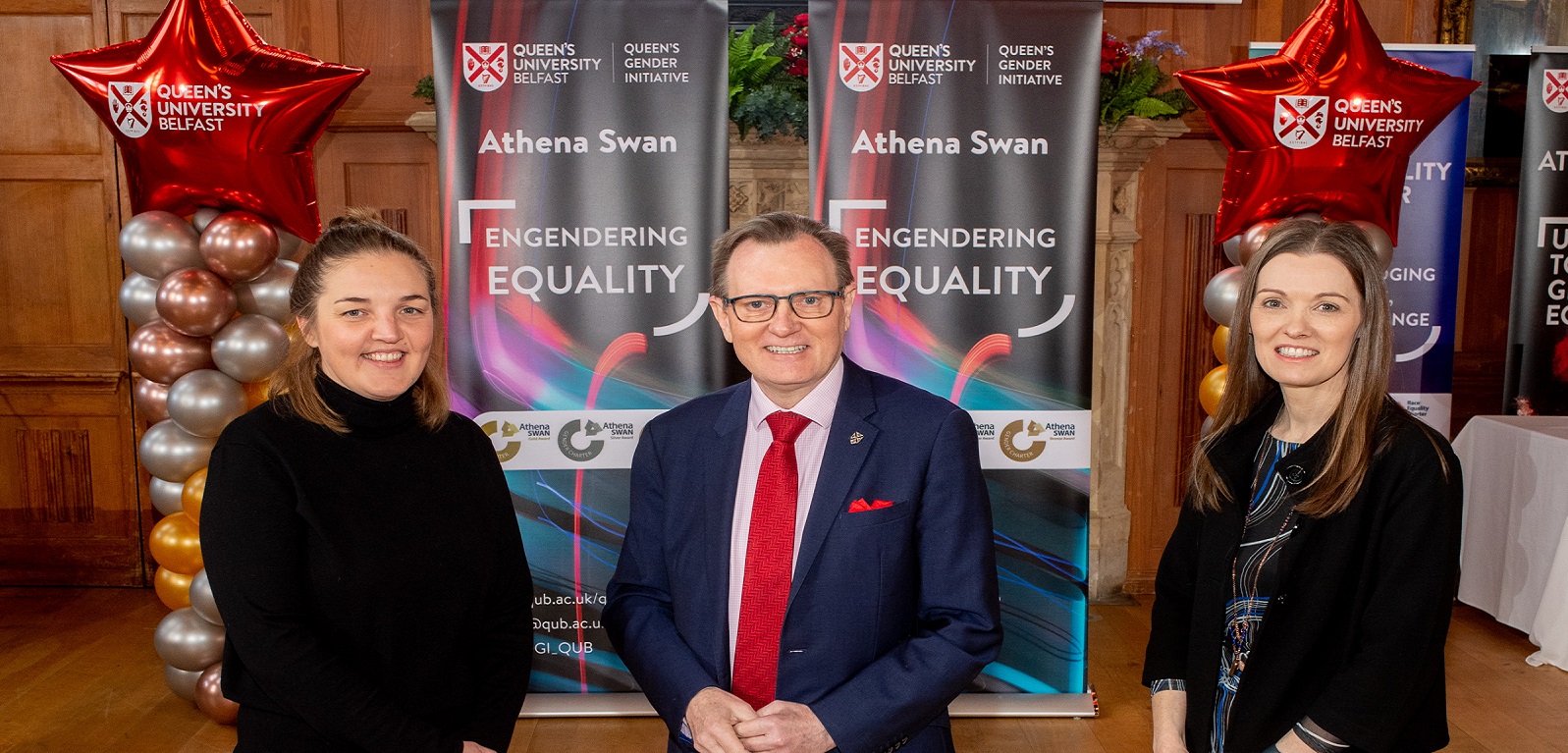 Queen's is one of only 21 UK Universities to hold a Silver Athena Swan Award, an international framework to support the advancement of gender equality within higher education and research. Since 2020, eleven schools have either renewed or obtained new awards meaning that all 15 schools in the University now also hold Athena Swan Awards, including three Gold, six Silver and six Bronze.
Queen's Vice-Chancellor Professor Ian Greer says: "I am delighted to celebrate the recent achievements of 11 of our Schools today, which recognises the commitment of the entire University towards gender equality.
"We continue to progress in this area and are proud of our sector-leading achievements reflected in these internationally recognised awards. This accreditation further highlights the continuous work carried across the University to foster an inclusive and supportive environment."
In 2022, the University implemented two innovative policies to support gender equality, including a Fertility Leave Policy offering individuals and their partners up to five days leave for fertility related treatment and the Menopause Policy, to raise awareness and support those experiencing menopausal symptoms.
Professor Karen McCloskey, Director of the Queen's Gender Initiative and Academic Lead for Athena Swan, adds: "We have made huge progress in this area since the Queen's Gender Initiative was established in 2000 to support the participation and progression of women in Queen's. Today's celebration presents an opportunity to reflect on and celebrate the key achievements made in this area.
"More than half of both our academic and professional staff are female. We have more opportunities for progression and women are just as likely as men to apply for a promotion. Our on-campus childcare and flexible policies such as the pilot agile working scheme all aim to create an environment where everyone is supported across their work and wellbeing.
"We are strongly committed to this work and are excited to fully implement the bespoke action plans across our STEM and AHSS Schools which have been designed to accelerate a gender equal organization while progressing our long-standing commitment to equality, diversity, inclusion and belonging."
Dani Glazzard, Head of Athena Swan UK said: "It is great to be here at Queen's today to witness the achievements of so many schools in advancing gender equality. Congratulations to all awardees who have demonstrated a remarkable commitment to gender equality, especially in the face of a global pandemic. The awards are a testament to the diverse range of good practice developed within the schools and the huge efforts from people across the University."