Professor wins All-Ireland Award for outstanding contribution to cancer research and cancer care
Professor Mark Lawler has received the prestigious 'Irish Association for Cancer Research Outstanding Contribution to Cancer Medicine and Research' Award.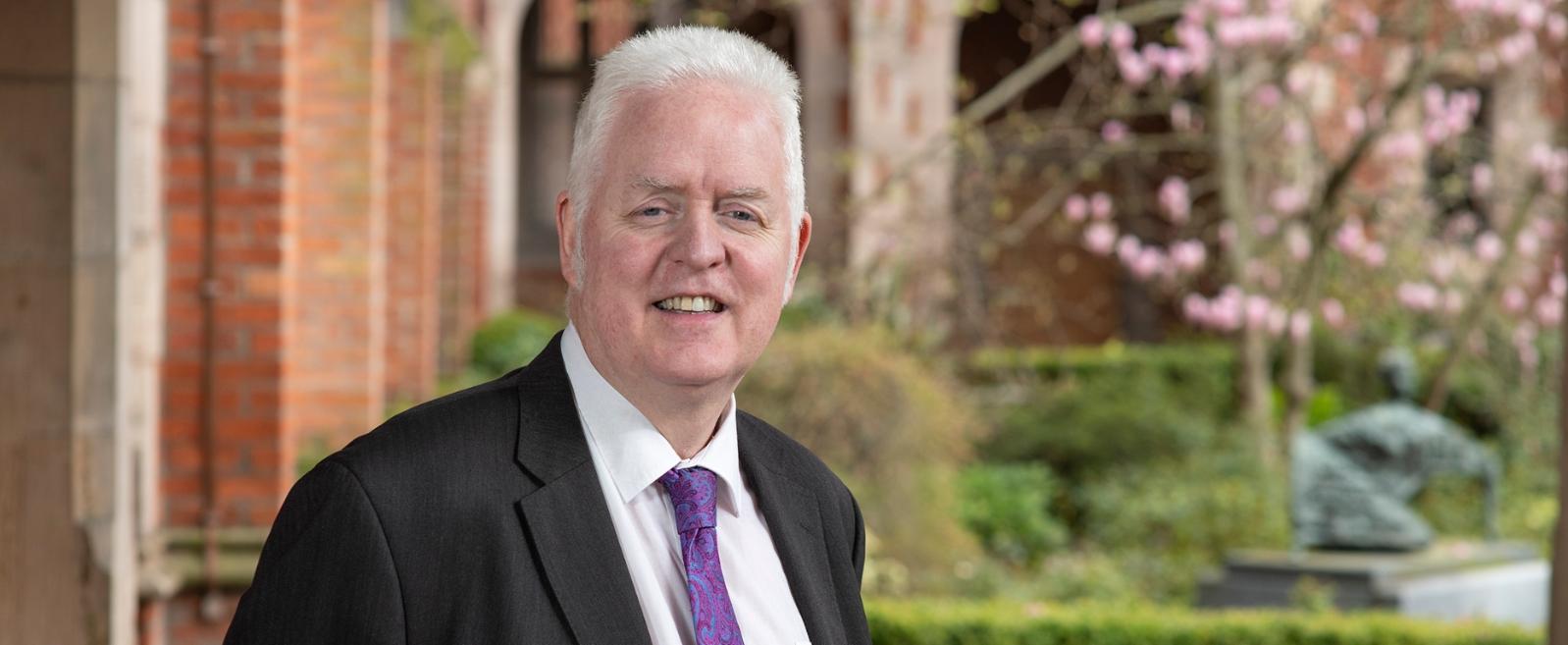 The award recognises Professor Lawler's outstanding contribution to cancer research and cancer care on the island of Ireland.
Commenting on the award, current President of the Irish Association for Cancer Research (IACR), Professor Tracy Robson, said: "It is so fitting that at this, the 57th IACR All-Ireland cancer conference, that Mark will be awarded the IACR outstanding achievement award. As a pioneer in cancer research and a previous IACR President, Mark has been a very strong advocate for an All-Ireland approach to tackling cancer and is leading the way on the establishment of the All-Island Cancer Research Institute and the recent re-signing of the Ireland-Northern Ireland-NCI Cancer Consortium MOU heralding a new era of collaborative person focused cancer research across the island. This award could not go to a more deserving scientist."
Professor Lawler, Associate Pro Vice-Chancellor and Professor of Digital Health in the Faculty of Medicine, Health and Life Sciences and Chair in Translational Cancer Genomics at The Patrick G Johnston Centre for Cancer Research at Queen's University Belfast is an internationally renowned scientist whose research and advocacy work has received global acclaim. He was co-chair of the Cancer Task Team of the Global Alliance for Genomics and Health, an international cooperative dedicated to effective and responsible sharing of data. In this leadership role, he authored a number of key papers including a blueprint for cancer data sharing and a 'Call to Action' for a Global Cancer Data Knowledge Network. He is currently the Queen's lead of the Medical Research Council-Cancer Research UK funded  Stratified Medicine in Colorectal Cancer Consortium (S:CORT), a UK-wide consortium investigating novel precision medicine approaches in colorectal cancer.
As the current Scientific Director of DATA-CAN, the UK's Health Data Research Hub for Cancer, Professor Lawler's work on COVID-19 and its impact on cancer has received international attention. Based on his work, he was invited to co-chair the European Cancer Organisation's Special Focussed Network on COVID-19 and Cancer, which under his stewardship launched its 7-Point Plan to mitigate the impact of COVID-19 on cancer services and cancer patients. He also led the Critical Gaps in Colorectal Cancer Research Initiative, which has defined research priorities in this common cancer over the next decade.
Professor Ian Greer, President and Vice-Chancellor of Queen's University Belfast, said: "I would like to offer my sincere  congratulations  to Professor Lawler on this significant achievement.
"Professor Lawler's contributions to cancer research have significantly advanced our understanding of cancer, and his  person focused approach has  set the standard for cancer care, putting the patient at the centre of all we do. His innovative vision has paved the way for new and exciting international collaborations."
Professor Lawler has a strong commitment to patient-centred research and care, and to addressing cancer inequalities. He was architect of the European Cancer Patient's 'Bill of Rights', which he launched with colleagues in the European Parliament on World Cancer Day 2014. The Bill of Rights received the 2018 European Health Award, a prestigious award for partnerships that yield real health impact in Europe. His work on addressing inequalities and access issues in relation to cancer care also formed the centrepiece in the development by the European Cancer Organisation's European Code of Cancer Practice, which was launched with EU Health and Food Safety Commissioner Stella Kyriakides in Brussels in September 2020.
Professor Lawler has recently been appointed as Chair of the International Cancer Benchmarking Partnership, a global initiative to improve outcomes for cancer patients. He is also currently leading the Lancet Oncology Groundshot Commission to provide the evidence base and road map for cancer research in Europe, with a particular focus on Eastern Europe.
Commenting on his award, Professor Lawler said: "I am incredibly humbled to be receiving this prestigious award. The recognition of your peers is a very special honour for me. But this award also recognises the many talented scientists and doctors whom it has been my pleasure to work with and most importantly the patients whom it has been my privilege to both work with and represent throughout my career. I'm particularly pleased that it's an All-Ireland award, given my passion for encouraging us to work together to ensure better outcomes for cancer patients right across the island of Ireland."