Queen's wins Green Gown Award for student engagement in addressing climate action
Queen's University Belfast has won the Student Engagement Award at this year's Green Gown Awards UK & Ireland.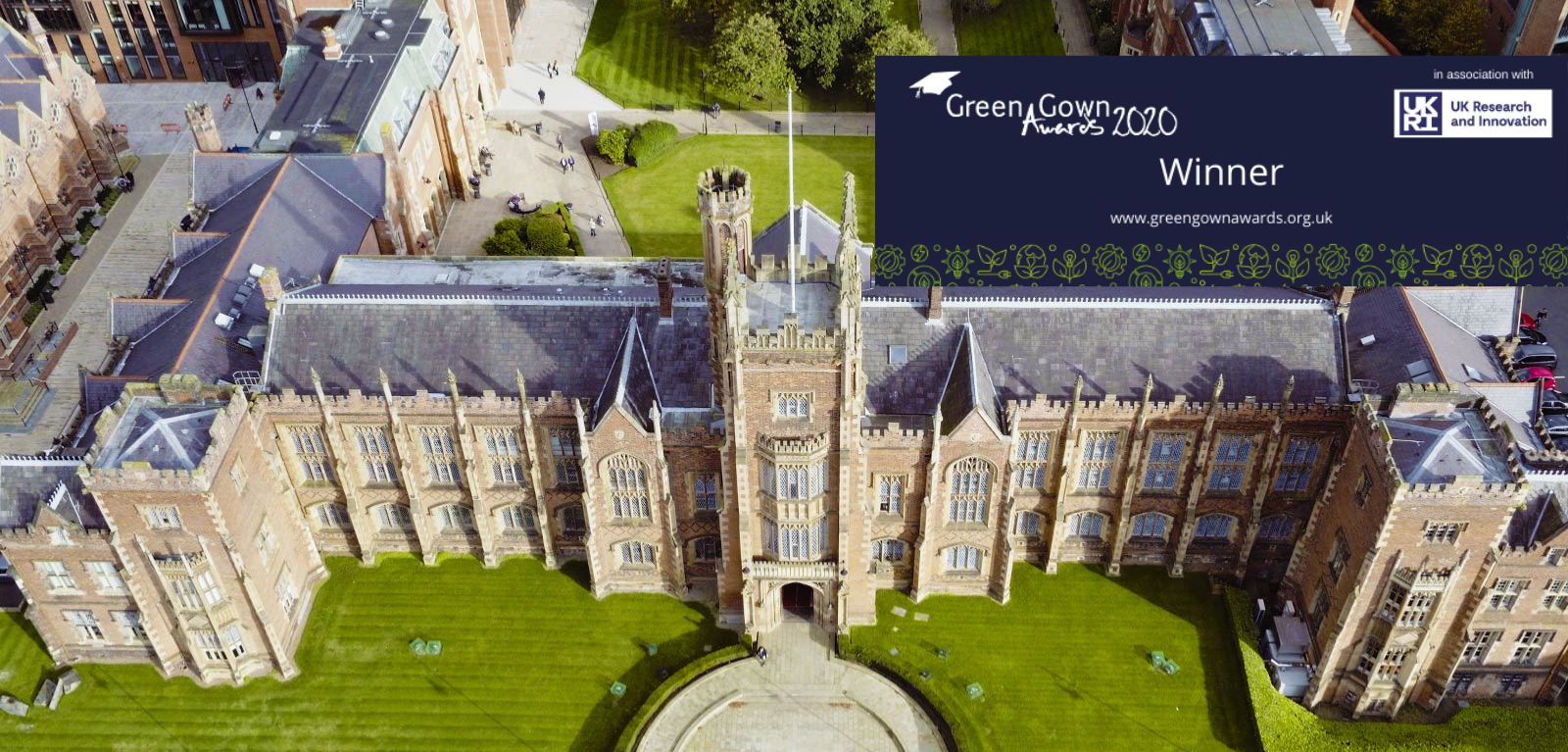 Established in 2004, the Green Gown Awards UK & Ireland shine a spotlight on sustainability work taking place in universities and colleges to create a brighter future for students and wider society.
Showing the importance of sustainability commitments even in the most unprecedented of times, this year's Green Gown Awards ceremony, in association with UK Research and Innovation (UKRI), took place virtually on 24 March 2021. The event celebrated the inspirational work and projects of 74 finalists in 12 different categories and representing over 850,000 students and 130,000 staff across the UK and Ireland.
Queen's received a prestigious Green Gown Award in the 'Student Engagement' category for 'Nurture and Grow: Connecting people through nature', a collaborative project bringing together staff and students from across the University and local community to take action on climate change and ensure South Belfast is providing a home for wildlife.
Commenting on the award, President and Vice-Chancellor Professor Ian Greer said:
"At Queen's, our people are at the heart of the University's journey to become more sustainable. Engaging our staff, students and the wider community in Belfast and Northern Ireland is critical to achieving our sustainability ambitions, and this award is testament to both our commitment to the global sustainability agenda and the power of community to create positive change and advance the wellbeing of society."
'Nurture and Grow: Connecting people through nature' involves a range of inspiring and innovative biodiversity schemes including Lennoxvale Tree Nursery, Alleyway Transformation Project, Biodivers:City, Green at Queen's Allotment, DKB Orchard and the Medicinal Garden. A number of the projects have been supported by the Queen's Green Fund.
Dr Amanda Slevin, PCAN Policy Fellow in the School of History, Anthropology, Philosophy and Politics, was also recognised as Highly Commended in the 'Sustainability Champion' category for her work to instigate key partnerships with peers, students and civil society groups to co-design and deliver impactful sustainability projects within and beyond the University.
Queen's University was also shortlisted in the 'Benefitting Society' category for the initiative 'Creating our Vision for a Greener Future'. This exciting collaboration between Queen's University staff, students and the public focused on creative exploration of pressing socio-ecological issues as a basis for climate action. The initative was supported by Queen's University Belfast's Green Fund.
Iain Patton, EAUC CEO and Green Gown Awards Host, said,
"The Green Gown Awards occupy a very special place. They force us to ask what our institutions are doing well, and, of course, what they could be doing better. They raise the bar. Our Winners, Highly Commended and indeed all of our Finalists have shown the sector's resilience and adaptability on how to collaborate to build back better and play a pivotal and leading role in tackling climate action, in even these most challenging of times. We hope that others will be inspired to take similar actions in their institutions to benefit staff, students and their local communities."
You can watch the awards announcement video below.