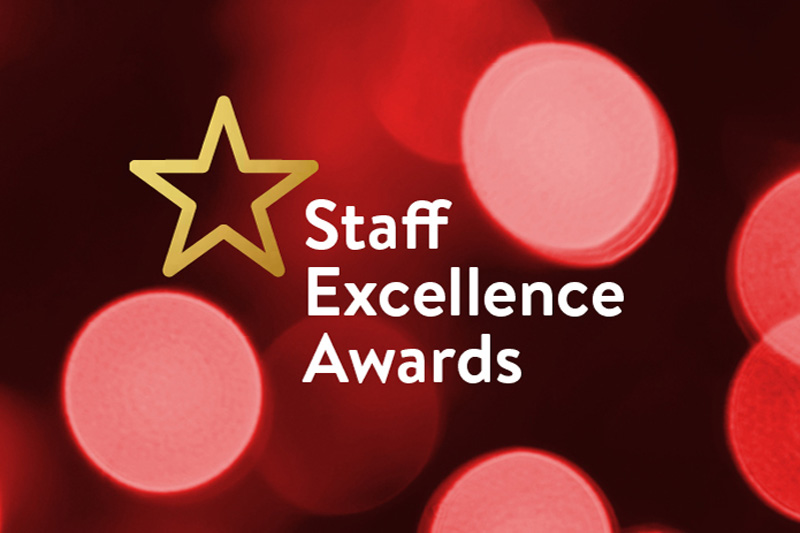 Staff Excellence Awards
Shortlist
Almost 200 nominations were received for this year's Staff Excellence Awards. The shortlist for each category is listed below.
Category 1: Delivering Excellence
This award recognises an individual who goes above and beyond, consistently delivering excellence and taking pride in what they do.


Shortlist
Dr Derrick Black - Estates
Michelle Carson - Student Plus
Dee Harrison - Estates
Jenny McAuley - Academic and Student Affairs
Holly Pepper - School of Psychology
Dr Patrick Stark - School of Nursing and Midwifery
Category 2: Community Impact
This award recognises the significant contribution our staff make to the local community and wider society.


Shortlist
Dr Danielle Mackle - School of Social Sciences, Education and Social Work
NI Special Schools COVID-19 Testing Team
QUB Science Shop
Queen's Trauma Network
This award recognises an individual or team who has developed an innovative idea that has benefitted a particular department, the University or wider society.


Shortlist
Mohamed Hamed - Information Services
Charlotte Jess - Marketing, Recruitment, Communications and Internationalisation
Dr Janine Stockdale - School of Nursing and Midwifery
Virtual Open Days - Digital Team
Category 4: Team of the Year
This award is all about collaboration and recognises a group of individuals who, by working together, have made a significant and positive impact.

Shortlist
Campus Food and Drink
NI Clinical Research Facility (NICRF)
QUB COVID-19 Genomics Consortium (QCOG)
Security Service
Category 5: Outstanding Leadership
This award recognises an individual who has demonstrated outstanding leadership during the academic year.


Shortlist
Professor Judy Bradley - School of Medicine, Dentistry and Biomedical Sciences
Professor Christine Brown Wilson - School of Nursing and Midwifery
Dr Alan Hanna - Queen's Management School
Paul Hermon - School of Mechanical and Aerospace Engineering
Category 6: Lifetime Achievement
This award recognises and celebrates the contribution made by a long-serving member of staff to the University.


Shortlist
Professor Anna Gavin - School of Medicine, Dentistry and Biomedical Sciences
Dr Paddy Haughian - School of Nursing and Midwifery
Wendy Marsh - People and Culture
Dr John Stannard - School of Law