Dear friends,
We are delighted to welcome you to Belfast, Northern Ireland, for the 44th European Physical Society Conference on Plasma Physics from 26th to 30th June 2017.
Organised by the European Physical Society (EPS) Plasma Physics Division, this annual conference covers a broad range of plasma science spanning from nuclear fusion to low temperature plasmas, and astrophysical plasmas to laser plasma interactions.
The full website can now be navigated using either the menu tab (upper right hand corner), the corresponding panels below or directly by the following links:
The preliminary EPS 2017 Conference Programme is now available here (Updated 12/05/2017)
The list of abstracts for EPS 2017 can now be accessed here (Updated 17/05/2017)
ONLINE REGISTRATION CLOSES on 18th June
Post deadline abstract submissions: Please send your fully formatted abstracts to eps2017@qub.ac.uk.
The list of Plenary and Invited Speakers for this year's conference can now be viewed here
This year's conference will be hosted in association with the Centre for Plasma Physics at Queen's University Belfast and will be held in the Waterfront Hall on the cityside bank of the river Lagan. With the Harland and Wolff shipyard providing a historical backdrop to the east, this venue is situated in the heart of Belfast city centre, a vibrant shopping and entertainment district with plenty of restaurants, bars and hotels. The city has a mixture of traditional and modern culture and is renowned for its warm and welcoming atmosphere.
Belfast now also boasts Europe's and the World's leading tourist attraction in Titanic Belfast as voted for by both the industry and the public, overcoming stiff competition from the likes of Ferrari World (Abu Dhabi), the Las Vegas Strip (USA), Machu Picchu (Peru) and Guinness Storehouse (Republic of Ireland). We are delighted to announce that the gala dinner for the 44th EPS conference on Plasma Physics will be held at this world leading venue.
We look forward to welcoming you to Belfast in June 2017.
Best wishes,
Brendan Dromey
Chair, Local Organising Committee
About Belfast
Check out the latest places to visit in Belfast
Committees
Have a look at our Committee Members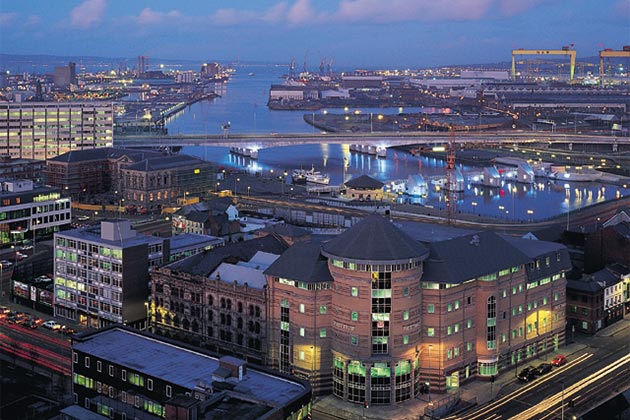 Travel Information
Get here by air, bus and sea
Accommodation
Our hotel listing