Study Spaces
There are a wide range of study spaces and additional areas on campus for you to learn and study.
For the McClay Library check the updated opening hours here.
Your School's buildings located across the University may also have bookable rooms available for use. If you would like to book a room, you should make contact with your School Office or email roombookings@qub.ac.uk with the details of your request.
Schools will consider individual booking requests on a case-by-case basis.
The University will keep the availability of all of these services and facilities under constant review.
Browse below to find out more.
Please find below a map of current study space locations available on campus:
McClay Library & Libraries at Queen's

The Graduate School

The Graduate School remains open for essential study for Postgraduate students. To find out more details about opening hours, and how to book a study space in the Silent Study Area, please click here.
Queen's Students' Union - Elmwood
Queen's Students' Union - Elmwood is currently open Monday to Friday 8:30am-6:00pm.
Students should email su.reception@qub.ac.uk to confirm availability of the spaces as currently the SU Room booking system via QOL only permits Clubs and Societies committee members to book rooms.
Alternatively, students can call into SU Reception to check on space on available.
There is a maximum capacity for each room/space
Clubroom 2 = 2 people
Clubroom 3 = 4 people
Clubroom 4 = 6 people
Lounge = 20 + 6 (Kitchen area) people
As well as confirming with SU Reception students should scan the QR code displayed in each room/area and complete relevant form for time spent in each space for each study period to ensure we have accurate track and trace records.
All areas being used should be cleaned before and after use by each student – cleaning kits are in available in each room/space.
Peter Froggatt Centre - Foyer
Maths & Physics Teaching Building - Foyer
Junction & Breakout Area, Main Site Tower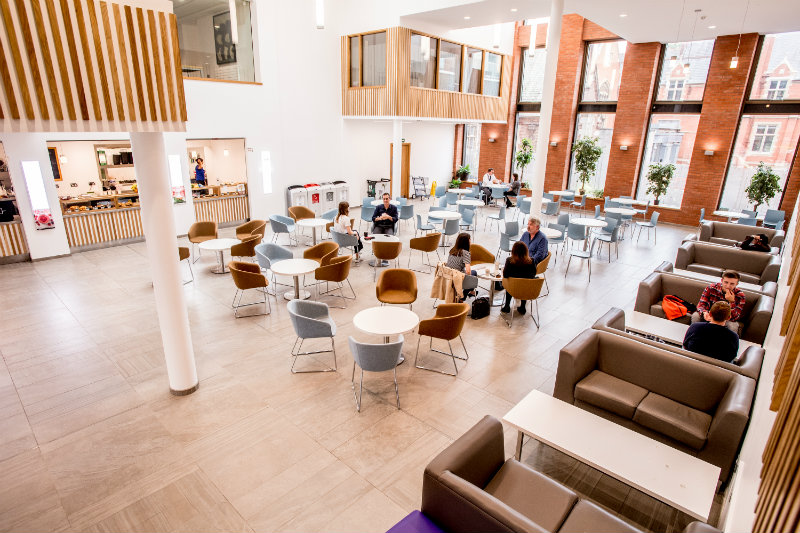 Catholic Chaplaincy - Elmwood Avenue
Whitla Medical Building - Foyer
David Keir Building - Student Hub
Ashby Student Hub Breakout Area