Year 4 - GP Specialty/CCTV
C25 Year 4 Curriculum Update; February 2023
C25 is the new medical curriculum at QUB – so called as the first cohort to follow this curriculum (who started in September 2020) will graduate as doctors in 2025. These students will be starting year 4 (the year where GP really comes to the fore!) at the end of August 2023.
You can learn more by watching this short video Information about the new year 4 GP placements in 2023-24
Structure of Year 4
This is the students' second 'immersion in practice' year, and their continuity comes from their 'home' GP practice. This is in direct contrast with year 3 where the vast majority of their clinical time has been in hospitals. Y4 students will return to their home practice four times through the academic year, for two weeks at a time (total eight weeks clinical GP learning time per student which represents a significant upscaling from the total three weeks our year 4 students have spent in GP practices for many years).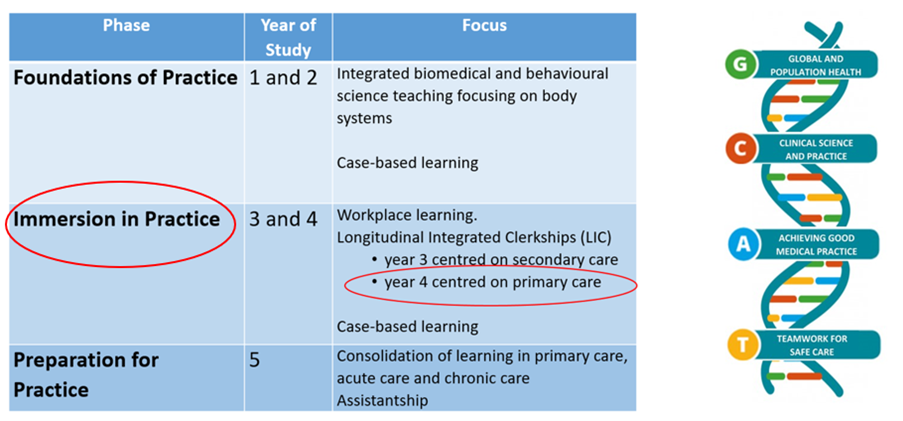 These two week blocks are at fixed time points between end of August and mid-May, and ideally Y4 students will be paired for their practice placements. This offers benefits to both students and practices. Students can 'buddy up' in activities and support one another, and the experience of practices hosting pairs of students has very much been that it represents double the money but is certainly not double the effort! A practice can offer to host up to four pairs of students through the academic year – and the times these pairs were with you in practice won't overlap.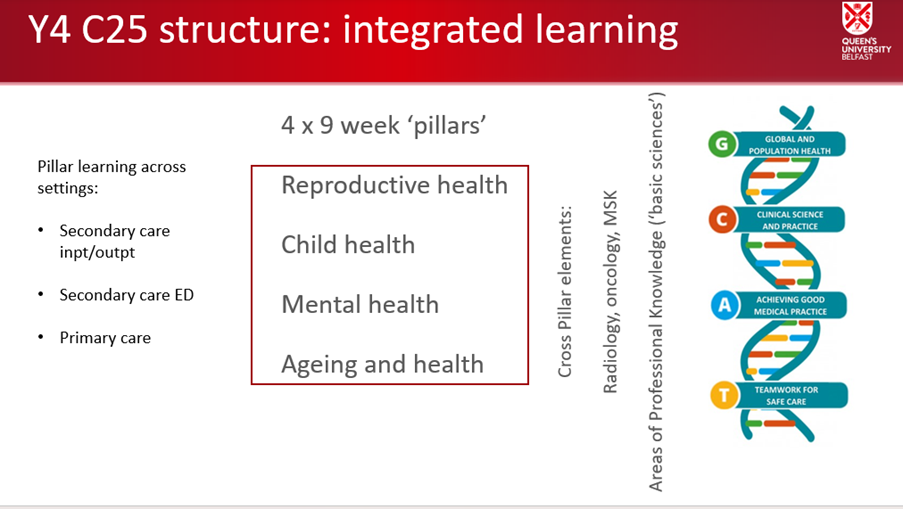 Rather than the 'block' attachments of old, students will rotate through four lifecycle pillars, based around reproductive health, child health, mental health and ageing and health. Each pillar will commence with a QUB taught 'pillar week' – designed and delivered between relevant secondary and primary care colleagues. Each pillar then follows a similar model with five weeks total time in the relevant secondary care specialty area, and three weeks generalist learning; two weeks in GP and one in ED. Some clinical disciplines such as radiology and basic sciences underpinning clinical practice will be distributed through all pillars. Students will be based in a single Trust area for the vast majority of their hospital clinical placements; we will endeavour as far as possible to geographically link host GP practices. This will offer the students opportunities to see how patient care works between primary/secondary care interfaces across different stages of patients' lives.
What will students be doing in practice?
In essence it's exposure to the full range of generalist practice which stands to benefit students. The benefits to us and our teams cannot be understated, with a growing body of evidence showing that more time spent in GP during undergraduate learning generates more future colleagues choosing a GP career. We all learn best through supported engagement in practice.
Students will be supported throughout their GP attachment by a range of online and self-directed learning activities; there is absolutely no expectation or requirement for any formal 'teaching sessions' while they are in practice. It is clinical experiences that students value and learn most from. What practices have done so well with Y4 students for years very much stands (learning experiences with various members of the MDT, observing, hotseating and then ideally supported independent consulting). Students can participate in treatment room activities and other aspects of long term condition management. Of course we understand that opportunities will be different in different practices dependent on a number of factors. But whatever your practice size and set up, we would hope that your returning students would embed themselves as far as possible in your practice and become a useful contributory part of your team. By the time they have completed eight weeks over the course of year 4 we would expect that all students will have led on a reasonable number of consultations. The continuity of their placements offers some unique opportunities – for example students could be encouraged/supported to 'follow up' with patients they'd met during a previous two week blocks.
The students' time in GP is generalist learning and we certainly would not expect practices to devise 'pillar specific' timetables for their students. Saying that, students themselves will be particularly attuned to learning opportunities relating to their current pillar and are likely to benefit most where learning activities align. For example, observing/supporting a baby clinic while in their child health pillar, a smear clinic when in reproductive health or going out with a district nurse during their ageing and health pillar. We will encourage students to be proactive in identifying any 'pillar specific' learning opportunities at practice level. They will have a number of patient cases to identify and prepare through the year, and will be engaging in some ECHO format case based learning activities through their placement time – we plan that any such activities would last around 90 minutes and that students could link in from wherever they are in practice.
Will there be any workplace-based assessments or reports to complete?
In the same way that students provide feedback on all their clinical placements, we will ask you to provide some focused feedback your students' progress. To keep this as straightforward as possible this is likely to be at the midpoint of the year and after completing their full eight weeks. Obviously if any issues arise 'in year' we can and will address them as early as possible to help everyone.
Details of workplace based assessments/entrustable professional activities are still being finalised but we have no desire to make these onerous – rather they should be student driven to support progress. We will work hard to keep these as straightforward to complete as possible – likely on the students' own devices which they can hand over to you in real time.
Will there be any training about the new course?
Absolutely! Date to be confirmed but we plan to run face to face training event(s) in spring/summer 2023, ideally in various geographical locations to maximise engagement. Dependent on SUMDE funding approval there is likely to be funding for one GP from each practice offering availability to host Y4 C25 students. Other members of the practice team would of course be very welcome.
What will it involve for me as a tutor in 2022-23?
The Y4 module runs 6 times per year, with each tutor hosting one or two students in their practice for a 3 week clinical attachment, which the students commence after a week of QUB facilitated core GP teaching activities. Fridays of weeks 1 and 3, and some further Wednesday PM sessions are also QUB delivered; so students have a maximum of 13 days attached to your practice. We recognise that opportunities and challenges vary across individual practice settings. During the 13 days we ask that each Y4 GP tutor supports their student(s) to experience and participate in as much GP work as possible.
A key aspect is learning about different members of the MDT; students are encouraged to spend some sessions alongside, for example, your practice based pharmacist, treatment room and administrative teams. Beyond that what students benefit from most is learning from observation and participation in clinical encounters. Towards the start of the attachments, students might observe GPs consulting, progressing to more independent 'hotseating' where the student might take the lead in elements of the consultation. We ask that you formally observe and feedback on two such encounters as 'mini-CEX' workplace based assessments (WBPAs). Students are also asked to share a 10 minute teaching presentation during their attachment time. There is comprehensive detail about these WBPAs within both the tutor guide and the students' Elogbooks which are their responsibility for completing.
Students are well supported throughout their GP attachment by a range of online and self-directed learning activities; there is absolutely no expectation or requirement for any formal 'teaching sessions' while they are in practice. It is clinical experiences that students value and learn most from.
Feedback
We welcome your feedback on having medical students in the practice. Here is a quote from a GP tutor...
"We're used to adapting to challenges. It was actually a real lift for the team to have students back. Everyone from the cleaner to the receptionists love to see and chat to them. And patients love it too. They love having a part to play in the development of a new generation of doctors."
The students highly value their time on GP placement. We are delighted that for academic year 2021-22 all practices who took year 4 medical students will receive an email providing anonymised feedback from their students. We hope you will find this useful, and a source of encouragement during these challenging times in General Practice.
Dr Helen Reid PhD MPhil MRCGP | Senior Clinical Lecturer (General Practice)
Centre for Medical Education | Queen's University Belfast
Email: helen.reid@qub.ac.uk | Usual academic hours: Monday, Wednesday, Friday| Clinical Practice: Tuesday, Thursday
What is CCTV?
For many years, CCTV has continued to be a valued experience for our medical students. Real life patient involvement in real time, allows students to develop and enhance effective consulting skills, interviewing skills and clinical reasoning skills. This rich learning opportunity allows students to appreciate and understand the principles of acute and chronic disease management within Primary Care. The student also gets to appreciate the importance of health promotion, use of investigations and the principles of prescribing. Immediate 1 to 1 feedback from the Clinical CCTV Tutor enables student reflection and further enhances their learning.
We are continuing this valuable learning experience during the academic term 2022-2023
Scope of CCTV
Open to all GP Tutors in across NI
Sessions are delivered over zoom on allocated Friday afternoons
Each Tutor is allocated 3 students. Student names are emailed to the tutor in advance of the meeting. GP Tutor to email the students their CCTV Zoom link at least 48 hours before the session.
Session starts at 2pm
Each student is allocated a real life patient via telephone or video zoom consultation
Reflection with the students on their clinical cases
All Tutors are welcome to join a lunchtime - CCTV Tutor's "Troubleshooting" session 1-2pm each Friday that CCTV is on.
If you have any queries, please bring these to this zoom Meeting