National Technician Commitment

What is it all about?
Queen's University Belfast is a founding signatory of the National Technician Commitment and pledge action against the key challenges affecting their technical staff ensuring visibility, recognition, career development and sustainability.
Working Groups
In May 2021, five working groups were setup to begin work on the 36 month action plan for the Technician Commitment at Queen's. Each group membership includes technicians, professional services staff and senior academic staff. It is hoped that with the contribution of staff across the University, we can make positive changes for technicians at Queen's.
Comms, Networking and Events
Profile technicians at Queen's, promote networking events, and signpost development opportunities. Making use of online tools such as the website, social media, online and in-person events.
Environmental Sustainability
Finding innovative ways to improve our impact on the environment. Involving procurement, recycling procedures and promotion of good practice in departments across the University.
Professional Development and Progression
Developing a clear career pathway for technicians at Queen's. Explore a mentoring and work shadowing scheme and promote professional registration and HE fellowship awards.
Sustainability and Workforce Planning
Ensure sustainability with the technical workforce by exploring initiatives including apprenticeships, outreach opportunities in School and FE colleges, equal opportunity recruitment, and provide training for staff where skills gaps are identified.
Visibility and Recognition
Highlighting the contribution of technical staff in research and teaching. Promoting acknowledgement in research papers and nominating technicians in staff and nationwide awards.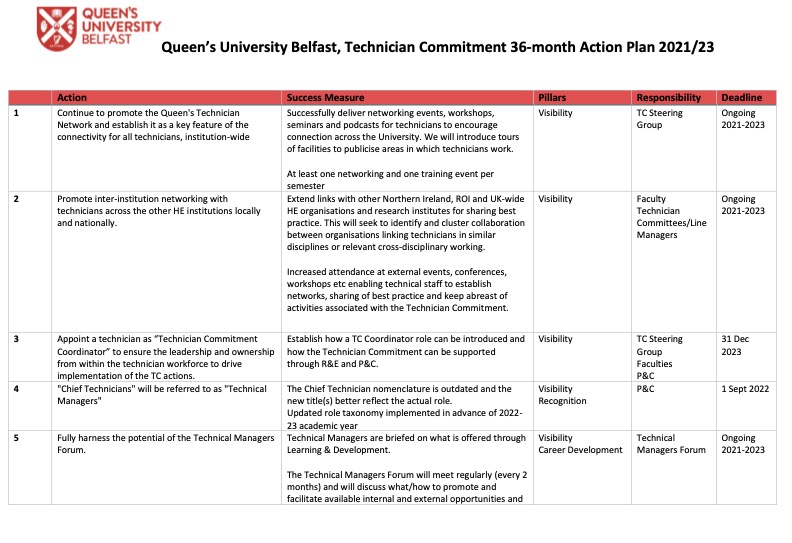 Action Plan
Making a positive change
In January 2021 the Technician Commitment Stage 2 Self-Assessment and 36-month Action Plan was approved and submitted to the Science Council. A 28-point plan structured around the pillars of the Technician Commitment: Visibility, Recognition, Career Development and Sustainability.
Technician Commitment Action Plan 21 - 23
Get in touch
Please get in touch if you would like to find out more or get involved in the Technician Commitment at Queen's.