Dr Rebecca Delaney Achieves Professional Registration at RSci Level
Congratulations to Dr Rebecca Delaney, pictured here with Professor Alan Stitt, receiving her Professional Registration at Registered Scientist (RSci) level certifcate.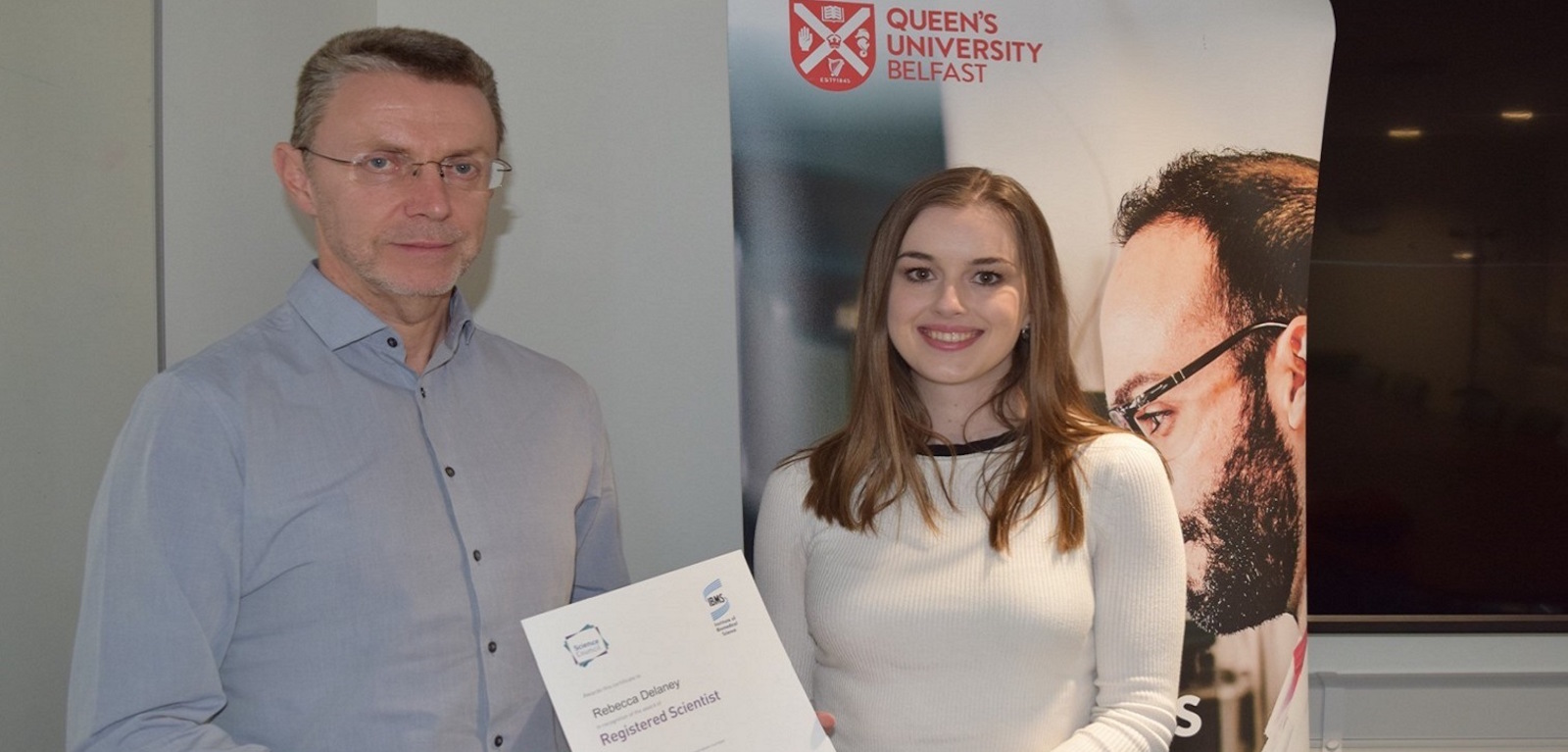 Rebecca is a research technician in the AIIR (Airway Innate Immunity Research) group in the Wellcome Wolfson Institute for Experimental Medicine. She gained a First class BSc Honours degree in Biomedical Sciences from Queen's University Belfast in 2013. Rebecca then undertook her PhD with the AIIR group at Queen's in the field of chronic lung disease, graduating in 2017 shortly after beginning her current post.
In January 2019, Rebecca was awarded the first 'Q3Rs' (Queen's 3Rs) prize by the QUB AWERB (Animal Welfare and Ethical Review Body), announced at the annual Northern Ireland ASPA (Animals in Scientific Procedures Act) training day. The prize was for making significant progress towards the 3Rs (reduction, refinement and replacement in the context of in vivo research) in the last three years, promoting innovative scientific, technical and welfare contributions and achieving a positive change in animal use at the University.
After attending a Technicians Commitment event in January 2019, Rebecca became a Member of the Institute of Biomedical Sciences and began the process of applying for Professional Registration with the Science Council. She became a Registered Scientist (RSci) in March 2019.
Rebecca tells us her thoughts on Professional Registartion for technicians, 'I feel Professional Registration is an important way to recognise the many specialised skill sets technicians bring to the University. I am really pleased to have had this opportunity and I am confident it will help me continue to build my career in the future'.