It is possible to customize the look and feel of the Vevox App as well as Present view. Let's first look at the app.
A. Customizing the Vevox App
Having the ability to customize the Vevox app theme means you can brand or style your sessions, giving them a look and feel unique to you.
There are two main aspects of the Vevox app that can be customized.
1. Info screen
The info screen is what your participants will be greeted with when they first access your Vevox session.
Here we can alter the image that appears on the app screen and include some information or agenda to describe your session. Next time try using a GIF to replace the current image.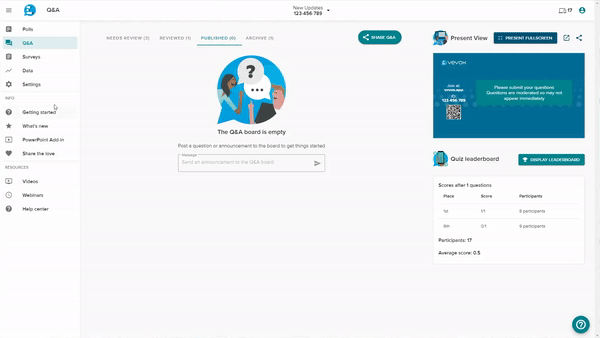 Follow these steps to set up a customized info screen:

From within your session press the 'Setting' button on the navigation menu.

Then choose the 'Setup' tab.

In the 'Participant app setup' section you can drag and drop an image or upload one from your computer to replace the current home screen image. (Use the pencil icon to change the image.)

Add your own content or message by editing the available text fields in the App home screen content section. Use the rich editor to create your own styling with header sizes, colours, underline, and fonts to see what it will look like on the participant app. You can add bullets or numbering or even links to your info screen. And don't forget about the emoji's
Use the

CMD, CTRL & Spacebar

on a Macbook to add emoji's.
Or if you are on a Windows machine - use the Windows key and period button

(.)

or Windows and

semi-colon

to add your emoji.

Press the 'Save' button to lock in place your changes. The apps will update with the new image and text instantly.