How do I get Mediasite Desktop Recorder?
How do I get Mediasite Desktop Recorder?
Mediasite Desktop Recorder (MDR) can be installed on any PC or Mac. It comes installed by default on all podium PCs that are in centrally-bookable teaching rooms.
To install on your own computer, or a podium PC that is not in a centrally-bookable teaching room, you will need administrator priviliges; if you do not, you will need to either obtain admin privileges, or request that the software be installed by the administrator responsible for the computer.
Note: As well as QUB computers, the Mediasite licence allows staff members to install MDR on their own computers - so if you often work away from your desk, you could for instance install it on your laptop.
Obtaining the installer:
MDR can be downloaded from the My Mediasite portal. On any page within the portal, simply click on the Add Media icon at the top right of the page:
Step 1
On the next page, click on the link to download the Mediasite Desktop Recorder. Follow the instructions to download the installer to your computer. You can then run the installer to install Mediasite Desktop Recorder software on your computer.
Step 2
Step 3
Registering MDR:
When in use, MDR needs to know which Mediasite user is recording content so that when it uploads to the server, it will know to place the content into your folder. So, on first use, it will tell you that you need to register the software from the MyMediasite portal.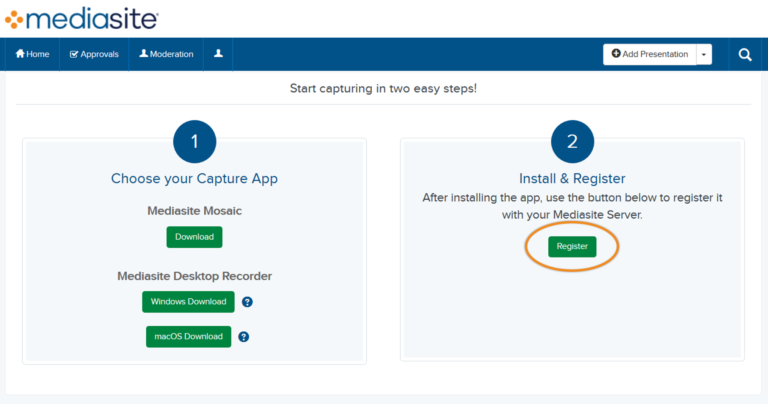 You may be prompted by your browser to open the link using MDR. Agree to this:
Once completed, you will see your staff number appear at the top left of the Mediasite Desktop Recorder window; this means that the software is registered to your user account. If using a personal computer, you shouldn't need to re-register the software again. If using shared computers such as podium PCs, it is possible that the setting will be wiped by the computer after use; if this is the case, you'll need to register again next time you use the software.
See also:
Share
---
Last updated

2/05/2023

Category

IT Support

Service Area

Mediasite