Social Charter Signature Project wins major European award
Professor Mark Lawler, Chair in Translational Cancer Research at Queen's picked up the prestigious 2018 European Health Award on Wednesday 3 October, on behalf of a pan-European partnership called the European Cancer Concord (ECC)®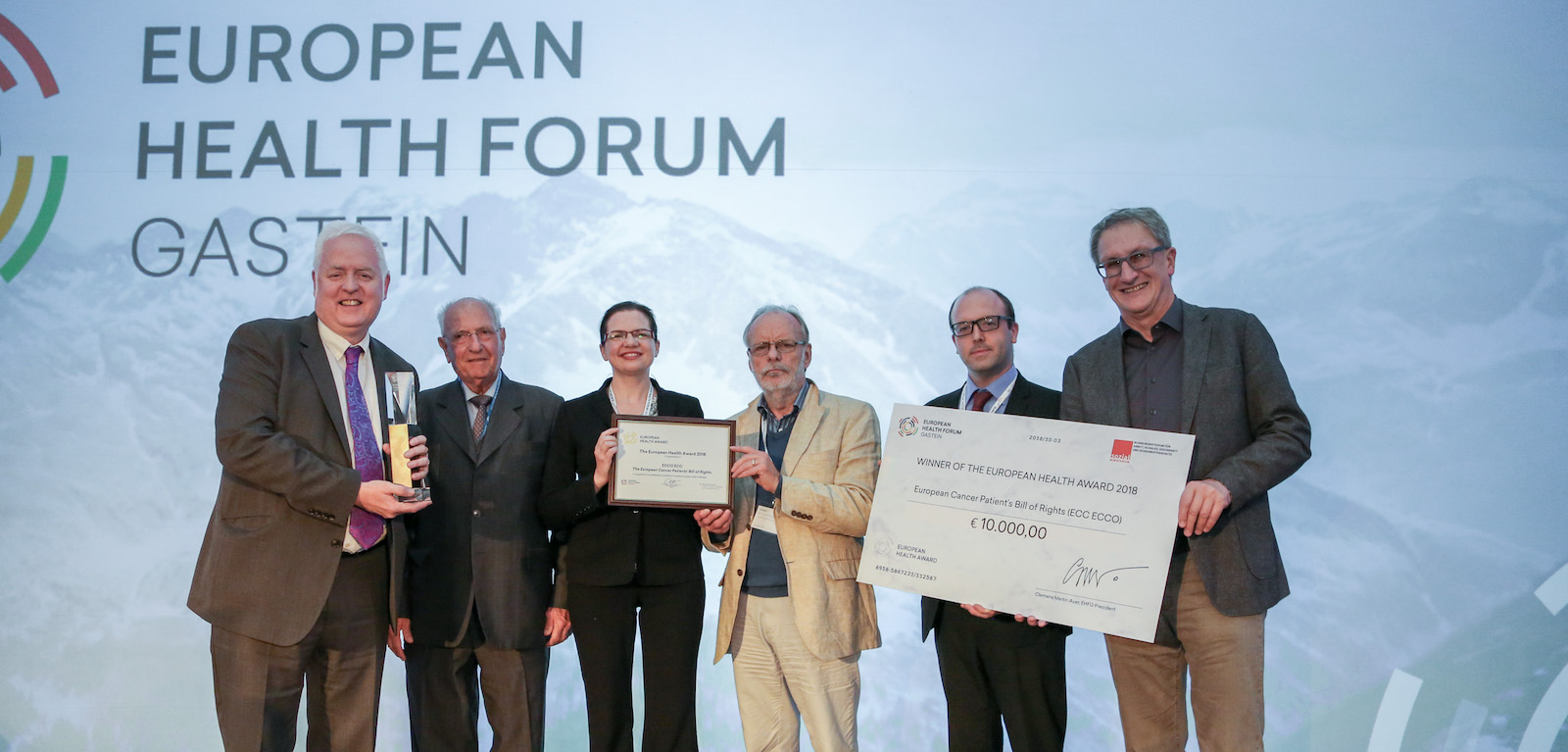 Professor Lawler (pictured, left) collected the award for the team's European Cancer Patient's Bill of Rights, an empowerment tool involving an equal partnership between cancer patients, healthcare professionals and cancer researchers across Europe.
The award was presented during the opening ceremony of the European Health Forum Gastein, the premier European Health Policy Conference and an official event of the Austrian European Council Presidency.
One of the key outputs from the research has been the development of a 70:35 Vision, 70 per cent long term survival for all cancer patients across Europe by 2035.
"Our 70:35 Vision is built upon the pillars of cross border and interdisciplinary cooperation, sharing best practice and ensuring that research and innovation gets translated for the benefit of patients," explained Professor Peter Selby, Professor of Cancer Medicine at the University of Leedsand President of ECC. "This is a superb example of how cooperative European activities that involve sharing best practice between countries can result in top class prize-winning initiatives."
Professor Lawler commented: "Cancer knows no borders, so it is important that we work together to develop solutions that address cancer inequalities in all parts of Europe. I am immensely proud to be accepting this award, not only on behalf of our team who have worked together over the last five years on this initiative, but also on behalf of the millions of European citizens who are living with and beyond cancer, and experiencing cancer inequalities every single day of their lives."
Professor Lawler's work on Addressing Cancer Inequalities in Europe is a Social Charter Signature Project under the theme of Research with Impact.