Adapting to Virtual Learning During Lockdown
MA student Shuk Kuen Yau ('Yumi') from Hong Kong on what remote teaching and learning is really like during lockdown.
With campus closed, Queen's have adapted quickly to delivering our teaching and lectures online through Canvas, our new university-wide Virtual Learning Environment (VLE).
This has been supplemented by live teaching through conferencing facilities, small group tutorials, one to one sessions - particularly for final year students completing dissertations - and drop in Q&A sessions about the course, as well as general queries or concerns students may have.
Master's student Shuk Kuen Yau ('Yumi'), from Hong Kong, shares her experience:
"There's been lots of change in my life. Not only am I getting to grips with a new lifestyle at home due to lockdown, but I'm experiencing a new way of learning as well. This is my really first experience of remote learning," says Yumi. Adding: "While I do miss the atmosphere and camaraderie of traditional campus life, this has been an opportunity to understand the power of the virtual classroom and its benefits."
"Through the virtual learning platform, students can continue to study wherever they are in the world. We can check the lesson details from the time schedule on Canvas and the tutor sends an invitation for students through an email reminder. This way, you don't miss a class – no matter what time zone you are in. The bonus is you don't have to factor in extra time to get to school, just roll out of bed and you are there!"
Virtual interaction
While there is no replacement for the interaction that comes from being physically on campus, the functionality of Queen's remote learning environment supports group projects, presentations and tutorials, as well as lectures,
"The fundamental functions are still good enough for our study needs," says Yumi. "Using tools including PowerPoint and video, teaching materials are displayed on the virtual classroom with the tutor explanation on the same screen at the same time.
"It is lovely to see my classmates face to face on one screen. I can still do presentations with them and we can express our views in the discussion as we normally would.
"One great feature is that the lessons are recorded and saved on Canvas, so you have the flexibility to go back over a topic – an advantage of remote lessons that traditional lessons doesn't provide."
"I still miss a traditional campus-based education and look forward to normal classes resuming. In the meantime, I hope you're staying safe and well.
"Remember: No matter how long the rain lasts, there will be a rainbow at the end!"
Read more: Supporting our Students during COVID-19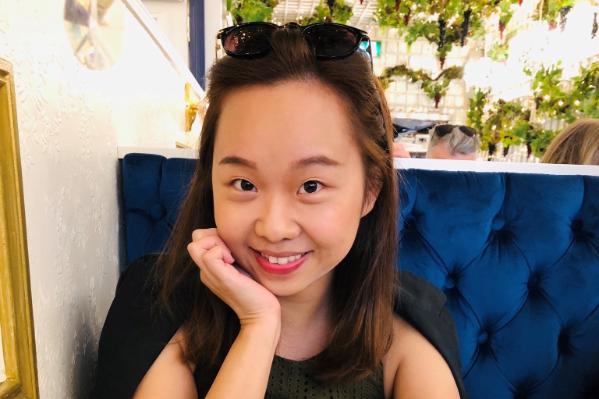 Shuk Kuen Yau, MA Media & Broadcast