Come with me to Davagh Forest and Observatory
If you choose to live in Queen's Accommodation you're in for a real treat! As well as events in social spaces throughout the week they also organise trips away every weekend. Join Sami as she goes to Davagh Forest and Observatory!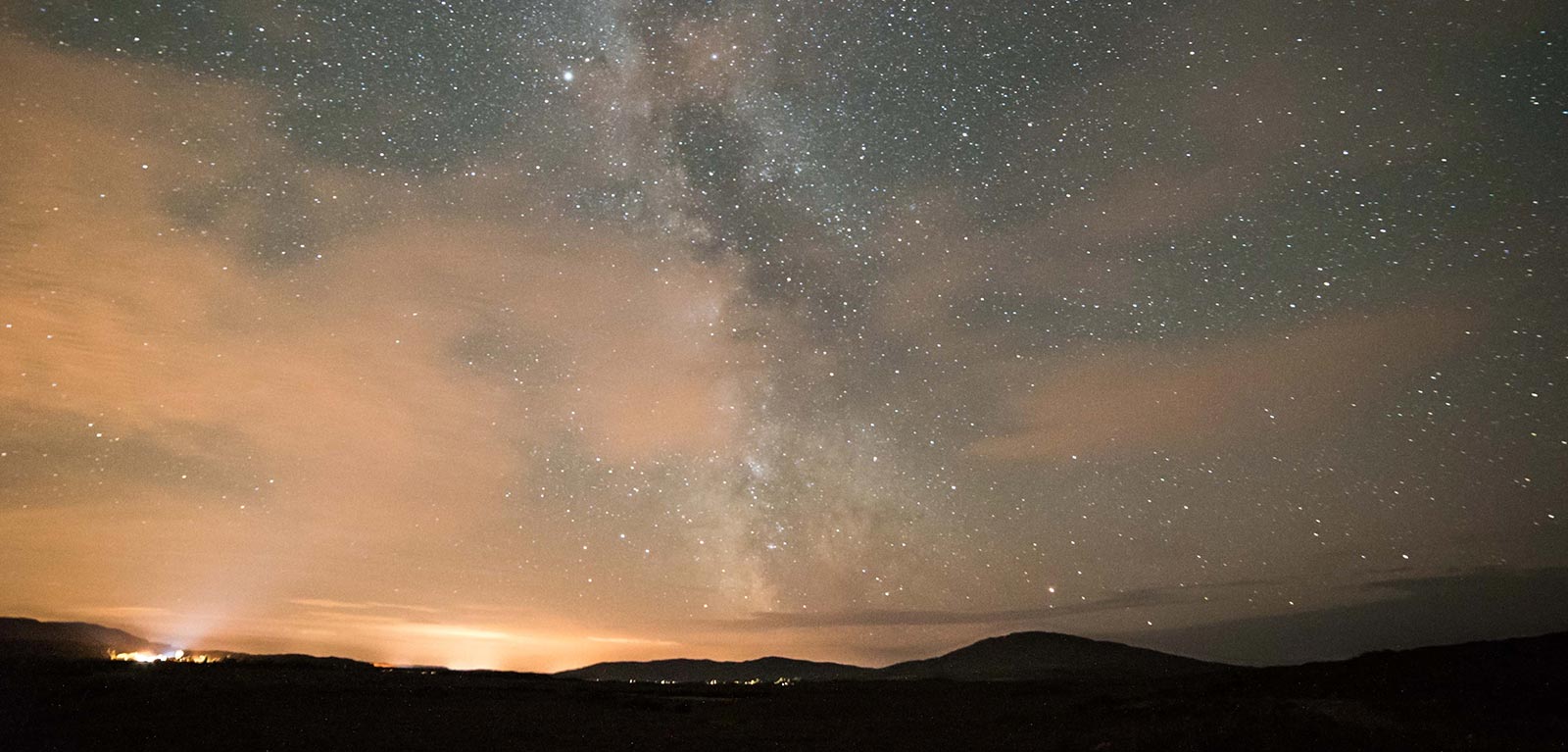 When I was 14, I made the best purchase of my life. I bought a two-person hammock and I'd spend the summer nights swinging in it and looking up at the stars. We had a lot of acreage when I was younger, so I truly felt like I saw so much of the galaxy. Even though time has passed, and my hammock is gone, there is one thing that never changed; my fascination with stars.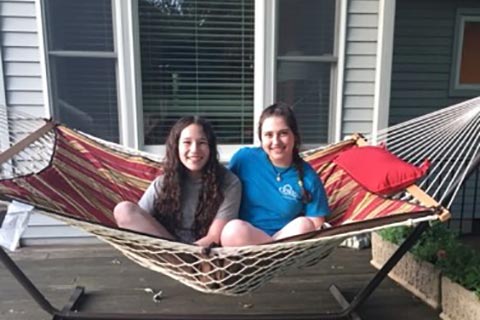 My friend and I in my hammock (2016)
Queen's Accommodation offers many trips around Northern Ireland during the weekends, some in the past month include the Giant's Causeway, Halloween in Derry, ice skating, and more! I like to check every so often to see what trips are running.
When I saw that there was a trip to the Davagh Forest and Observatory my fascination in stars convinced me to press the 'add to cart' button and pay £12 to reserve my spot on the trip. This covered the cost of admission to the observatory in addition to the chartered bus to and from our accommodations (and works out cheaper than me travelling there myself).
Tell me more!
Davagh Forest is located within the Davagh Steering Mountains (part of mid-Ulster and north-west of Cookstown) and the bus ride took just an hour and ten minutes. The Davagh Forest is unique due to its OM Dark Sky Park and Observatory. Davagh Forest is just one of 78 places worldwide that has the distinction of being a dark sky park.
As someone who has grown up around the 'sky-glow', I was super excited to be in a place known for exceptional star watching and also a protected environment, so the 'sky-glow' does not hinder the beautiful skies.
What did you do there?
As soon as we got to the Observatory, we went inside where we were greeted with smiling faces, chocolate, tea, and coffee. The first event of the night was to watch a short outdoor film which was projected onto the side of the building. Instead of playing the music of the film we borrowed headphones. The film was lovely, and I loved being surrounded by the wooded forest.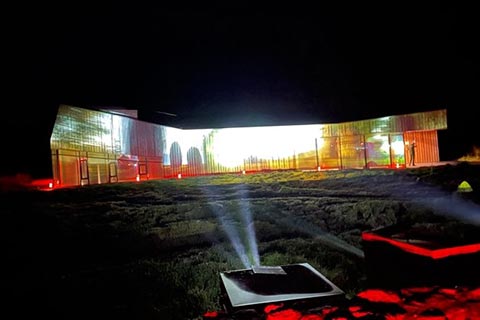 Outdoor film being projected onto the side of the building
Were there telescopes?
After the film, we went inside and upstairs to witness the 14-inch LX600 Meade telescope in action. The telescope was snapping shots of a pinwheel galaxy close to the Milky Way (our galaxy). We learned about setting the telescope to take photos every couple of seconds and the computer program that compiled the pictures into a stack.
We saw recent photos that the telescope had tracked and learned that after compiling the photos, scientists go through and choose the best ones and merge them, which is how we get most of the sky pictures today. I never knew that there was so much that went into the galaxy wallpaper on my phone!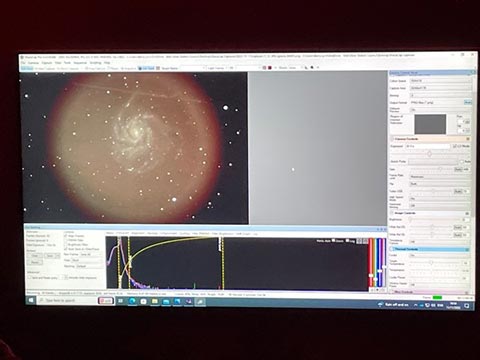 Photos that the LX600 Meade telescope was taking of the pinwheel galaxy
Were you able to see anything interesting?
After watching the telescope in action, we went downstairs where they had set up some smaller telescopes aimed at Jupiter and Saturn (we could also see Mars with the naked eye).
Even though it was a bit cloudy, we made the best of the situation and used binoculars to find Polaris (the North Star). Upon finding Polaris, we were able to locate Ursa Major (great bear). I knew about the seven stars that formed the Big Dipper, but I didn't know that those stars were part of the Great Bear. Just as the Big Dipper is part of Ursa Major, the Little Dipper is part of Ursa Minor (little bear).
In addition to seeing Ursa Major, we also saw the constellation Cassiopeia. Cassiopeia is shaped as a 'w' with five stars. Cassiopeia, in Greek mythology is a queen who is known for offending the sea nymphs by being vain and calling herself the most beautiful. After hearing this information, Poseidon (god of the sea) sent a sea monster named Cetus and Cassiopeia put her daughter up as a sacrifice. Luckily, Perseus (a hero who slayed monsters) was able to save her daughter!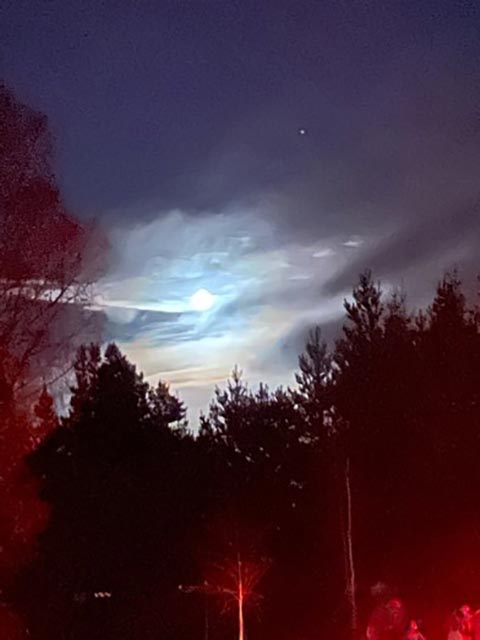 Night sky and seeing the moon
After staring at the sky for a while longer, we went inside to warm up and shortly after the bus came to pick us up. We made it back to our accommodation at a quarter past nine.
I am glad that I went on this trip. Not only did I get to continue to feed my fascination with the stars, but I also got to witness one of two dark sky parks on the entire island! I know that I will return, especially in March and April when Northern Ireland has the best chance of seeing the Aurora Borealis (Northern Lights)!
Find out more
Sami Koitz

Conflict Transformation & Social Justice | Postgraduate Student | Maryland USA

I've always been interested in the Middle East, specifically the Israeli-Palestinian conflict and non-profits that work towards building bridges between divided societies.

I am from Maryland, USA (about a nine-hour flight from Queens) and graduated in 2022 from Susquehanna University with a double major in Communication Studies & International Studies.

Outside of academics, I am a member of the equestrian team, Jewish Society, and wakeboarding club. I love meeting new people and I look forward to chatting with you.