Travel around Europe while you study at Queen's
Do you want to maximise your study abroad experience by using Belfast as your base for European travel? Check out Sami's travel blog for some tips!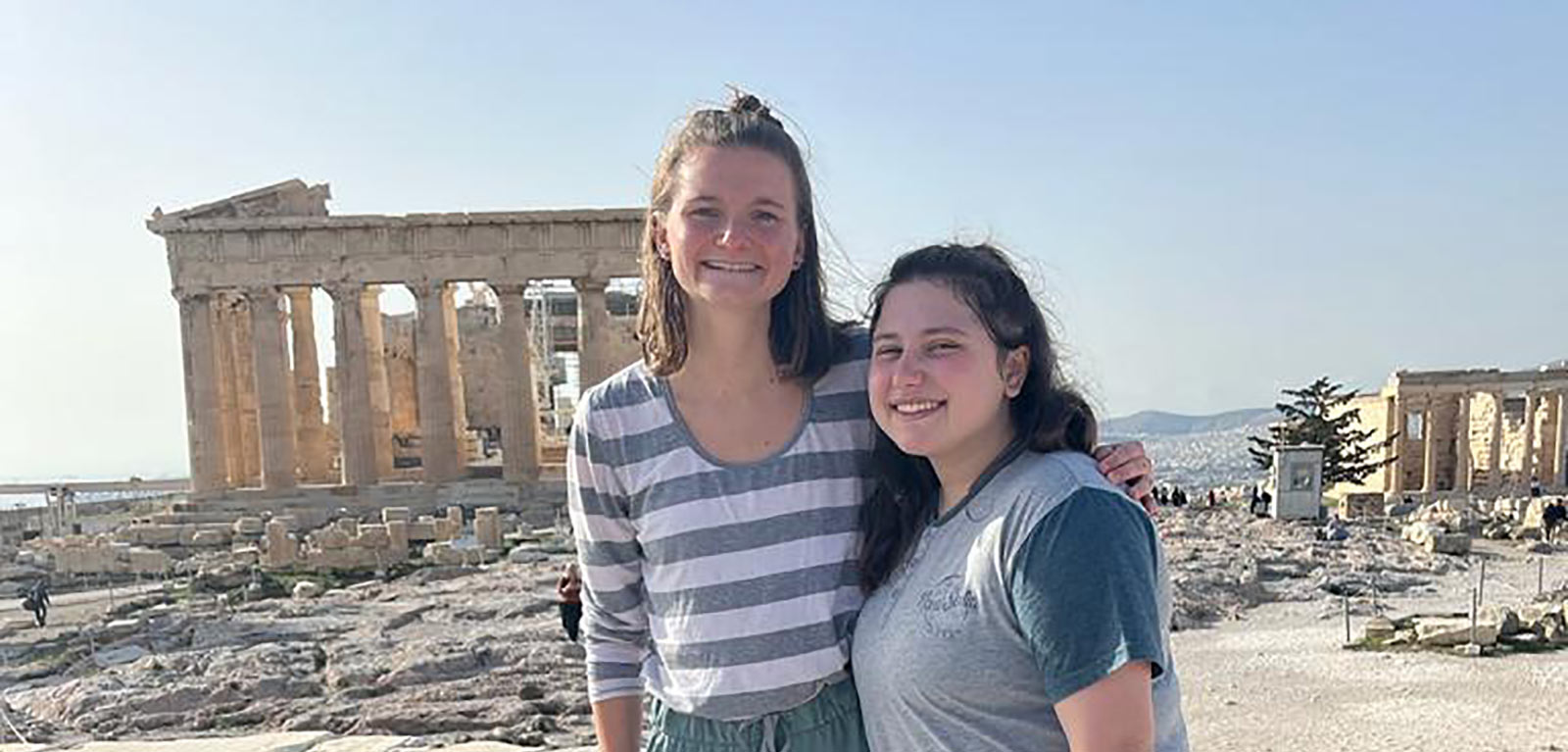 As an international student, I wanted to make the most out of my year abroad. Not only within Belfast and Northern Ireland, but within Europe. After all, when else in my life would I be able to take a weekend to visit another country? When else will I be able to take flights for as little as 10 pounds?*
How are you able to balance school and traveling?
I'm a student first, exploring the world second. One of the best ways to travel is to go during long weekends and breaks within the semester. One break I had within the fall semester was reading week, a week to study for to exams which was when I and two of my flat mates went to Belgium. We all brought our computers with us so we could do some homework while we were there.
Another break I had was in December when my classes had ended. I was able to stay on top of my work during the semester to be able to take time off to travel to Greece and Iceland.
Read on to understand why I specifically went to Belgium, Iceland, and Greece, what I did in these countries, and how travel on a student-friendly budget.
How did you choose the countries that you traveled to?
Belgium
My flat mates and I decided to check airlines for cheap destinations during reading week. There are many low-budget airlines and we realized that we'd be able to go to Brussels for about £60 round trip. I highly recommend checking airlines during specific weeks to determine the best budget friendly destinations.
Top tip
Many low-budget airlines require you to pay for checked or overhead baggage, although one personal item is allowed for free, so I made sure to pack everything into one backpack.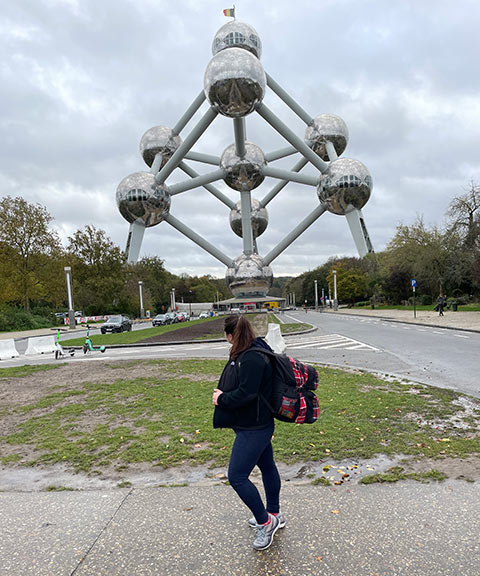 My backpack that I packed everything into in front of the Atomium (Brussels, Belgium)
Greece
A friend of mine texted me out of the blue that she had booked tickets to Greece because it was only £90. After she told me that it was so inexpensive to fly to Greece, I booked my tickets for Greece. It worked out well for us, especially because on the same airline, I've seen the cost to travel to Greece triple, if not quadruple depending on the week!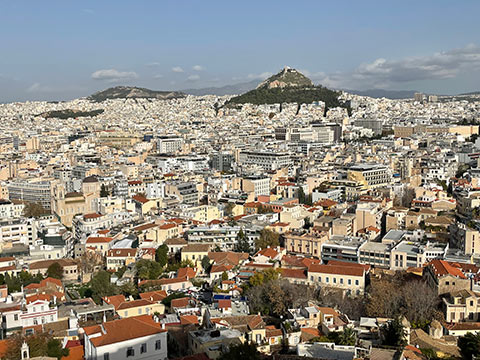 Athens, Greece Overlook
Iceland
It was always a dream of mine to go to Iceland. I've longed to see the Northern Lights in addition to experience the geological phenomenon of Iceland. I booked my tickets for Iceland in October, 3 months before the anticipated trip to make sure that I got the best price for flights. The flight to and from Iceland cost about £115 on a budget airline, which is more than I'd like to pay, however the experience was a trip of a lifetime!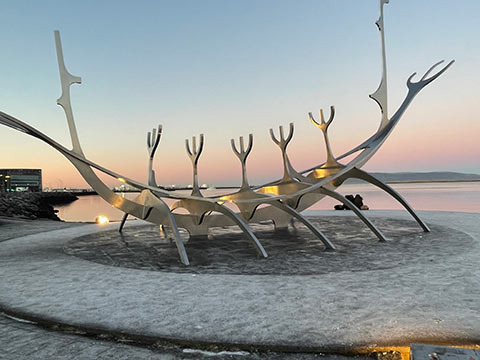 The Sun voyager, Reykjavík Iceland
As you can tell as I share my trips, I booked each ticket for a different reason: exploring, bucket list, and cost. I am so happy that I had the experience to travel around Europe. To fly from DC to Europe, most flights are at least £500 so being able to travel for one fourth of that price has been incredible.
What did you get up to on your travels?
Belgium
My flat mates and I were away from Thursday to Monday, so we had five days in Belgium. We decided to pre-book some activities (such as a chocolate tour) but left many days open for us to do whatever we please.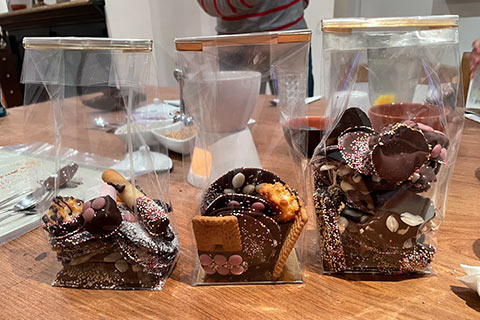 My flat mates and my chocolate that we made (my bag is farthest to the right)!
All of us had done some prior research before traveling so we all had some 'must do's' and we worked together throughout the five days to ensure that we did everything that everyone wanted to do. We visited Antwerp, Bruges, and Ghent, through day trips but our hostel was located in Brussels.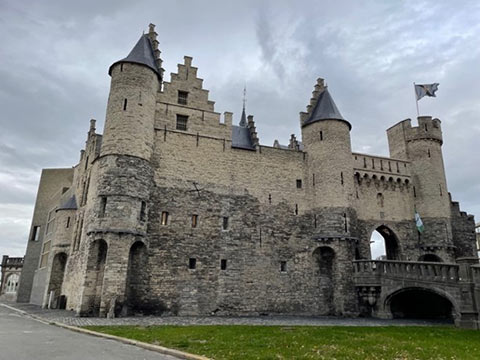 Het Steen, Antwerp, Belguim
Greece
My friend and I had an idea of what we wanted to do when we booked tickets. We were in Greece from Monday to Friday, and we spent two days on Hydra Island and the other two days in Athens.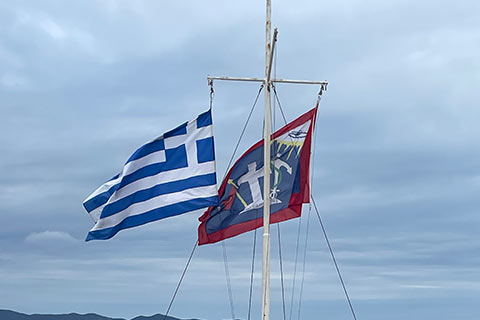 On Hydra Island we had nothing planned, so we ended up spending time exploring the island and getting to know the cats. Although it was December, we did get to spend one half day on a rock beach dipping our feet into the water.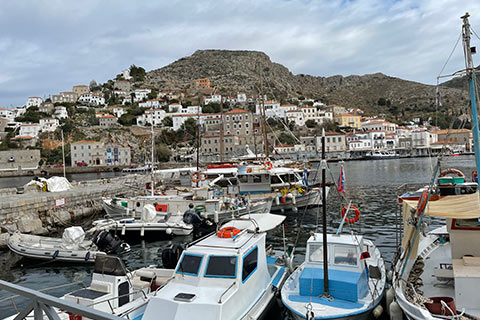 Hydra Island skyline, Greece
When we were in Athens, I wanted to see the Parthenon. We found a pass for 30 euros which would allow us to get into the Acropolis of Athens in addition to many other sites including: Ancient Agora, Hadrian's Library, and the temple of Zeus.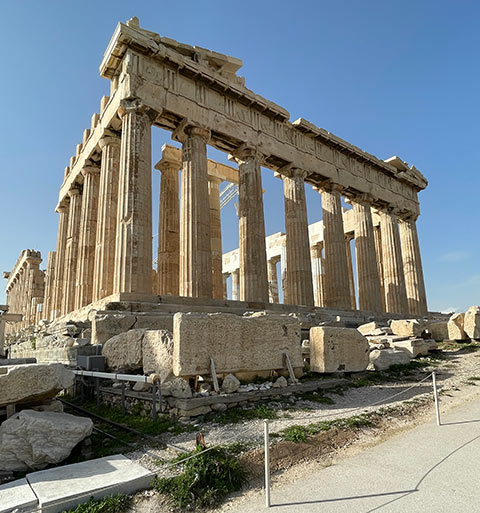 Parthenon, Acropolis of Athens, Greece
Iceland
Like Greece, we had four days on the island. Within those four days we did a two-day tour to go on a glacier walk. In addition, we visited the blue lagoon and saw the Northern lights. Unlike traveling to Belgium and Greece, we booked everything ahead of time and we had the entire itinerary planned out.
Where did you stay?
Traveling throughout Europe, I knew that I did not want to spend a ton of money on accommodation, therefore I was flexible. Throughout traveling, I stayed in a variety of locations including hostels, Airbnb, and hotels.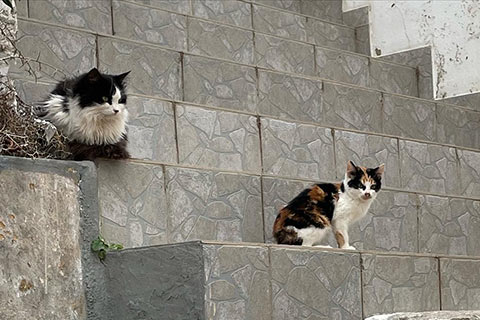 Stairs up to the villa I stayed in on Hydra Island, Greece
I love meeting new people, so I was happy staying in larger hostel rooms, however I recommend booking places to stay where you feel comfortable. At the end of the day, traveling is supposed to be a fun experience, therefore you can decide how far you want to push yourself out of your comfort zone regarding activities and accommodation!
How do you travel round on a student budget?
Being a student and traveling does take a hit on the finances. However, I've learned how to save money by booking cheaper hostels and flights. Additionally, eating in when I'm in Belfast saves quite a bit of money that can be spent on traveling.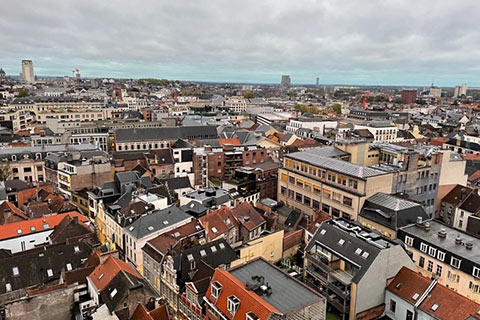 Ghent, Belgium
Top tip
Additionally, holding part time jobs has helped me to pay for my daily bills, leaving my savings account open for traveling. There are lots of part-time jobs available at Queen's including bar tenders, baristas, student assistants, and more!
I'm a big believer that living in Europe has allowed me to travel quickly, freely, and cheaply, so I really want to enjoy every minute, both within Northern Ireland and the greater European area.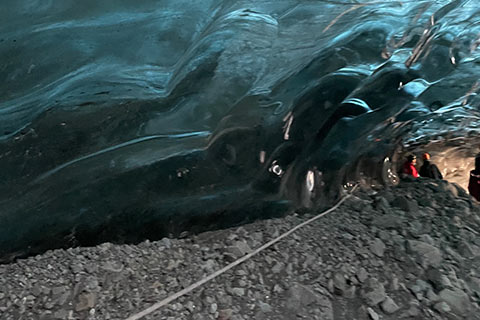 Natural Ice Cave, Vatnajökull Glacier, Jokulsarlon Glacier Lagoon, Iceland
I've been able to stay in accommodations for as little as £20 a night and book flights for as little as £15. There are so many things to do in every country, many of which are free or relatively inexpensive with student discounts.
Top tip
I definitely recommend looking at flights and hostels to get a general estimate of how much the trip will be, in addition to doing some research about local currency, trains and transportation, must-dos within the city, and getting a general idea for how many meals you will have to buy. There are so many ways to travel inexpensively.
For example, when I was in Greece, everything together (including flight and Airbnb) cost around £200-250. My friend and I were able to do everything relatively inexpensively by only eating dinner out and getting breakfast and lunch at a grocery store. Additionally, we really enjoyed the nature outside and took advantage of taking walks and sightseeing throughout the city, rather than paying for tours.
Would you do it again?
Yes! I would do everything again! I loved the countries that I visited and I'm super excited to head back to Iceland in March to meet my mom, and then go to Greece with a friend in May. I'm so thankful for the opportunity to visit to so many great locations. I can't wait to continue exploring Europe throughout the spring and summer!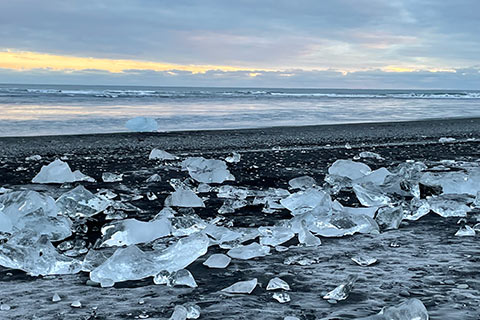 Diamond Beach, Iceland
Any last travel advice?
My biggest piece of advice is to enjoy every minute of it. Go out and travel and enjoy the time you have in Belfast. I can't believe that my one year is already halfway over. I hope to continue to take advantage of every moment within accommodation trips, traveling, and school. Being abroad for a year is a once in a lifetime experience and I'm so glad that I've been able to take advantage of every opportunity!

Bruges, Belgium
Important note on travelling
*I am writing as an American student who possesses a Biometric Residence Permit (BRP) within the United Kingdom. The BRP allows me to have access to travel throughout the United Kingdom, however it is my home country's relationship with other countries that may/may not allow me access into their country without specific visas or documentations.
It is important to check with your home country to see if you need a visa to travel to certain places. Many countries within Europe are part of the Schengen agreement, allowing free travel within member states. However, neither the UK nor Ireland (where I usually fly out of to get to continental Europe) are part of the agreement.
Find out more
Work while you study and make money for trips
Watch Tessa's video about travelling round Europe
Sami Koitz

Conflict Transformation & Social Justice | Postgraduate Student | Maryland USA

I've always been interested in the Middle East, specifically the Israeli-Palestinian conflict and non-profits that work towards building bridges between divided societies.

I am from Maryland, USA (about a nine-hour flight from Queens) and graduated in 2022 from Susquehanna University with a double major in Communication Studies & International Studies.

Outside of academics, I am a member of the equestrian team, Jewish Society, and wakeboarding club. I love meeting new people and I look forward to chatting with you.