10 LGBTQ+ Films you Should Watch
In recognition of LGBT+ History month this February, Broadcast Production student Eliza has shared 10 excellent LGBTQ films that you need to check out!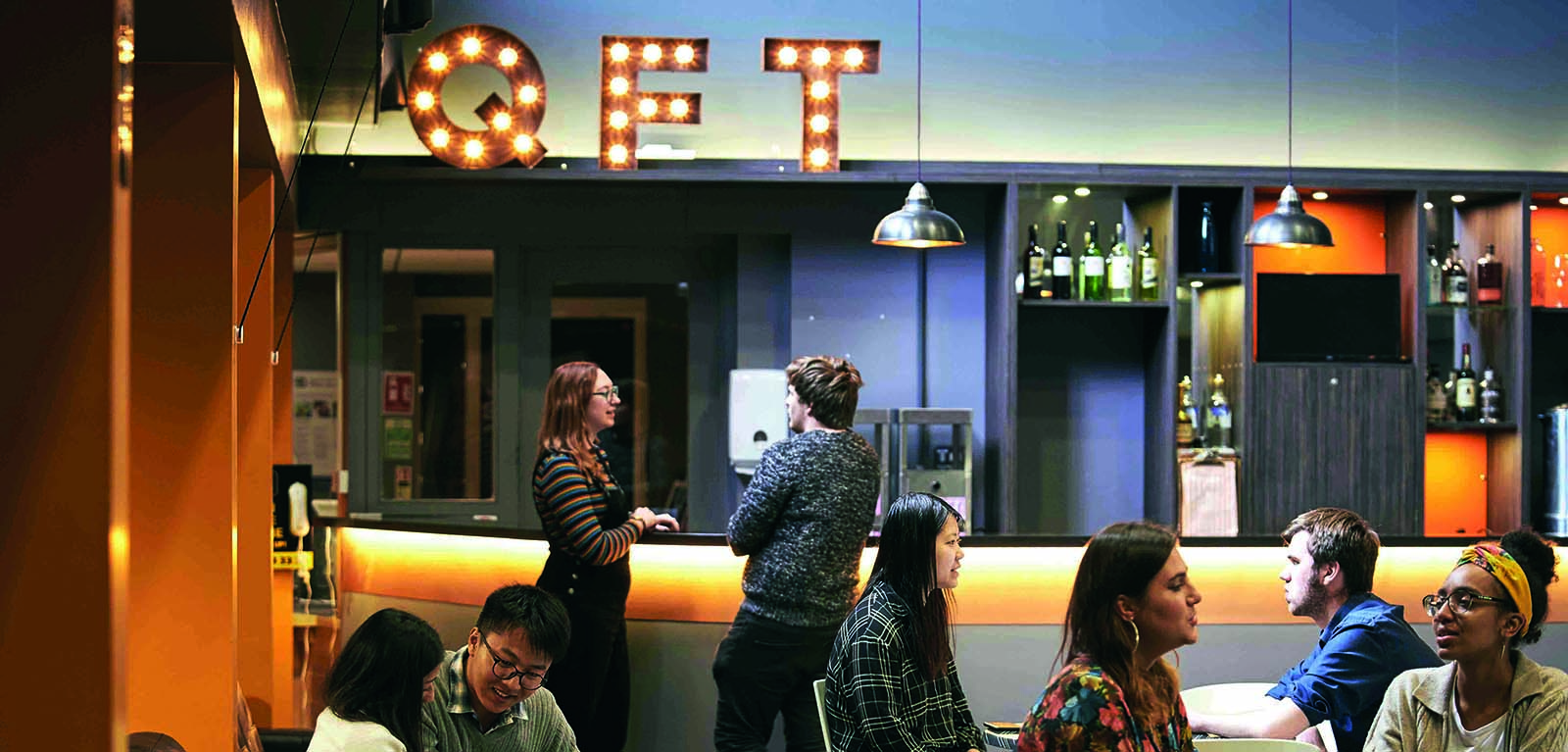 Shiva Baby
It's not often you get a bisexual protagonist made with the charm, wit, and appeal that Danielle has in Shiva Baby. You wouldn't expect that a film set around a funeral service would have the comedic genius that this film does, but no matter how many times you watch it, it always manages to captivate you.
Shiva Baby manages to keep you on the edge of your seat and have you holding your breath throughout the whole film. In my opinion, it's one of the wittiest and most clever films of recent years, and this is a bisexual character done in a way that won't disappoint you.
The Handmaiden
If you've ever tried to find films with LGBTQ+ representation, you've probably noticed there's very few queer thrillers. Not only does Park Chan-wook's film do this, but it's genuinely one of the most captivating and exciting films I've come across and one that I keep coming back to.
Not to mention, it also features some of the most satisfying plot twists you'll ever watch that even gives Get Out a run for its money. Next time you're looking for a good drama to keep you on your toes, pop The Handmaiden on and I promise you that you won't be disappointed.
But I'm a Cheerleader
Anyone who's seen But I'm a Cheerleader knows how heart-warming and unique it really is. A teenage girl getting sent to so-called 'conversion therapy' makes for an unlikely feel-good comedy and yet it's definitely one to sit down with after a long week. Starring a 20-year-old Natasha Lyonne, (and containing a brief and slightly confusing appearance of a heterosexual Ru Paul), I would 100% consider this one of the most underrated films of the 90s and one that really isn't talked about enough.
Uncle Frank
The genuine and intimate way that Uncle Frank explores the realities of being gay in the 1970s will make you wonder how you've never come across this film before. It follows a professor and his niece's journey home to his father's funeral, and beautifully explores the heartbreak, acceptance, and joy that can come from embracing your true self.
It's not often that a film can revolve around a man and a car journey, while at the same time completely captivating you in the way that Uncle Frank does. If you're in search of a film that you can make a real connection with and takes you on an emotional journey, this one is definitely one for the watch list.
Cowboys
Not often do films explore the authenticity of finding out who you are, and very few do it in the way that Cowboys does. Following the story of a dad and his transgender child who run away to embrace their true selves, this is one of those very rare films that manage to uplift you and completely shatter you at the same time.
Genuine positive representation of transgender characters is still often very hard to come by, but with the lead actor being trans himself, Sasha Knight delivers such a genuine performance that really captures what I'm sure will be a familiar experience for much of its LGBTQ+ audience.
The Half of it
Do you secretly like the cringy Netflix rom coms like To all the boys I've Loved before and The Kissing Booth, but wish they made some for their queer viewers? Well then you'll be pleased to know that The Half of it Exists.
A story about a girl who is asked to help a boy in her school write a love letter, quickly progresses into the two of them pining after the same girl, and will have you invested in this teen love story all the way through. The Half of it makes for not only a cute romance, but also an unlikely friendship, proving that queer love stories really make for the most wholesome Sunday night watch.
Dating Amber
Take your typical teen romance between a boy and a girl and then flip it on its head, making both of the characters gay and completely uninterested in each other, and you have Dating Amber. Rather than your common 'boy meets girl' coming of age film, Dating Amber features a lesbian and a gay boy in secondary school, who enter into a relationship with one another in an attempt to prove their 'straightness'.
Along the way they form a close bond, find out what being themselves truly means, and realise that maybe their initial attempts to be someone else might not actually be the answer. This is such a great coming of age film and one that really does justice for its gay viewers looking for something they can see themselves in.
Imagine Me and You
I watched Imagine Me and You pretty recently and immediately wondered why I'd never seen in before. If you're looking for the easy watch of a 2000s romcom without having the complications that so many LGBTQ+ films involve, Imagine Me and You will leave you feeling all warm and cosy inside. Two women falling in love after meeting at one of their weddings puts a twist on the early 2000s romcoms we all know and love, and yet still manages to make you feel the same way you did when you watched When Harry Met Sally For the first time (or maybe even a bit better).
Bros
Who would've thought that 'Billy on the Street' would come out with this centuries most loveable gay romcom and isn't just the guy who shouts at people on the streets of New York? Bros shows the life of a podcast host completely opposed to serious relationships, who accidentally falls in love with a similarly disconnected lawyer.
It manages to show the complications and awkwardness of being gay in our modern society, whilst managing to completely charm its audience and hopefully make you believe that finding true love in the 21st century is still possible.
Portrait of a Lady on Fire
Okay, so I've left this one until last because it's more than likely that most people reading this will have heard of Portrait of a Lady on Fire, but I felt like it needed an honorary shoutout as (in my opinion) the best queer film out there. Not only is it visually one of the most beautiful films you'll see, but the chemistry between Adèle Haenel and Noémie Merlant's characters will make you forget you're even watching a film.
Watching the love blossom between a painter and her muse (who doesn't know she is the subject of her painting) makes for the most heart-wrenching love story and shows the hardships that arise at the concept of having to let your lover go. If you watch any of the films on this list, let it be this one and you won't be disappointed.
Find out more
Did you know that Queen's Film Theatre shows new films and classics? Be sure to check it out!
Eliza Walton

Broadcast Production| Undergraduate Student | England

Hello, my name's Eliza and I am a second-year student studying Broadcast Production here at QUB. In being part of the LGBTQ+ community, I'm very passionate about queer rights and seek to bring awareness to the experiences of young queer people across the UK and Ireland. My interest in broadcast has led to a passion in, and knowledge of LGBTQ+ media (especially film) and I love bringing these ideas and concepts into my writing.