Studying Medicine at Queen's: Your Questions Answered!
Everything you ever wanted to know about studying Medicine at Queen's, answered by Fourth Year Medical Student Jane Lai.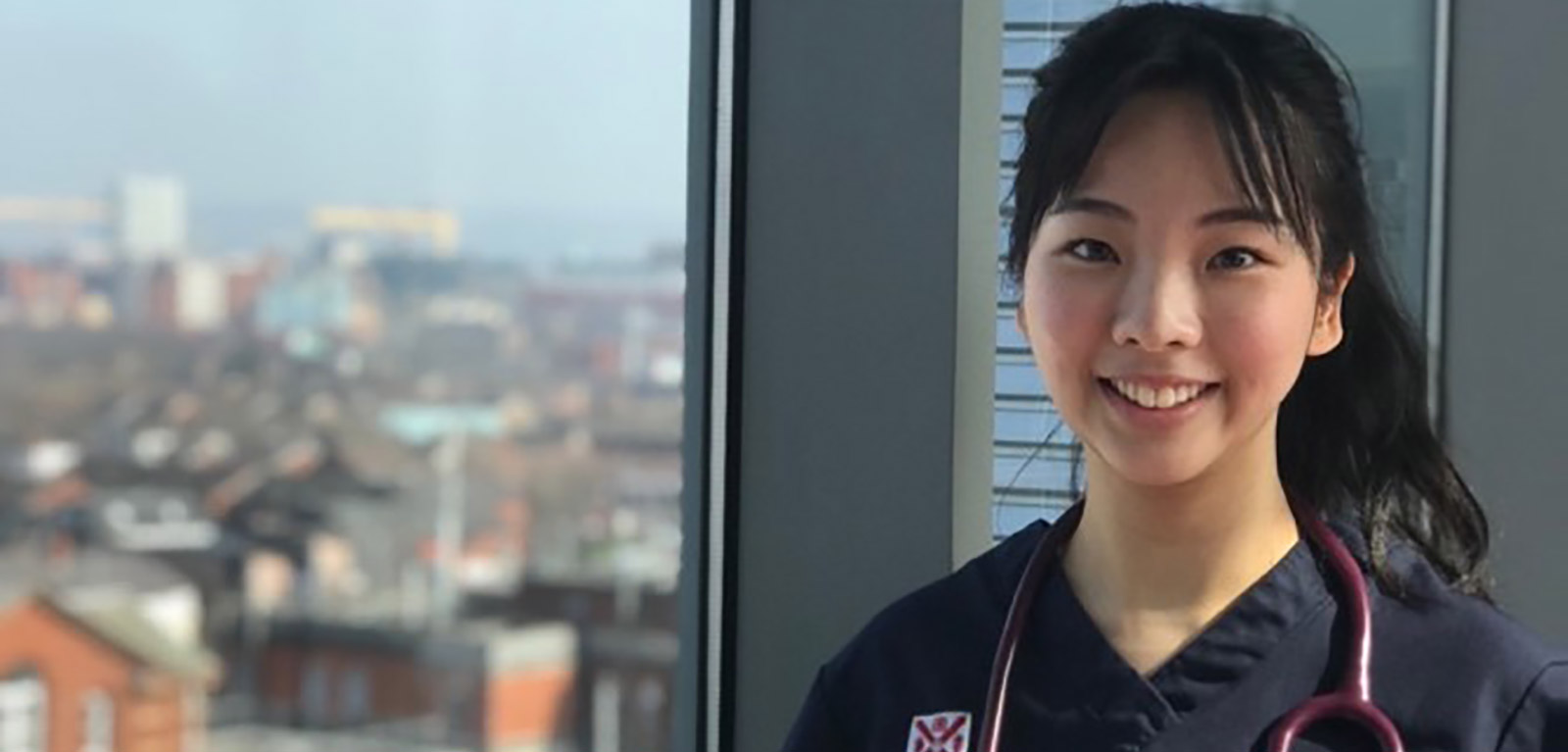 I am currently a fourth year medical student at Queen's and also a student ambassador answering questions from prospective students via the 'chat to our students' platform. I want to share what I've been asked most by international students hoping to study medicine at Queen's. If you interested in applying medicine at Queen's, check it out!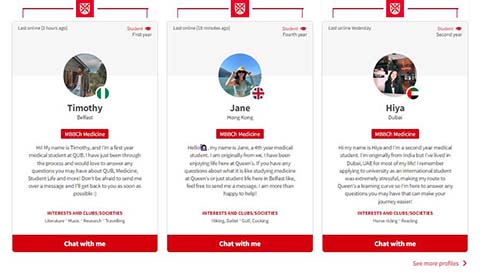 You can chat to Queen's students if you have questions!
How do I apply to study at Queen's?
Let's start with the basics! All you need to do is submit an application through UCAS like all other undergraduate courses in the UK. The application deadline is usually around 16 October every year, slightly earlier than other undergraduate courses in the UK. Most people start preparing their application in the summertime to leave enough time to complete it.
You can find more information on the UCAS website.
What academic qualifications do Queen's accept for Medicine?
Queen's accepts a wide range of qualifications. See all the entry requirements on the course page for Medicine.
What are the tuition fees for international students studying Medicine at Queen's?
The tuition fees for pre-clinical and clinical years are different for international students. Clinical years cost a bit more.
Please note that there is also a clinical placement levy payable to the department of Health and Social Care Northern Ireland (HSCNI) every year for international students. Details about it can be found on the link above.
Do Queen's offer full scholarships?
Queen's does not normally offer a scholarship that covers 100% of the tuition fees, but you can apply for multiple scholarships, which can bring the cost down quite a bit.
There are both departmental and international student scholarships. Use the Funding and Scholarships Finder to see what you're eligible for.
However, Queen's medical school provides help with the £10,000 clinical placement levy for all international students in first year (2023-2024).
What is the student life like here in Belfast?
I have been enjoying my life here in Belfast. Belfast is a vibrant and affordable city. If this is your first time studying abroad, it is best to stay in one of Queen's accommodations. They offer excellent student support and organise lots of social activities for students, such as weekend trips and in-house events every night of the week.
They also offer summer luggage storage for students who are staying in university accommodation in the upcoming year, which is very handy.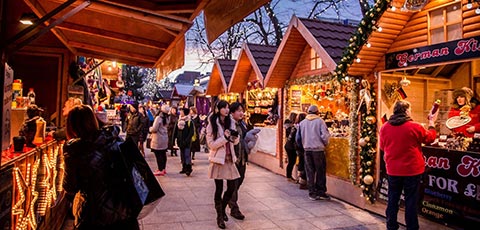 Students get very excited every year for the Belfast Christmas Market in the wintertime
What are the expenses like living here in Belfast as a student?
Let me use myself as an example. I live in a private student accommodation, and it is £149 per week. Queen's Accommodation starts at £85 per week.
My weekly living expenses (incl. food, entertainment, and transportation) are around £90. Altogether, I am spending around £239 per week (or £956 a month). Expenses can be lower if you are sharing a house or flat with your peers.
Find out more about the Cost of Living in Belfast on this page.
Are there scholarships for Medicine?
However Queen's medical school provides help with the £10,000 clinical placement levy for all international students in first year ( 2023-2024).
How competitive it is to apply for Medicine at Queen's?
The exact acceptance rate varies year by year, but it is always quite competitive! There are usually 262 students in total and 26 of them are international. Most universities including Queen's weight heavily on interviews, so it is good to practice interviewing early!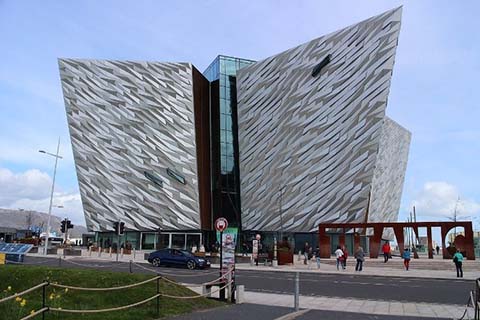 Titanic Belfast
How to know your chance of medicine interview here at Queen's?
Queen's considers a combination of factors in giving out interview invitations. They have a unique pre-interview scoring system.
The selection process for medicine considers; your previous academic performance, including school, college and university grades, results of an aptitude test using the University Clinical Aptitude Test (UCAT) and the results of multi-mini interviews carefully designed to objectively evaluate non-cognitive ability / personal attributes.
Here are the details for 2023 entry as a guide, this will be updated every year so please check the 'How we choose our students' document on the course page for your intended year of entry.
I really encourage you to write to the admissions team for any questions you have about specific entry queries to make sure you get the most up to date information for your year of entry. You can reach them at: international.medicine@qub.ac.uk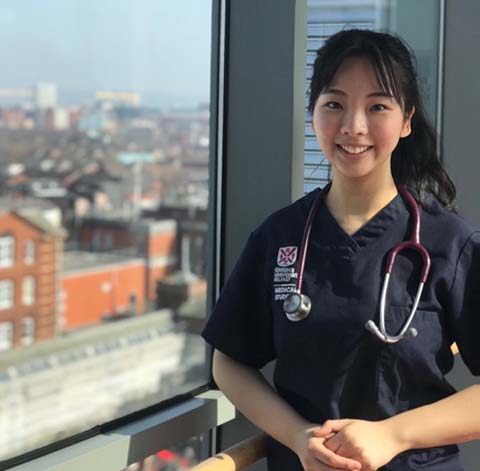 Photo of me taken in Royal Victoria Hospital wearing scrubs
What is the life of a Medical Student at Queen's like?
I'm in my fourth year now. Studying here at Queen's has been fun and intellectually stimulating.
The first two years of the program are pre-clinical, which means you will mostly learn through lectures and tutorials on the school campus. You have school 5 days a week. Usually, classes are in the morning and afternoon with Wednesday afternoon off.
Most of the morning classes are lectures, and afternoon class are either anatomy dissection sessions, tutorials, or Objective Structured Clinical Examination (OSCE). In the small group work in case based learning you apply the teaching to actual cases.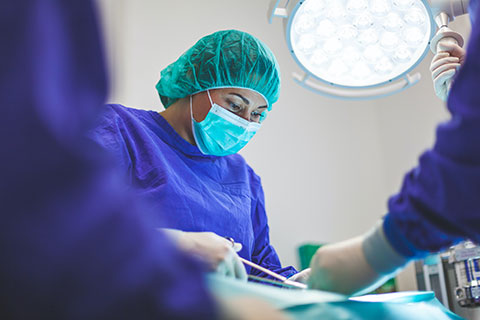 Every 1st and 2nd year student is placed in a GP surgery/hospital one afternoon a week. Not every school do this for pre-clinical students, and I really loved this about Queen's curriculum. It was exciting engaging with real patients, speaking to them always allowed me to connect what I have learned in the classroom to real life. I also learned practical clinical skills every time.
From 3rd year on, you will be based in hospitals. You are assigned to a hospital based on your allocation results. It will be one or two of the five Health and Social Care Trusts here in Northern Ireland: Belfast Health and Social Care Trust, Northern Health and Social Care Trust, South Eastern Health and Social Care Trust, Southern Health and Social Care Trust and Western Health and Social Care Trust.
In years 3 through 5, you are taught by Queen's staff or the trust staff through a combination of face-to-face and online teaching. You will have rotations in surgery and medicine in your third year; emergency medicine, anaesthesia, oncology, geriatrics, orthopaedics, obstetrics and gynaecology, paediatrics, primary medicine and psychiatry in your fourth year; and the fifth year, the final year, is a recap of everything you learned in the past.
Many students also supplement their learning throughout with resources like Passmedicine, Zero to finals, Quesmed, and Capsule. The medical school also provides links with Capsule and Speaking Clinically to broaden self-assessment on clinical cases.
Overall, my experience here being a medical student at Queen's has been wonderful. Staff here are friendly and supportive. They always address your queries promptly and passionately!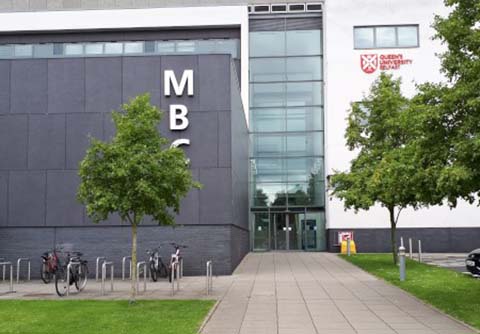 Medical students spend most of their time in MBC in their pre-clinical years. It is where the intersim centre, medical library, lecture halls and dissection room are located
Take a Virtual Tour of the Medicine Facilities at Queen's
I hope the answers above are helpful for you. If you have any other queries, you can always contact the admissions office for medicine at international.medicine@qub.ac.uk.
Finally, you have got this! All the best with everything!
Find out more
Virtual Tour of the Medicine Facilities at Queen's
Blog: How to write a great Personal Statement 
Jane Lai

Medicine| Undergraduate Student | Hong Kong

I am a year 4 medical student originally from Hong Kong. I have been enjoying life here at Queen's and Belfast. I love studying medicine because it combines learning the science behind diseases and caring for people. I love to immerse myself in medicine, I am currently a first aid tutor for the school as well as the secretary of Asian Medical Students Association Northern Ireland (AMSANI). Outside of school, I love to play golf and dance ballet. I also go hiking a lot when the weather gets warmer.